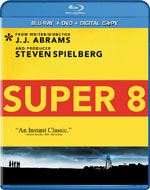 Super 8


– for intense sequences of sci-fi action and violence, language and some drug use.
Director: J.J. Abrams
Starring: Joel Courtney, Kyle Chandler, Elle Fanning, Noah Emmerich
Running Time: 1 hour, 51 minutes
Theatrical Release Date: June 10, 2011
Blu-Ray Release Date: November 22, 2011 (Amazon.com)
Official Site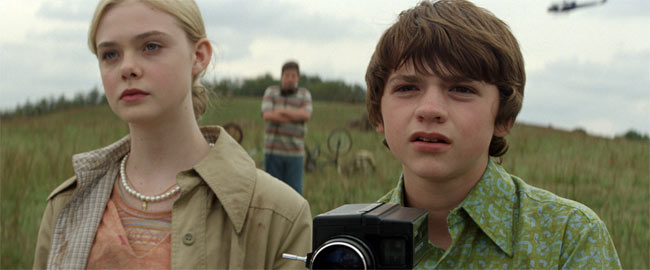 Plot Summary
In the summer of 1979, a group of friends in a small Ohio town witness catastrophic train crash while making a super 8 movie and soon suspect that it was not an accident. Shortly after, unusual disappearances and inexplicable events begin to take place in town, and the local Deputy tries to uncover the truth – something more terrifying than any of them could have imagined.
(from MovieWeb.com)
Film Review
As a child of the 80's, you can count on the fact that I was weened on 80's "classics" like Back To The Future, Ghostbusters, Goonies, E.T., Indiana Jones and the original Star Wars sequels. Like Goonies, E.T., and the lesser known Explorers, there were plenty of child-driven adventure films, all more geared towards families and young audiences, even if the content wasn't always the safest for all audiences. Acclaimed director J.J. Abrams' latest venture is a nod not only to such films but also to his filmmaking hero, Steven Spielberg, as well. Super 8 centers on a group of young teens from a small town in the year 1979 who use a Super 8 camera to create a zombie film for a filmmaking contest. While filming at a train station one night, a freak train accident occurs right before their very eyes, throwing their town into disarray as the U.S. government shows up to clean up the mess and strange occurences begin to happen all over the area. The kids begin to investigate and before long, they begin to realize that something otherworldly is happening here… an alien is running loose in their town.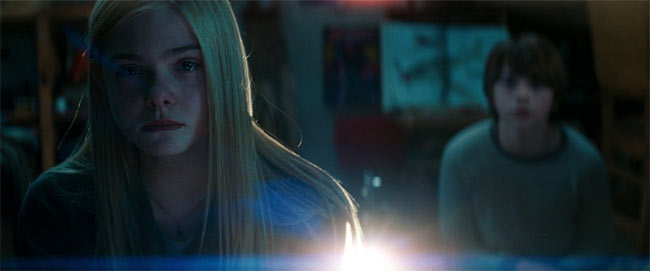 Super 8 is an interesting mix of drama, the aforementioned children-based adventure and a good old fashioned monster movie. Abrams is a masterful director and has turned in yet another fantastic effort here. Assembling predominately a cast of unknowns, or at least little-knowns, Abrams helps to give the movie a unique and small-town feel so as not to let his audience be distracted by big Hollywood star power. But in casting unknowns, which is always a risky thing to do, Abrams has found some truly excellent talent, especially in the central troupe of child characters. The main character, a young boy named Joe Lamb, played by first-time actor Joel Courtney, is fantastic and believable as a troubled but wholesome son of the town's deputy who is struggling with the recent loss of his mother. His core group of friends are also a mix of newcomers and little-known actors, with one of the standouts being an obnoxious and foul-mouthed kid named Charles (also played by first-time actor Riley Griffiths), who should get a good jump start to his career with this movie. Noah Emmerich, who has been seen in films like The Truman Show, Cellular and Frequency, is a bit of a villain as Nelec, while Early Edition's Kyle Chandler is fairly good as the down-on-his-luck town deputy and Joe's father. To round out the cast, Dakota Fanning's little sister Elle is wonderful as Alice Dainard, who is the object of Joe's affection and a worthy addition to his band of friends.
With a two-hour running time, Abrams spends much of the film building up the story of Joe's relationship with his father and the pain of losing his mother, with even more time on his budding relationship with Alice (and even dabbling with her personal life in the process). Some of the best character moments are between Joe and Alice, as well as the camaraderie we witness from his friends. Mixed into these story moments are some action moments (with the film's most explosive scene being an outrageous train accident near the start) and some classic monster movie moments (complete with a few jump scenes). There were times where I thought of Jurassic Park, the original version of The Blob, and even Tremors as creepy things and abductions began to happen around the town. Still, Abrams keeps it all unique and fresh even when it seems a little familiar, and he waits until pretty late in the movie to give us a real good look at the creature (just teasing us up until then). It's a different kind of monster for a film like this — pretty terrifying in appearance but its intelligence makes it even more unsettling. The end of the film is a little unsatisfying and borders on being a bit too corny, but it wraps things up in a rather positive note despite the turmoil that happens in these characters' lives. And it carries with it a message that is very simple but something worth chewing on.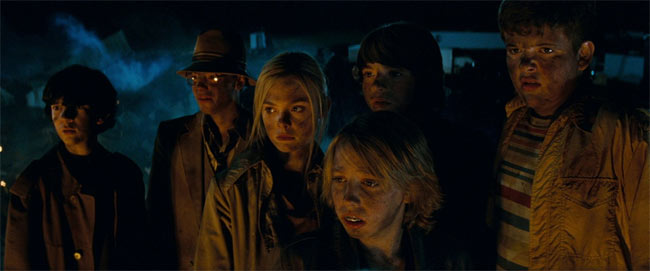 My biggest complaint about Super 8 is in the content. While Abrams' last two movies – Mission: Impossible 3 and Star Trek – had minimal language given the PG-13 rating, I was surprised at just how much profanity was in this movie. On top of it, most of the language was spoken by children (especially Charles), while one older, teenage pothead (who we also see in the actual action of smoking weed and getting high) utters an "F" word later in the movie. The only times it seems that profanity isn't constantly flying is when it's just Joe or Joe and Alice on the screen. Otherwise, the "S" word and blasphemy seem to be all too frequent. The sexual content is limited to Charles' sister (played by AJ from the musical sister duo Aly & AJ) being seen in a couple small midriff tops, while the violence is considerable, but mostly not explicit. We never see any really gory scenes, but a couple of them are rather bloody. For example, we see a man with blood all over his head after a car accident for a pretty long sequence (and then see his wounds again later on), and then see another character with blood on their face and in their mouth after another car accident. We also see some cheesy zombie deaths filmed for Charles' homemade film that show a lot of fake blood, as well as several scenes where Martin vomits due to shock (one of them is especially gross as we see a clear view of his open mouth and projectile vomit spewing out). Otherwise, any potentially graphic deaths, etc, resultant to the alien's attacks are not graphic. Lastly, one teen asks Charles (who's just a young teen) if he wants weed, but Charles says no. Later, we see that kid smoking weed in a car and passed out soon after that. All in all, the content is pretty rough even for PG-13 and anyone thinking the core group of characters being young teens makes this one safe for similarly aged children should realize that this is not the case.
For people of my generation who grew up on such films as these, Super 8 is a fun trip down memory lane. The cast is great, the classic "creature feature" feel of the story is a lot of fun, and Abrams' treatment of the material makes for one entertaining movie. It's unfortunate, however, that there had to be so much profanity included as it wasn't necessary at all and could have been enjoyed by a much wider audience had this not been the case. Anyone who's a fan of this genre will certainly enjoy Super 8, but those thinking it might be fun for the whole family will not find that to be true.
– John DiBiase, (6/12/11)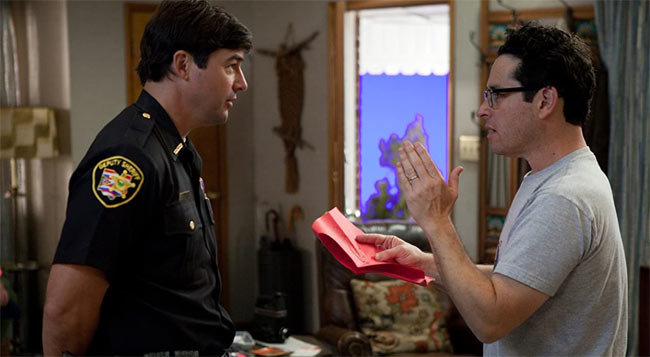 Blu-Ray Special Features Review
Paramount Pictures brings JJ Abrams' Super 8 home in a real nice Blu-Ray/DVD/Digital Copy combo package. While Warner and Sony are unfortunately adopting the Ultraviolet technology, Paramount is conveniently sticking with a digital copy you can actually port over to your iPod or iPhone, and that's certainly appreciated. The film itself looks excellent in HD and there are quite a few quality bonus features to go way beyond the feature story (Heck, the "Featurettes" are almost as long as the movie itself!).
Featurettes (1:37:15) – The featurettes (presented in HD) are split up across, appropriately enough, 8 different parts, clocking in at almost an hour and 40 minutes. In the opening segment, "The Dream Behind Super 8," we hear from JJ Abrams as he talks about his childhood and his own love for making Super 8 films as a kid. He credited the Super 8 technology for jumpstarting his movie making career. From the start, we see lots of B Roll behind-the-scenes footage as well as crew who have worked with Abrams since he first started making films. Abrams and his friends express a lot of appreciation for their hero Steven Spielberg, and it was great to hear about their history with him as well as hear from Spielberg himself (and see footage of him on the set when he visited a couple of times). It's a really fun segment and endearing to watch knowing that the film and the career of Abrams is the fulfillment of a lifelong dream of his.
"The Search for New Faces" reveals clips from the audition tapes of all of the central children actors in Super 8. We also hear from the casting directors and Abrams about what they were looking for in children actors for the film. We hear interviews from the kids and see quite a bit of cutting up on set and behind-the-scenes footage. This excellent portion ends with the tearful last moments of the kids together on set and the moment when they were presented with their characters' bikes as gifts to keep!
"Meet Joel Courtney" takes us through a day in Joel's life while on set, particularly December 9, 2010. He talks about his upbringing, how he was cast as the lead for the film, his goals for the future and what it was like to have his first acting gig. As we go through his day, it eventually takes us to a scene filming an emotional moment during the bus sequence near the film's climax.
"Rediscovering Steel Town" is about how they chose Weirton, West Virginia as the film's locale. It talks some about filming there, but then it goes pretty deeply into the history of the real town itself (maybe a little too much?). It then shifts gears back to the movie with more detail on the set dressing of the town, researching how it used to look in '79, and even the use of the town's extras for the town hall meeting. There is also some real great footage of the battle sequence that was done on location in Weirton. It ends up being a touching portion of the featurette.
"The Visitor Lives" is dedicated to the alien in the film. The filmmakers go into early concepts that ultimately weren't used and on down to the final design of the creature. We then see how they filmed certain sequences, how they designed the alien's cave, and how actor Bruce Greenwood helped out to provide motion capture acting for the alien's final confrontation scene.
In "Scoring Super 8," Michael Giacchino talks about his composition of the film. Giacchino reveals that he too made his own Super 8 films as a child and how Spielbierg and composer John williams were huge influences on his career. It's yet another touching and inspiring segment of the featurettes.
"Do You Believe In Magic?" is dedicated to Director of Photography Larry Fong who also has a talent for magic tricks. It's pretty mind-boggling to watch some of his tricks on set. Tom Cruise even makes an appearance at the end interacting with one of Fong's card tricks.
In "The 8mm Revolution," Spielberg, Fong, Abrams and others all reflect on Super 8 filmmaking and what it entails.
Deconstructing The Train Crash – This is an interactive map of a train station of sorts. You then choose three different travel lines – pre-production, production and post-production – and explore different versions of the train crash sequence through the lens of the production process. There are interviews with Abrams, the production designer, and others about various aspects of the sequence. There are also photos, clips of the script, video of production models, etc. It's all pretty neat, but I would have preferred that they just had combined it all into one, complete behind-the-scenes featurette.
Deleted Scenes – There are fourteen deleted scenes. The first scene shows us inside of the 7-11 with Joe asking Charles about Alice (1 "J-sus," 1 "a" word). The next one shows Joe getting Super 8 tapes he found out of the closet. The third is an extended scene of Joe at Charles' house the morning after the train crash as he presents some script ideas to Charles (1 "s" word). Next are a couple scenes where Joe's dad Jack investigates the convenience store after the alien attack (1 "h*ll," 1 "For Chr-st's sakes") and then him back at the station seeing the wreck on the news. Jack then visits Joe with his friends at the diner and tells him he doesn't want him hanging out with Alice. Afterwards, we see Joe doing chores in his house and noticing that his dog Lucy is gone. The eighth scene is an extended take from when Alice visits Joe's place and sees his model collection (1 "Oh my G-d"). The next one is an interesting sequence where the kids go to what looks like an Army and Navy store to pick out clothes to do a scene in. Joe comes out in his uniform but doesn't like it, so Alice pulls him into the dressing room, puts his mom's locket around his neck and tells him he's ready. In the tenth scene, he pulls the Super 8 home movies out of his closet to watch old movies of his mom with him as a baby. The power then cuts out on it. The next scene shows Joe and Alice talking outside his house before she goes home after visiting him and it's a cute moment between the two as their relationship continues to blossom. The twelfth scene is a bizarre sequence involving the military in the small town. Taken out of context, it's a bit difficult to tell what it's supposed to be about. Next is a clip of Jack finding something of Joe's and worrying that he might lose his son too, while the final deleted scene is just a brief clip of Joe and Cary scoping out the alien lair. Most of the deleted scenes weren't missed, but they're not bad and definitely worth a peek outside of the feature film.
Overall, the Super 8 Blu-Ray release is a fine treatment of the film. After watching the featurettes, it's more than obvious how much this film meant to those involved. It was a true labor of love and it showed in spades. After watching the film a second time, it's more than evident and it remains a fun and entertaining watch, but the frequent profanity still felt more than unnecessary. Had that been subdued, I could have seen Super 8 being this generation's Goonies and a movie for the whole family to enjoy. Instead, it plays more like a trip down memory lane for an older generation.
– John DiBiase, (reviewed: 11/20/11)
Parental Guide: Content Summary


 Sex/Nudity: Charles' older sister Jen is seen wearing short midriff shirts a few times that expose her bare belly and lower back; We see Jen flirting with Donny who thinks she does intend to date him (and maybe more), but she flirts with him just as a favor for her brother


 Vulgarity/Language: At least 1 "F" word, 42 "S" words, 9 "J-sus," 3 "d*mn," 15 "h*ll," 2 "a" words, 1 "a**h*le," 1 "S.O.B.," 3 "p*ssy," about 27 derivatives of "G-d"


 Alcohol/Drugs: Alice's dad Louis drinks a lot and we see him drinking and/or drunk in a few scenes (including one where he blows up at Alice and chases after her, driving behind the wheel of a car drunk); Donny asks Charles if he wants some weed, but Charles says no; We see Donny smoking a joint while sitting in a car. Later, the boys find him and he comments on being really stoned. He passes out a little bit later. In a panic, Martin exclaims "Drugs are so bad!"


 Blood/Gore: In some footage of Charles' zombie film, we see Cary dressed as a zombie and when Martin pushes his character against a wall with fake nails on it (they're made of aluminum foil for the scene), we see Cary's dead zombie body and a lot of fake blood ooze out of his mouth; After the train wreck, the kids have some cuts on themselves and we partially see Martin vomiting; Alice comments on the blood she finds at the crash site but Joe realizes it's his fake monster makeup; We see a man sitting behind the wheel of a crashed truck with bloody cuts and streams of blood all over his head; We see this person's head with the same bloody cuts dried up all over their face (and flies buzzing around him) while he's alive laying in a medical bed; A man has blood on his face and mouth after a car accident; We see some blood on some downed soldiers in a bus; There is a flash of red (blood) on the bus glass after the alien attacks a man on the other side of the glass; In the end credits, we see Charles' film, including the aforementioned scene with Cary's zombie dying. And we see some additional fake zombie scenes and deaths; including where one gets shot with resultant blood; We see Martin vomit violently with graphic projectile vomit shooting from his mouth after the bus they're on is attacked.


 Violence: (Spoiler warning!) We learn that someone died in a mill accident. We don't find out how, just that the person was crushed beyond recognition; Louis shows up at the Lamb house, but Joe's dad pushes Louis out of the house and cuffs him; In Charles' film, Martin pushes Cary against a fake board of nails to "kill" the zombie; A truck drives on train tracks to run head-on into a train, causing a gigantic wreck; A man points a gun at some children and tells them to leave; We see glass flying and some things being thrown around, resulting in a smashed patrol car as a couple people are abducted at a gas station; We see some appliances being thrown and a man screams, but we don't see him get grabbed by the alien; Jackson is confronted by guns and government officials. We later see him imprisoned. He attacks a guard and escapes. He shoots a gas tanker, which explodes, to create a diversion; A few government agents interrogate a man. When he doesn't cooperate, they inject him with something, killing him (we see his body violently shaking from a distance); The alien attacks a bus and kills several of the soldiers riding on the bus. The bus overturns and we see the alien attacking those inside; The kids run through a house and part of it explodes. One of them is injured in the leg, but we never see the injury; We see many people hanging upside down in an underground cave. They are unconscious and apparently still alive (at least some of them are). We see a partial view of a person that the kids see through various foreground objects and one exclaims that the person is being eaten, but we don't see visual confirmation; A man and woman are grabbed by the alien (and possibly are killed); We see people hanging upside down, unconscious in a cave. We see the alien grab and drag away some people; and other assorted sci-fi violence.