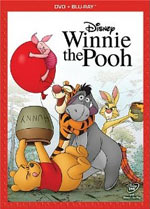 Director: Stephen Anderson, Don Hall
Starring: voices of Jim Cummings, Craig Ferguson, John Cleese, Bud Luckey
Running Time: 1 hours, 2 minutes
Theatrical Release Date: July 15, 2011
Blu-Ray Release Date: October 25, 2011 (Amazon.com)
Official Site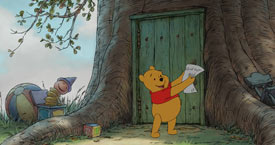 Plot Summary
Walt Disney Animation Studios returns to the Hundred Acre Wood with "Winnie the Pooh," the first big-screen Pooh adventure from Disney animation in more than 35 years. With the charm, wit and whimsy of the original featurettes, this all-new movie reunites audiences with the philosophical "bear of very little brain" and friends Tigger, Rabbit, Piglet, Kanga, Roo— and last, but certainly not least, Eeyore, who has lost his tail. "Well a tail is either there or it isn't there," said Pooh. "And yours isn't… there." Owl sends the whole gang on a wild quest to save Christopher Robin from an imaginary culprit. It turns out to be a very busy day for a bear who simply set out to find some hunny. Inspired by five stories from A.A. Milne's books. (from MovieWeb.com)
Film Review
Winnie The Pooh is one of those characters that has endured for decades and is still as popular now as ever it seems. Whether Pooh bear themed baby outfits and nursery dressings litter stores or Disney is carrying on the brand elsewhere, Winnie The Pooh can be found almost anywhere. This year, Disney brought back the "hunny"-loving teddy in his own feature film, appropriately titled Winnie The Pooh. Inspired by Winnie The Pooh creator A.A. Milne's books, the film is a family friendly quest that is fun for movie fans of any age.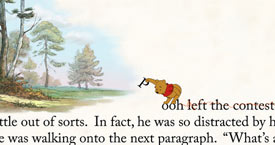 One of the first things you'll notice about Winnie The Pooh is that the film just barely creeps over the one-hour mark with a surprising 62-minute running time. The filmmakers utilize this length to condense the story into one that runs smoothly and swiftly to especially hold a young one's attention. And because of that, you'll feel as though the film also may suffer from a bit of A.D.D. Just as Tigger bounces to and fro, so does the story; one minute, Pooh and his friends are hunting for a substitute tail for the gloomy Eeyore, and the next they're misreading a letter left by Christopher Robin telling them that he'll be "back soon" as having read that he's been kidnapped by a "Backson." It's silly and it's ridiculous, but that's also part of the charm of these stuffed-animals-come-to-life.
Disney voice actor Jim Cummings is back in the saddle as Pooh and Tigger once again. Cummings started voicing Pooh in the late 80s and early 90s and has been the sound of this lovable bear ever since. Along the way, Cummings has frequently provided random voices for characters throughout the Disney repertoire, and at one time was a regular contributor during "The Disney Afternoon" in the mid-90s (he voiced Darkwing Duck as well as villains on that show, DuckTales and TaleSpin, before voicing the title character in Bonkers too). Cummings is wonderful here as Pooh, bringing so much to the character that not just anyone could. Late night personality Craig Ferguson, who got his feet wet in How To Train Your Dragon, appears here as Owl, and does a fine job as well. To pull it all together, John Cleese's humorous-yet-classy voice is leant to the role of narrator, which also brings a nice element to the story. Finally, actress Zooey Deschanel, who many of us first met and heard sing in 2003's Elf, provides vocals for several of the songs for the film, and it's a real delight to hear her share her musical talents here.
The story of Winnie The Pooh really is a good one. While it's popular these days for a film like this one to focus more on encouraging the viewer to "just be yourself," Winnie The Pooh is all about putting your own wants and desires aside in order to help a friend. Pooh does just that here, in more ways than one, and it's a trait you certainly want to encourage in your children, and one that only makes Pooh all that more endearing.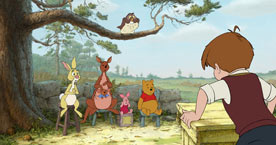 The content for Winnie The Pooh is expectantly mild. Minor violence that is mostly slapstick is included, as well as the characters thinking Christopher Robin has been "kidnapped" by a "Backson." I don't think all viewers will pick up on the misunderstanding from the start, so some of the fear we see in the main characters might trickle on down to the little viewers. Similarly, there's one brief scene where Piglet finds himself wandering into a spooky forest alone, but he ends up okay. There's also, surprisingly, a post-credits scene which humorously reveals the Backson as being something real, and it acts like a harmless-yet-intimidating looking monster that is really gentle in nature. Overall, the content is very mild and it's only the littlest of viewers that might have some trouble with a couple things.
In the end, I found Winnie The Pooh to be a nice treat. Sure it's about as sweet as the object of that silly old bear's affection, and it tends to rush by a bit too hyper and quick, but it's a delightful story and one that should entertain your children for an hour and you yourself won't mind watching along one bit.
– John DiBiase, (reviewed: 10/22/11)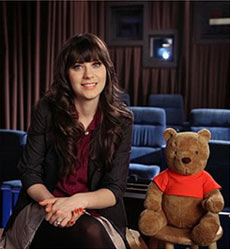 Blu-Ray and Special Features Review
Disney brought Winnie The Pooh back to the big screen this year and it comes home this fall in various formats for families to enjoy. First off, consumers can purchase the release as a DVD/Blu-Ray combo… curiously enveloped in DVD packaging, a Blu-Ray/DVD/Digital Copy combo pack in Blu-Ray packaging, and a single DVD. The DVD/Blu-Ray combo is a clever way to encourage movie buyers to start to make that shift over to HD, but opting for the bigger, bulkier packaging really doesn't make a lot of sense. Hopefully this isn't a new trend from Disney. In addition to the feature film are a few fun extras…
Bonus Shorts – "The Ballad of Nessie" is a little cartoon narrated by Billy Connolly that makes the character of the Loch Ness monster this cute female dragon named Nessie who causes a body of water in Scotland to be formed by her tears. It's a cute animated short that has nothing at all to do with Winnie The Pooh. "Mini Adventures of Winnie The Pooh: 'Pooh's Balloon'" is a short tale that involves Pooh and Christopher Robin's encounter with a horde of bees. It looks like a much older cartoon, but Jim Cummings still provides the voice of Pooh here, so I imagine it's probably sometime over the past 20 years or so. It would have been cool if they included a few more of these for good measure.
Deleted Scenes – There are five deleted/extended scenes with introductions provided by the directors explaining the scenes and why there were cut or cropped. Sadly, most of the excuses and reasons were due to "time," which is kind of ironic since the movie is only 62 minutes long. The first sequence is an extended version of "The Tummy Song," shown in almost completed animation, which really should have been left in. It's cute and it gives more focus time to our title character. "Rabbit's Friends and Relations" appears here in storyboard form and is a nod to the characters from the book. In this scene, Rabbit denies Pooh honey he has in his house due to the company that is coming. The "friends and relations" then just show up, eat all the honey, and leave. The next sequence is an extended Eeyore intro. Then there's an alternate Tigger intro which is a fun one, but the directors were concerned it was too "familiar." Lastly, we see a cute roughly animated scene where Pooh is looking for things in his house he can use as a tail for Eeyore. It probably could have been added back into the film as well.
Winnie The Pooh and His Story Too (8:33) is a short documentary about his history. It touches on how Pooh was created originally, Disney's involvement with the character in the 60s, and what was done to bring Pooh back to the big screen in 2011. Unfortunately, we see only slight grazes of who voices the new film's characters on the pages of a book in passing, but they never stop to talk about the voice cast or go too in-depth with the film's origin. I saw a video online this summer where Disney interviewed some voice cast members at a red carpet event for Winnie, and it would have been cool to include those as a separate bonus or at least incorporate some more interviews into this documentary. Still, it does remain to be a great little Winnie-The-Pooh documentary.
Sing Along With The Movie – This is an on/off feature to make the lyrics pop up while the film's songs are playing within the film.
Disney Song Selection – Here is a list of the songs in the film. When you click on them, it takes you right to the scene and song with subtitles that highlight the words so you can sing along.
Creating The Perfect Winnie The Pooh Nursery (2:52) – This is hosted by The Baby Planners who literally give you, the viewer, a bunch of tips on how to turn your baby's nursery into a Winnie The Pooh themed one. They also give tips on bedding, color, and more. This featurette is clearly for the parents and won't interest any children watching.
If you're a fan of Winnie The Pooh or are just looking for some pleasant entertainment for your children, definitely pick up Winnie The Pooh.
– John DiBiase, (reviewed: 10/23/11)
Parental Guide: Content Summary


Sex/Nudity: None.


Vulgarity/Language: None.


Alcohol/Drugs: None.


Blood/Gore: None.


Violence: In an attempt to give Eeyore a new tail, they put a dart board on his rump and throw darts at the board. They then put a weather vane on him as a tail and he gets hit by a lightning bolt; During a musical number, Tigger beats around Eeyore a bit to try to motivate him; Pooh whacks a beehive with a stick while Piglet is stuck in it and they're chased by a horde of bees. They then bump into rabbit and it throws him into a tree; Rabbit whacks Pooh on the head out of frustration