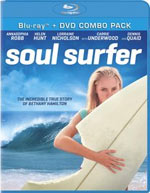 Soul Surfer



– for an intense accident sequence and some thematic material.
Director: Sean McNamara
Starring: AnnaSophia Robb, Dennis Quaid, Helen Hunt, Carrie Underwood, Kevin Sorbo
Running Time: 1 hour, 46 minutes
Theatrical Release Date: April 8, 2011
Blu-Ray Release Date: August 2, 2011 (Amazon.com)
Official Site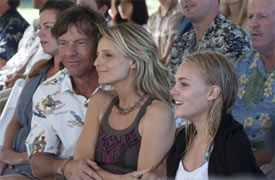 Plot Summary
Soul Surfer is the inspiring true story of teen surfer Bethany Hamilton who lost her arm in a shark attack and courageously overcame all odds to become a champion again, through her sheer determination and unwavering faith. In the wake of this life-changing event that took her arm and nearly her life, Bethany's feisty determination and steadfast beliefs spur her toward an adventurous comeback that gives her the grit to turn her loss into a gift for others.
(from MovieWeb.com)
Film Review
Hardship is nothing foreign to anyone. As Christians, it's crucial to our lifestyle to learn to find strength and peace through our relationship with Jesus Christ. Bethany Hamilton, a thirteen-year-old lover of surfing – and our Lord and Savior – experienced the unthinkable when she had her arm bitten off suddenly by a shark while she was out surfing with friends in 2003. It was a miracle in and of itself when she survived the 20-minute return to shore and losing sixty percent of her blood from the injury. But Hamilton persevered; with her faith and the support of her family, she continued pursuing her dream of becoming a professional surfer. After putting her story in book form, director Sean McNamara got a hold of the story and knew it was a film he wanted to make. Soul Surfer is Bethany's story presented in big-screen, Hollywood fashion.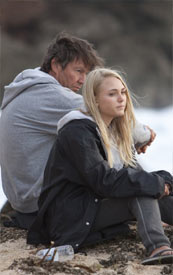 In many ways, Soul Surfer feels like a "Christian film," but more importantly, it feels like a "Christian film" done well. With most faith-based films, the heart may be in the right place, but the acting and script are usually pretty painful. For Soul Surfer, budding young actress, AnnaSophia Robb, who has been seen in such films as Race To Witch Mountain, Bridge to Terabithia, and Charlie and the Chocolate Factory, steps in for the difficult task of playing Hamilton for a dramatic role. When you see real-life footage of Bethany, you can tell the young teen was considerably more timid and shy than AnnaSophia plays her, but Robb's probably one of the few actresses who can appropriately pull off such a demanding role as this one. She's a wonderful actress and really makes you feel for what she's going through. The film also uses a lot of real-life experiences and trials that the real Bethany had to face, and knowing that makes the story all the more impactful. The Blu-Ray release of the movie includes a lot of behind-the-scenes insights into the real Bethany, and it makes the story come to life in a deeper way.
The rest of the film's acting is a little hit-and-miss. Singer-turned-actress Carrie Underwood makes her acting debut and is okay as the youth leader who helped encourage Bethany, but it's evident that Underwood is not an experienced actor. I'd hate to say that she should just stick to her musical career, but when she's paired up with a talented actress like Robb, it makes her shortcomings all the more noticeable. On the other hand, Dennis Quaid and Helen Hunt are a nice addition as Bethany's parents. It adds a lot of validity to the story to have some veteran actors handling the reigns of a really emotional story. At the same time, though, it makes it more obvious that we're seeing popular Hollywood names playing real-life people than just accepting their characters as really being who they're supposed to be. Still, in the end, I think it may be better to forfeit that in exchange for a few actors who can handle the dramatic material. Lastly, the actors playing Bethany's brothers feel and look more like Abercrombie models than actors, making me wish the casting director hadn't been more concerned in hiring guys who would be sex appeal for the young girls going to the see the film than hiring believable (and good) actors. The presence of solid actors and flawed ones give the movie a little bit of an uneven feel at times, which nearly causes severe damage to the overall outcome of the movie, but the story and the team of Robb, Quaid and Hunt really rescue the movie.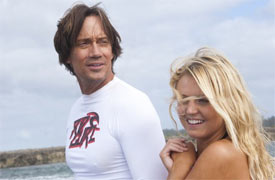 I found Soul Surfer to be just as encouraging and inspiring as Bethany's real-life story. Robb really makes you believe she's walking in Hamilton's shoes. And hearing the Hamiltons' real life faith in Jesus come out in the way they deal with everything makes it especially relatable to believers, but McNamara also tends to make sure Hamilton's Christianity is more subtly presented than forcefully. I have to admit, though, it's truly surreal seeing Robb, Hunt, and Quaid sitting in a beachfront church service with Underwood and a worship band leading everyone in singing "Blessed Be Your Name" (and with them all singing along). Even more surreal may be seeing Quaid by Robb's bedside after the accident holding a Bible and reassuring the recovering Bethany that we "can do all things through Christ who gives us strength." It's a fantastic reminder when you see what Hamilton went through and overcame. And it's overwhelmingly encouraging for our own personal walks through our own individual trials in life.
It's refreshing to see a film like Soul Surfer which contains virtually no vulgar content. Some might be uncomfortable with the fact that every cast member is seen in either a small bikini or just swimming trunks at some point during the film, but given the beautiful Hawaii setting and the fact that this is how these people really live, it's not done for anything more than just being true to these folks' surfing lifestyle. The only thing to really consider is that the shark attack accident is very, very intense. While we don't see anything graphic when she loses her arm, the aftermath is realistically bloody and the drama involving trying to save Bethany and get her back to shore is pretty harrowing. Also, for the rest of the film, we see Bethany without her arm with the wound in various stages of the healing process, so it's certainly not a sight for the squeamish. It's a truly emotional story and a heavy one at that. Still, the brutal setup makes you appreciate what Bethany had to go through and it makes her comeback from it all the more triumphant. Fans of surfing in general will also likely enjoy the surfing sport action scenes as well as the beautiful cinematography used to capture that. All of the actors did their own surfing, which alone is impressive, but it's cool to know that the real Bethany Hamilton provided some of the surfing-double work for AnnaSophia (who otherwise did her own surfing too). A lot of work went into this film and it shows.
Soul Surfer isn't a perfect film by any means, but it gets the job done well in bringing an inspiring true story to life in true cinematic fashion. Fans of surfing should enjoy the sports scenes while those interested in Bethany Hamilton's story should like this movie as well. It's pretty intense dramatically and emotionally at times, but it's a grand reminder that God can turn any tragedy into something good… and He often does.
– John DiBiase, (reviewed: 7/31/11)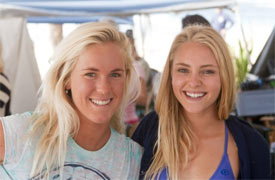 Blu-Ray Special Features Review
Soul Surfer is one of those movies that seems tailor made for high definition viewing (or vice versa). Being set in Hawaii with great scenery, vibrant colors and beautiful water-related footage, Soul Surfer has a pristine picture on Blu-Ray disc.
Sony releases the film in a nice Blu-Ray / DVD combo pack that is the ideal purchase for home viewing. Along with the feature film, several bonus features are also included.
Deleted Scenes – Where most collections of deleted scenes may serve as nice extras to give you a look at what was filmed and didn't make it into the final movie or they just flesh out some characters or key moments, many times you'll find a collection of deleted scenes that add absolutely nothing to your viewing experience. Sadly, the deleted scenes for Soul Surfer are the latter. Eight additional scenes are included here, but all of them are under a minute in length each. Most are just several-second snippets of dialog that really don't add much of anything. It's kind of a wonder why they put them on the disc at all.
The Making of Soul Surfer – This is a wonderful behind-the-scenes video that talks about how the film came to be, how Bethany requested AnnaSophia to play her, and how the cast prepared for the film. It's also intriguing to hear director Sean McNamara talk about how he signed on to the project and what it was like to film in Hawaii, and see some on-set footage for select scenes (like the shark attack). It's thorough and an excellent watch on the Blu-Ray disc.
Surfing for the Screen: Inside the Action – This focuses on the sports action portions of the movie involving surfing. McNamara stresses how the Hamilton family wanted to see surfing be portrayed right on film for a change. It's neat to see how they filmed some of it (usually having three cameras from different angles going at once) and how the actors prepared for it.
Becoming Bethany – This features AnnaSophia talking about how she spent time with Bethany in preparation for the film and how she spent a month learning to surf to get ready for the part.
Heart of a Soul Surfer Documentary – This is an indie film about the real-life Bethany Hamilton, apparently created by friends of Bethany and features her family and friends talking about her, the challenge she went through, etc. It especially highlights her faith in Christ as a driving inspiration. One of the best aspects of this documentary is seeing loads of real-life candid footage of Bethany before and after the attack, portions of high profile appearances she has made over the years, and hearing from Bethany herself.
Bethany Hamilton On Professional Surfing – This is a short montage, produced by the company Ripcurl, of professionally-shot footage of the real Bethany Hamilton in action as she's surfing.
All in all, Soul Surfer is an enjoyable and encouraging film that looks great in high definition. While it includes only a few extras, what appears here are worthwhile bonus features that only add to the viewing experience. You're likely to appreciate what Soul Surfer is and sets out to do after watching these extras.
– John DiBiase, (reviewed: 7/31/11)
Parental Guide: Content Summary


 Sex/Nudity: Throughout the entire movie, we frequently see girls in small bikinis, showing cleavage, and guys in just swim trunks. All of the major cast are seen this way quite often; While Alana and Bethany shop for bathing suits for a Ripcurl photo shoot, Alana holds up a tiny bikini and asks Bethany what she thinks. Bethany remarks that it's too small and that if Alana wipes out wearing that, people will see a lot more than just her sick moves. Alana then remarks that she still finds it "hot;" We briefly see Alana posing in a bikini at a Ripcurl photo shoot in what some might consider "sexy" poses.


 Vulgarity/Language: None.


 Alcohol/Drugs: None.


 Blood/Gore: We quickly see a shark poke out of the water and bite Bethany. We then see a cloud of blood in the water and quick little flashes of the bloody stump as she's paddling away before someone ties a shirt around the wound. We then see the blood-soaked shirt over her shoulder. Later, we see blood-soaked bandages over the wound; When Bethany's bandages are removed, we see the bloody, scabby stitches she had been given to close the wound. We then see the wound on the stump of her arm in various stages of healing


 Violence: A shark bites off Bethany's left arm and we see her for the rest of the movie with no arm, just a stump (and in various stages of the healing process from the initial wound); A boy throws a rock through a car window to get into it so he can drive to get help for Bethany after the attack; We see a surgical knife pressed to Tom's knee about to operate, but someone comes in to stop the surgery saying they need the room for someone else