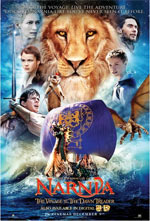 The Chronicles of Narnia: The Voyage of The Dawn Treader



– for some frightening images and sequences of fantasy action.
Director: Michael Apted
Starring: Ben Barnes, Georgie Henley, Skandar Keynes, voice of Simon Pegg
Running Time: 2 hours, 7 minutes
Theatrical Release Date: December 10, 2010
Blu-Ray Release Date: April 8, 2011 (Amazon.com)
Website: Narnia.com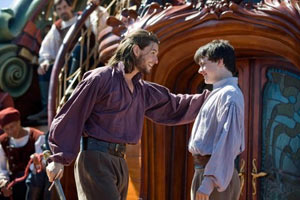 Plot Summary
Return to the magic and wonder of C.S. Lewis' beloved world — via the fantastic Narnian ship, the Dawn Treader. In this new installment of the blockbuster The Chronicles of Narnia motion picture franchise, Edmund and Lucy Pevensie, along with their cousin Eustace, their royal friend King Caspian and a warrior mouse named Reepicheep, find themselves swallowed into a painting and onto the Dawn Treader. Their mission — on which rests the fate of Narnia itself — takes the courageous voyagers to mysterious islands and a river that turns to gold, to fateful confrontations with magical creatures and sinister enemies and to a reunion with their friend and protector, the Great Lion Aslan. (from MovieWeb.com)
Film Review
It's been two years since Disney released the second installment in the Chronicles of Narnia series, Prince Caspian. Since then, Disney has dropped the Narnia series, leaving Fox to continue the film franchise with the third book, The Voyage of the Dawn Treader. The movie takes place a couple years after the events of Caspian, with Edmund and Lucy biding their time in England living, unwelcomed, in their cousin's home just waiting for the war to end to rejoin their parents. On an especially discouraging day, the siblings are bickering with their cousin Eustace when a painting bearing a sort of "Narnian" looking ship on the ocean slowly begins to come to life. The room fills with water and before they know it, they're swimming in Narnian waters and become guests on King Caspian's ship, The Dawn Treader. No one on the ship knows why the Pevensies are back, and neither does the audience (unless they've read the book), but the story unfolds quickly and nicely once the ball gets rolling.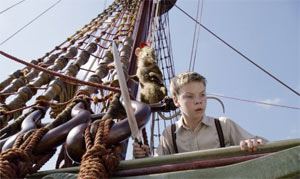 Michael Apted, who last directed Amazing Grace in 2006 and is known for the Pierce Brosnan Bond film, The World Is Not Enough, Nell with Jodie Foster, and lesser films like Enough and Enigma, helms this third installment of the franchise. Apted takes over for Andrew Adamson, who directed the first two films, and brings more of a skill and professionalism to the series that seemed to lack it. I did enjoy Prince Caspian more than the first one, The Lion, The Witch, and The Wardrobe, as Adamson seemed to have a better handle on taking the gloss off the film and giving it a grittier feel. However, there's always been an element of this series that has made the films largely forgettable. Apted seems to be trying to change that, however, in adapting C.S. Lewis's beloved story to deliver universal and Christian themes in a widely applicable way. But I have to say, the biggest drawback to The Voyage of the Dawn Treader may actually be in the portrayal of the irritating Eustace Scrubb, played by Will Poulter. I found his presence almost unbearable for the sequences that featured him. Every time he appeared on the screen, I wanted to hurl a bucket of popcorn at his pouty face and whiney voice. Sadly, while watching the film, I was ignorant as to the importance of Eustace's character. Since watching Dawn Treader, I discovered that Eustace returns in the next book as well as at least one other of Lewis's Narnia tales. Even after Eustace inevitably redeems himself by film's end, I just can't imagine him in a more central role… especially if played by Poulter. Here's to hoping that if The Silver Chair does see the light of day in the future, that the Eustace character is recast.
With that said, it took some time to be drawn into Dawn Treader, but seeing Lucy and Edmund growing up and facing new challenges that are easily relatable was refreshing and intriguing. This time around, Lucy is struggling with her self worth and hungering to be as beautiful as her older sister. Meanwhile, Edmund must ward off the fears in his own mind – whether it be his memory of the White Witch or yearning to be more powerful, like a King himself. The self-worth theme is nothing new, but even when Lucy is given a very brief It's A Wonderful Life George Bailey dream sequence, Apted executes it effectively enough to leave the intended impression. In fact, there's a great deal of emphasis placed on resisting and fighting temptations that becomes an invaluable theme for the film. And when Aslan delivers a line that encourages the children that he can be found in their world under a different name, it continues to draw on the Christian themes that Lewis has often injected into his books. The Voyage of The Dawn Treader is one of the only fantasy adventure films that will offer some great food for thought like this to young audiences.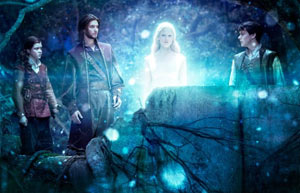 While Prince Caspian's grittier feel was due partially to its violent battle sequences, Dawn Treader also certainly earns its PG rating quite easily through some more battle sequence action, creepy imagery, and fantasy violence. Language is light with an "Oh God" (from Eustace) and an "Oh my Lord" (which was used by a man who didn't realize Caspian was king, so it may have been used in reference to him), but the film's biggest concern is its intensity. The roughest sequence is probably a scene which involves a gigantic sea serpent that doesn't look too far off from something in Men In Black 2. It's a creepy, ugly thing and it's likely to scare the shorts off of any little viewer. It seems that as the children in these films age, so is the intended audience. Still, the film doesn't feel like it should be rated any higher than PG.
The special effects for Dawn Treader are a bit uneven. When we first see the ominous "green mist," it's a pretty dodgy effect across the ocean surface. But Reepicheep, who is wonderfully voiced by the ever versatile Simon Pegg (who replaced Eddie Izzard for this sequel), looks even better this time around, and some of the effects, including a shot where a reflection of Lucy morphs perfectly into Susan, work really well. But it's these kinds of sometimes good/sometimes bad special effects that have marred the overall quality of this franchise. However, Apted has chosen some wonderful and exotic locations and sets for Dawn Treader which aid in giving it a more magical, epic feel this time around (I especially loved the volcanic island and underground cavern).
The Chronicles of Narnia: The Voyage of The Dawn Treader proves there's still life left in this franchise. While interest may not be as high as similar films in the genre, C.S. Lewis's books make for some good family-friendly entertainment with great values. I'm still pretty unfamiliar with the other books in the Narnia series, so I haven't a clue what lies in wait if Fox and Walden Media decide to continue adapting the books for the big screen, but if the rest of C.S. Lewis's Chronicles are as good as Dawn Treader, then I look forward to The Silver Chair!
– John DiBiase, (reviewed: 12/19/10)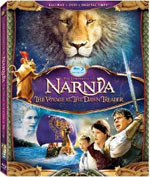 Blu-Ray Special Features Review
The Dawn Treader translates beautifully in HD. With all of the great visuals and scenery in the film, it looks great in high definition. 20th Century FOX brings home the Blu-Ray disc in a convenient combo pack that includes the Blu-Ray disc, DVD, and a digital copy (3 discs in all). The packaging is pretty unique as well. After you take the outer slip card off, there's a box that contains a fold-out disc case which features the discs merely tucked into the outer panels while the digital copy disc is hidden behind a pop-out of the Dawn Treader's navigation wheel (I don't know if it's the best and safest way to package a DVD and Blu-Ray disc, but one could always swap out the digital copy disc to tuck the Blu-Ray more securely in the middle). Behind that panel is a collector's book of Dawn Treader movie postcards. It's a really nice presentation.
The Blu-Ray disc has a series of "Extras" that are accessible from a map of the islands (with the Dawn Treader) in the movie — Goldwater Island, Lone Islands, Dawn Treader, Magician's Island, The Dark Island, and Ramandu's Island. Each one is a host to a series of bonus features.
Dawn Treader:
King Caspian's Guide to the Dawn Treader (4:13) – Caspian introduces this segment, where viewers can choose different parts of the ship to explore (like Main Deck, Poop Deck, State Room, Map Room and Oar Room). Utilizing clips from the film, Caspian talks about the different features of the ship, including the construction of the it. I've seen the movie twice and it wasn't until this featurette that I knew the ship's mast was designed to look like the lamp stand from the first film. There is incredible detail in this ship that this featurette helps reveal.
The Secret Islands: Untold Adventures of the Dawn Treader (7:20) – Caspian narrates this backstory that tells of Narnian events that lead up to the story of the feature film. It's told in animated 2D drawings that are made to look like a childrens' storybook.
In Character With Liam Neeson as Aslan – This is a FOX Movie Channel interview with Liam about voicing Aslan. There are a few videos from FOX here and each one is in standard definition and stretched from "Full Screen" to "Widescreen," so it looks a bit distorted. It's a great interview with Neeson, however, where he talks about being chosen for the voice of Aslan and working with Michael Apted for the third film. We even see some footage of him recording his voice in the studio.
In Character With Georgie Henley and Will Poulter – In another FOX Movie Channel interview, we hear from Georgie as Lucy and Will as Eustace talk about their roles in the film. Both of the young actors talk in-depth about their roles and what it was like to work with Michael Apted. But the best thing about this interview might be seeing Will not acting as irritating as Eustace… which may just show how good of an actor he actually is.
Direct Effect: Michael Apted, Director – This is an excellent interview with Apted, who talks about converting the book to a big screen film and the liberties they had to take to make it work as a movie. Apted also talks about how different the movie is for him, never having done a childrens film or a big effects film before.
Making A Scene – This is the last of the Fox Movie Channel segments here and it focuses on the scene where water fills Lucy and Edmund's bedroom and they're washed into Narnia. It's one of those scenes where you're wondering how they did it while you're watching it and it's really cool to see a detailed look into just how this amazing scene was made.
Lone Islands
Explore Narrowhaven (0:42) – This gives a brief overview of what the Lone Islands are.
Minotaur Discovery (0:51) – This is dedicated to the minotaurs on the Dawn Treader.
Deleted Scenes (4:27) – There are four deleted scenes. "The Kids In Narnian Clothes" is a brief moment where Lucy and Edmund first arrive on the ship and change into Narnian clothing. "Eustace Is Ill" is a brief scene where we see Eustace sleeping in his hammock while sick and delirious and mistaking a faun for his mother. "Mutiny" is a dark scene where the green mist influences the Dawn Treader crew to threaten mutiny on Caspian. It actually would have been some good added tension to leave in the final film. Lastly, in "Caspian 'Doubt'," Edmund encourages Caspian when he starts to doubt their mission.
The Epic Continues (2:15) is a short promo video about the film and the book series.
Goldwater Island
Explore Narrowhaven (0:50) – This gives a brief overview of Goldwater Island and how Caspian named it after the magical pool.
Dragon Discovery (0:56) – This is dedicated to dragons, inpsired by Eustace's transformation. (It's also quite the spoiler if you haven't seen the movie)
Trailer / Digital Copy How-To – To round out this section, we have the theatrical trailer in HD and a video explaining how to get your digital copy.
Magician's Island
Explore Magician's Island (0:42) gives a brief overview of Magician's Island and its unique inhabitants…
Dufflepud Discovery (1:01) – This is dedicated to those kinda ugly, one-footed munchkins who inhabit Magician's Island. The narrator gives more information about these little characters than what is mentioned in the movie.
Commentary by Director Michael Apted and Producer Mark Johnson – This is the feature-length commentary provided by the film's director and producer.
Ramandu's Island
Explore Ramandu's Island (0:59) gives some interesting history of the origin of Ramandu's Island.
Reepicheep Discovery (1:10) is dedicated to the honorable little mouse, Reepicheep. The most interesting part about this is the information given that he is from the descendants of mice that helped gnaw the ropes off Aslan when he was strapped to the stone tablet in the first film (I haven't read the books so I didn't know this). Apparently they were given the gift of speech because of their service to Aslan!
Aslan Discovery (1:02) is dedicated to the great lion, Aslan, and gives a little insight into his character, but doesn't reveal much we didn't already know.
Liliandil Discovery (0:52) focuses on the mysterious Liliandil who is the daughter of the star Ramandu.
Search for the Seven Words Match Game is a simple but tricky matching and memorization game where you're provided a picture of the seven swords with a color designated to each one. After 15 seconds, they swords disappear and you're given a color which you have to match with the now unseen sword. You're only given two possible chances for getting it wrong before you have to start over.
VFX Progression with Optional Commentary by Director Michael Apted and Producer Mark Johnson (13:00) – With optional commentary, you get to see the layers and progression of a lot of memorable scenes in the film. It may spoil the magic of some of the scenes for viewers to see how much is synthetically created compared to what was actually there. It's really intriguing, however, and listening to it with commentary is ideal. But this is a really incredible exploration of the visual effects on The Dawn Treader. It's a fantastic featurette and a highlight of this release.
The Dark Island
Explore The Dark Island (0:57) explains the danger that lies within The Dark Island.
White Witch Discovery (0:36) explains how the White Witch's appearance in Dawn Treader is merely a figment of Edmund's imagination.
Serpent Discovery (0:42) is dedicated to the hideous nightmare-come-true in the form of the 311-foot sea serpent that attacks the Dawn Treader!
Portal To Narnia: A Painting Comes To Life (7:22) is another look at the scene where the painting comes to life and takes the kids to Narnia. It repeats some of the info from the FOX Movie Channel feature, but this one, which is in HD, goes further into the construction of the set and features more interviews with the cast and crew.
Good Vs. Evil: Battle on the Sea (10:55) starts out with a look into the construction of the actual Dawn Treader boat and how they filmed the action sequences on it… without ever actually taking it to sea! There is some cool footage of them filming on set as water is being dumped on them and the hydrolic-driven boat is rocked from side to side. It's another great behind-the-scenes featurette.
Overall, 20th Century FOX gives Narnia fans a feature-rich home entertainment release of the third Narnia film. Fans of the movie should be delighted, while fans of the book series should certainly look into what may be the best of the Narnia film series yet.
– John DiBiase, (reviewed: 4/11/11)
Parental Guide: Content Summary


 Sex/Nudity: None.


 Vulgarity/Language: At least 1 "Oh my L-rd," 1 "Oh, G-d"


 Alcohol/Drugs: None.


 Blood/Gore:
Eustace finds the skeleton of a dead man in clothes in an area full of treasure; Edmund and Caspian find what they believe are the remains of another person as they find torn, burnt clothing laying around (but no actual remains of the person); We see three old men stuck in vines that look like creepy corpses, but it's soon discovered that these men are still breathing and just under a spell; We see a sword sticking out of a dragon's body; We see one of the fleshy tentacles of a sea serpent get cut off and land on the boat deck, then turn into a mist.


 Violence: Some sword play in a dark setting (it's not evident whether there are any resultant deaths); We see that there is some slave trade on an island and people are bought and sold there. We also see a boat full of women offered as "sacrifice" to a green mist in the water (SPOILER: those offered up don't really die); Edmund and Caspian briefly fight with swords; Reepicheep and Eustace spar with swords; There is a long sequence where a huge sea serpent attacks the Treader and causes a lot of damage to it, throwing the men on the ship about. The men on the boat throw spears and such at the monster; A dragon attacks the ship and Reepicheep stabs it with his blade; Lucy is kidnapped by unseen creatures and they threaten her and her friends with death; And other assorted fantasy violence