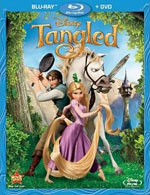 Tangled



– for brief mild violence.
Director: Nathan Greno, Byron Howard
Starring: Voices of Mandy Moore, Zachary Levi, Donna Murphy
Running Time: 1 hour, 40 minutes
Theatrical Release Date: November 24, 2010
Blu-Ray Release Date: March 29, 2011 (Amazon.com)
Official Site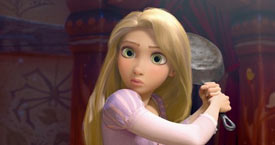 Plot Summary
When the kingdom's most wanted—and most charming—bandit Flynn Rider (voice of Zachary Levi) is taken hostage by Rapunzel (voice of Mandy Moore), a feisty teen with 70 feet of golden hair who's looking for her ticket out of the tower where she's been locked away for years, the unlikely duo sets off on a hilarious, hair-raising escapade filled with adventure, heart, humor and hair—lots of hair… (from MovieWeb.com)
Film Review
Fairytale princess movies have been something Disney has been creating for over half a century and the company has built their name around such family, kid-friendly films as Snow White and the Seven Dwarfs, Sleeping Beauty and Cinderella. In 2010, Disney brought a new kind of princess to the big screen — Rapunzel. Traditionally, this sheltered little blonde lady isn't a princess, but an updated, Disney-ized version of the classic fairytale molds the character to fit into the Disney world (no pun intended there). And while most of those princess stories (which, incidentally are named for the title character) have featured heroic male figures, Rapunzel's Disney venture, Tangled, is almost as much about the leading lady's rescuer as it is about her.
Unlike the aforementioned hand-drawn classics, Tangled is a fully CG-animated film. However, it carries with it a look and feel that is faithful to the classic Disney style, all while offering the gorgeous visuals and animation techniques that can only be delivered through the means of a computer. After watching Tangled, I feel it's safe to state that this is probably the best-looking non-Pixar animated Disney film to date. From the hair on Rapunzel's and Flynn Rider's heads to the jaw-dropping realism of rushing water during an action sequence, this is an incredibly animated film, and one Disney can truly be proud of. My first impressions of Tangled were almost entirely negative after seeing less than thrilling trailers for the film. I thought the animation looked great, but it was really difficult to get a fix on what the tone of a film like this was going to be. The ads seemed marketed towards teenage girls (despite the fact that the film was renamed from Rapunzel to Tangled as to not alienate the male audience!), and it made this movie watcher much less interested in the film. After viewing it, as someone who especially enjoys movies on the big screen, I feel somewhat cheated by the underwhelming previews. Tangled is a gem.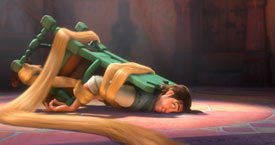 The film opens with narration from the male hero of the film, Flynn Rider (voiced by Zachary Levi, known for the title character in the TV show Chuck), with a sarcastic and random wit about him that probably was last heard in a Disney film in 2000's The Emperor's New Groove (also still probably my favorite non-Pixar Disney animated film). That film was entirely random and off-the-wall, feeling more like a Looney Tunes adventure than something Disney would be involved with. Unfortunately, it tanked at the box office and it is an often-forgotten Disney film, so it's surprising to see some similar touches from that film applied to Tangled. However (and that's a big "however), what Tangled is that Emperor's wasn't… is a true fairytale. There was no damsel in distress or a dashing young hero in Emperor's New Groove; the film centered on a self-absorbed emperor boy who was turned into a llama and sets out on a quest to get changed back. As A.D.D. as the humor in that film may have seemed, it was about a person learning to grow up and consider others rather than himself, instead of a girl setting out to make her dreams come true. And the latter is really what Tangled is all about.
Maybe since I've gotten older and am now officially settling in to the parental role, I've become more sensitive to what is in entertainment for children, but I was rather surprised at just how violent Tangled really was. Sure the violence was seldom lethal, but the opening words of the movie feature Flynn stating "This is the story of how I died." Those are pretty heavy words for a kids movie. And when Rider stumbles into Rapunzel's tower and she sees the young man for the first time, she knocks him out with a cast iron frying pan. When he comes to, she nails him on the head again. After that, she tries to hide his lifeless, unconscious body in her closet so her mother won't find him. First, she shoves him face-first under the furniture, then stuffs him into it (from which he falls out of) and then accidentally closes the door on his fingers (we see them sticking out from between the closed doors). Finally, when he falls back out later on, his face roughly slides across the floor (not to mention, he does several face-plants while falling over tied up). It's all actually very amusing and quite humorously and brilliantly animated, but I was surprised how rough it seemed. After all, the first time little Jimmy whacks his parents with a cast iron frying pan because he saw it in a movie and it was funny, those parents probably won't be laughing (if they're left conscious to react at all). And I don't mean to sound like a stick in the mud here, I'm only mentioning this for those who know this could be a problem for their impressionable children. I do remember seeing some emotionally rough animated films as a child (Bambi's mother dying, Simba's father dying… or Little Foot in the first Land Before Time losing his mom), but I don't remember a lot of random comical violence. Other violence in Tangled includes all kinds of physical smacking and punching (even sort of playfully between Rider and a horse named Maximus) and – spoiler warning – we see a character draw blood via a scrape on their hand in one scene, a character stabbed with a knife with a little blood subtly shown in another scene, and a villain fall to their death. Granted, some of the Disney classics are very, very violent (even Beast in Beauty and the Beast was stabbed and bleeding before the evil Gaston fell to his death), but maybe there's something about the more realistic-looking CGI animation that seems a bit more jarring than the hand-drawn animation?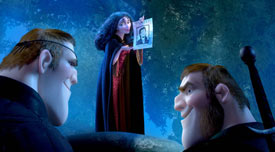 Like most Disney animated classics, music is a big part of Tangled. Mandy Moore, who voices Rapunzel, has been known for her singing career since a young age and she ends up singing several songs in the film. Donna Murphy, who voices the villainous Mother Gothel, also sings several numbers throughout the film. While singing made up a great deal of Disney films like Beauty and the Beast or Aladdin, it seems a little more subtle in Tangled, but still gives several of the singing scenes a Broadway performance feel (for better or for worse). At times, I felt it yank me out of the film and remind me this is a Disney picture, but in the end, the music was good enough and the lyrics amusing enough to mesh with the rest of the film. Although I'm not familiar with any of his other work, Levi is absolutely fantastic as Flynn and some of the dialog he gets to deliver is truly memorable. Moore only adds to the adorableness and innocence of Rapunzel and it isn't difficult to love her character either. The movie does deal with quite a few different themes to consider. For most of the movie, Flynn is mostly an arrogant, self-centered thief who has made it through life on his looks and by stealing, but as you can expect, his character is redeemed by the film's end (taking on much more endearing characteristics). Rapunzel battles with feelings of guilt and wanting to do the right thing when she disobeys her mother's orders to never leave the tower (not realizing her "mother" is Mother Gothel, an evil woman who stole her from her parents because the magical power of Rapunzel's hair keeps her young). Finally, the biggest theme of the film is making our life's dreams come true, despite life's other circumstances limiting what we can do. It's an encouraging and hopeful theme that should be a good one to inspire children.
In the end, Tangled is an excellent addition to the Disney film catalog. It might be a little more suitable for older children – due to the violence (even if most of it is just comical) and the intensity of some of the perilous scenes (including Mother Gothel and her creepy, evil ways), but Tangled is a great family film that should be enjoyed for years and years to come.
– John DiBiase, (reviewed: 3/28/11)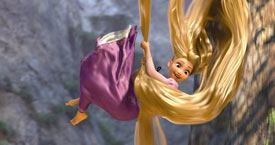 Blu-Ray Special Features Review
On Blu-Ray, Tangled is available in a four-disc Blu-Ray 3D, Blu-Ray, DVD and digital copy combo as well as just a 2-disc Blu-Ray and DVD combo. This will be a review for the latter. I didn't see Tangled in the theater or in 3D, but on Blu-Ray disc in HD, it's absolutely gorgeous. The colors are vibrant, the details are so crisp and textured… it's an absolutely stunning film visually.
The Blu-Ray disc includes a fair amount of bonus content to take the viewer beyond the feature film…
Deleted Scenes (12:36) – There are three deleted scenes: "The Jaunty Moose," "Chemistry Develops" and "Vigor The Visionary." Directors Nathan Greno and Byron Howard introduce this segment and each subsequent deleted scene by explaining where they were intended to be in the film and that they're totally unfinished, storyboarded sequences. The first scene is an alternate version of the pub scene where the characters inside the pub turn out to be showing their softer side via poetry reading. It's not a better version of the scene, but it's cute for those who enjoyed the film to check out. It's unfortunate that all they have are animated rough sketches of it, though. The second storyboarded sequence, "Chemistry Develops," follows the "Jaunty Moose" chronologically and shows a tender moment between Rider and Rapunzel. When it was cut from the finished film, they used the basic idea of this scene in other sequences, making this one irrelevant. I do think the final scenes used in the movie are stronger. Finally, "Vigor The Visionary" shows a character that was cut from the movie entirely: a fortune-telling monkey. It's cute, but not missed from the overall film.
Original Storybook Openings – There are two different "Original Storybook Openings" that were intended to be traditional introductions for the film. The first (3:57), shows unfinished animation of colored sketches displayed as storybook pages as the tale of Rapunzel's origin is told. Version 2 (4:02) is a different form of the storybook telling, morphing more quickly from the story pages to animated sequences. Both intros are neat to have included here, but the technique to introduce the story in the final film was much more fun and original. I'm afraid the way the storybook telling is shown here feels more like the parody that Shrek made fun of than something to take seriously.
50th Animated Feature Countdown (2:03) – In two minutes, we're given a montage of all fifty animated Disney feature films counting from the first film very quickly to the most recent, Tangled. It's cool, but extremely brief with just hints of moments from each one… never identifying any of them for those unfamiliar with some of the titles.
Extended Songs – For those who enjoyed the music in Tangled, we're given extended and unfinished versions of the scenes that featured the songs in the film. "When Will My Life Begin" (3:35) is introduced by the directors and shows unfinished CGI renderings of parts from the song montage that were cut from the film. It was intended to be the original introduction for Rapunzel, but was inevitably trimmed for the film. What's odd, though, is there are finished versions of the animation used in the final film, but instead of reusing it here, we just see the unfinished CGI versions of it. The second extend song, "Mother Knows Best" (4:17) was trimmed for the film's pacing. The animation is pretty rough (even including some black and white animation), and is also mixed with totally finished animation, but it overall looks better than the first extended song. This is a great addition, although it makes Mother Gothel even creepier (is that possible?), but the trimming was a wise choice.
Untangled: The Making of a Fairy Tale (12:28) – Here is the only behind-the-scenes featurette that is hosted by Mandy Moore and Zachary Levi (who voice Rapunzel and Flynn Rider, respectively). It starts with the actors talking about how Tangled was the 50th animated Disney film and they offer some trivia on the matter, even going as far as showing another quick countdown of all 50 movies. This segment mixes trivia about Tangled and other big Disney films with behind-the-scenes facts about the making of the latest Disney animated feature. Moore and Levi play it off like they're hosting a TV special based around the film and Disney's animated film history, and are clearly having fun in the process. There's even a montage of CG hair animation bloopers. Before the featurette wraps, we see quick shots of all the main actors recording their parts in the studio. Unfortunately, there are no cast interviews or even much talk about the development of the film. While this is a cute segment, it's more geared towards kids and rather unfulfilling for film fans.
Untangled Teasers (9:12) – There are nine "Tangled Teasers" that are mostly one-minute mock commercials for the film. The first is a fake cologne commercial for "Smolder," based on Flynn's flirtatious look. Next is a mock infommercial for frying pans while the next one is a news report parody following a "white bronco" chase (like OJ from the nineties… get it?) involving Flynn and Maximus. In addition to those, there's a PSA on "grounding," a brief commercial that puts Rapunzel's tower up for rent, a mock medical ad for the healing power of "Rapunzhair," and three different 2D animated "early adventures" of Flynn's (that weren't seen in the film and are supposed to be pre-film adventures of Flynn as a thief). They're pretty clever and amusing and definitely worth a watch.
Unfortunately, that is where the bonus goodies end. There are some previews for other Disney releases, but no feature commentary and not even a theatrical trailer for Tangled. With how well-received the movie was in theaters, I expected a bit more to be included here. Still, if you enjoyed the movie or haven't seen it yet and are a fan of classic Disney fairytales, Tangled is a great buy on Blu-Ray disc and a worthy addition to the Disney movie collection.
– John DiBiase, (reviewed: 3/28/11)
Parental Guide: Content Summary


 Sex/Nudity: Mother Gothel often shows a little cleavage in the dresses she wears; We see a little old man in a diaper acting like cupid in several scenes. In the film's final shot before the credits, he comes drifting by with dressed like cupid and blows a kiss to the audience before wiggling his eyebrows seductively (played for laughs); Rapunzel and Flynn briefly kiss passionately


 Vulgarity/Language: None.


 Alcohol/Drugs: We see lots of rough looking men in a pub, with some drinking. One of them, a little old man, is visibly drunk.


 Blood/Gore: We briefly see a bloody cut across Flynn's palm after he was clawing at a rock wall; We briefly see part of a white shirt soaked with blood after a person was stabbed (and later see light shooting from that spot on their body)


 Violence: LOTS of comedic violence including, but not limited to, Rapunzel hitting Flynn over the head with a frying pan several times; Flynn fights off several soldiers and even the horse Maximus (who is fencing with a sword in his mouth) while using a frying pan; A bridge of sorts collapses and a dam breaks, flooding a little valley, washing away some people and trapping Rapunzel and Flynn in a small cave (who think, momentarily, that they're going to drown); Flynn and Maximus punch and elbow each other; some burly men in a bar threaten to hurt and beat up Flynn (they grab him and start to pull on his arms and legs and punch him); Rapunzel often uses her hair as a sort of whip to pull on things or people, tie them up, etc; We see a man who was tied to a ship, apparently after being knocked out; A woman beats up two men, knocking them out (off screen); Some characters knock out, drag away, etc, several soldiers; A villain falls from a great height to their death; A villain stabs a character with a knife; A person cuts hair off another person using a broken shard of glass; A woman frighteningly threatens Rapunzel; Gothel knocks over a mirror, shattering it; and other assorted cartoon violence