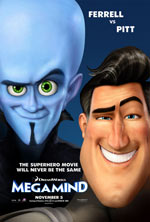 Megamind



– for action and some language.
Director: Tom McGrath
Starring: voices of Will Ferrell, Brad Pitt, Tina Fey, Jonah Hill
Running Time: 1 hour, 36 minutes
Theatrical Release Date: November 5, 2010
Blu-Ray Release Date: February 25, 2011 (Amazon.com)
Website: Megamind.com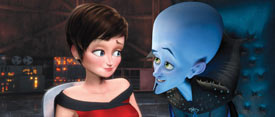 Plot Summary
Megamind is the most brilliant super-villain the world has ever known…and the least successful. Over the years, he has tried to conquer Metro City in every imaginable way – Each attempt, a colossal failure thanks to the caped superhero known as "Metro Man," until the day Megamind actually defeats him in the throes of one of his botched evil plans. Suddenly, the fate of Metro City is threatened when a new villain arrives and chaos runs rampant, leaving everyone to wonder: Can the world's biggest "mind" actually be the one to save the day? (from MovieWeb.com)
Film Review
With all of the origin stories of how heroes became heroes, DreamWorks Animation decided to tell the tale of how a villain became a villain and then a hero in their latest animated feature, Megamind. Given a similar start to life as the familiar story of Superman, Megamind's nemesis, Metro Man, is also a Superman-like hero who has been able to foil all of Megamind's evil plans since their rivalry began. But Megamind is unlike any supehero story we've seen yet, and although the film delivers several inside spoofs on the Superman universe, the film mostly sticks to its own world with its own rules, delivering an often funny, often unique take on the superhero genre.
One can actually draw quite a few comparisons to the Superman universe when looking at Megamind. Aside from the fact that Metro Man is a much more egocentric version of the beloved superhero, his home is "Metro City," which sounds strikingly similar to Superman's home, Metropolis. Also, like Lois Lane, Superman is always having to save Roxanne Ritchi (a reporter, too, like Lois) from the villain. There's even a key scene midway through this film where Megamind takes on the image of an older man with white hair that takes a deliberate physical likeness to Marlon Brando's portrayal of Superman's Krypton father in Superman The Movie (1978). It's something the parents watching Megamind might get, but it's relatively obscure… even though Ferrell even gives the character a similar lisp to Brando's Godfather. Brilliant. That's the kind of humor that Megamind embraces, and while most of the humor isn't frequent laugh-out-loud funny, much of the film is just downright clever — and almost entirely unpredictable — and that's just so refreshing.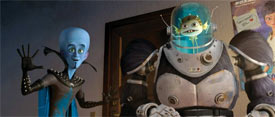 One thing Megamind definitely isn't is a children's film. That's not to say kids wouldn't enjoy it, but this isn't your typical film for the kiddies. There's quite a bit of cartoon violence — even hinting at death at times (SPOILER ALERT: I don't think anyone actually dies in this movie). And with the focus being on Megamind's pursuit of evil, there's an overall dark tone to the film. However, Ferrell's comedic take on the central character helps lighten the mood. It's actually not too far off from this year's Despicable Me, which also centered around a villain who eventually turned good. This film sets up Megamind very well as a villain we sympathize with. The guy had an awful upbringing and his charm makes it difficult to hate him. Even his minion – a talking fish in a glass bowl – is cute despite his "evil" nature. And the film doesn't glorify villainy. Like Despicable Me, it sort of uses the "evil" intentions of the villain as fodder for humor, but ultimately highlights the character's misguided heart as the source and then focuses on outside influences guiding them to make the right decisions. It actually works quite well in both films in very different ways.
The content in Megamind is definitely milder than the MPAA rating suggests. The "language" is limited to two uses of "freakin'" (as a profanity substitute) by the character Hal, and a use of "Good Lord" by Metro Man and two somewhat distorted uses of "God" (like "Oh my God") by Megamind. Additionally, the song "Highway to Hell" is played in part and may offend some viewers. There's no sexual content, aside from persistent flirting from Hal and a brief kiss between two other characters, and the rest can be chalked up to violence. Most of the violence, and there's quite a bit of it, is the kind you'd expect from a superhero genre type film or other animated action films. When Megamind battles another character in the film's climax, there's incredible amounts of damage done to the city. (SPOILER: We're also lead to believe a character dies when we see an explosion and a resultant skeleton afterwards, but it's later revealed as being a faked death and that character survived).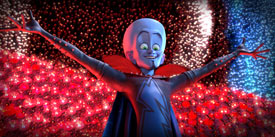 The voice cast is solid as well. Ferrell is excellent in the title character and Tina Fey is feisty but lovable as Roxanne. Jonah Hill does his usual comedic shtick (like Ferrell does for Megamind) for the geeky news camerman Hal and Brad Pitt is perfect as the self-centered pretty boy, Metro Man. The animation is also some of the best you'll see on screen these days. I found the city battle in the climax of the film to be especially breathtaking. We did happen to catch a 3D showing of Megamind and the film actually works quite well in this format. I was a little surprised just how much of the movie catered to the 3D format, and while it's not entirely crucial to have to view the film in this format, the 3D effect actually added to some of the scenes — especially when characters were flying through the air or things were being thrown about. Overall, the film is just a great visual experience. The only downside to Megamindmay be the pacing. Some moments seemed to drag just a bit and it tended to slow down just a little too much for the kind of movie it is. Its saving grace, however, is a good script and some well-placed jokes when things slowed some. Adults probably won't mind the pacing as much as kids might. It's not a huge problem, though. In fact, it let the story grow at a healthy speed without feeling rushed, but it was noticeable.
In the end, Megamind might not be the best animated film of the year, but it's another fine achievement in DreamWorks' growing catalog of excellent animated films and will be one worth revisiting in the future. It may not be as 'mega' as Pixar's The Incredibles or quite as touching as this year's Despicable Me, but Megamind is still a fun animated film that parents and older children should really enjoy.
– John DiBiase, (reviewed: 11/19/10)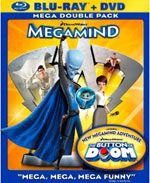 Blu-Ray Special Features Review
Megamind was the third of DreamWorks Animation's big releases in 2010, and the second in a potential new franchise. It's an excellent story that was wonderfully executed and it comes home to viewers in DVD form or as a Blu-Ray/DVD combo pack. Let's run down the list of extras on the Blu-Ray release…
Megamind: The Button of DOOM (15:52) – This brand new 15-minute cartoon short takes place immediately after the events of the film as Megamind has a garage sale to clean out his lair of evil gadgets. In the process, he and Minion activate "The Button of Doom," which they had forgotten exactly what it does… unleashing one of his evil gadgets to wreak havoc… which Megamind now has to stop! It's a great bonus for the Blu-Ray/DVD release and a fun continuation of the film's story.
Brilliant Blu-Ray Exclusives:
The Animators' Corner (1:35:34) – This is a feature-length commentary track from the writers, producers, and director of the film. It's a visual commentary picture-in-picture option that shows the crew talking, mixed with storyboard and test/unfinished footage of the final film. It's perfect for fans of the movie as well as fans of animation in general.
Trivia Track (1:35:34) – This is a feature-length pop-up window with a translucent background that periodically shows up while you're watching the movie. For example, the trivia track features a "Mega-Mispronounce Counter" that keeps track of the common words and phrases Megamind mispronounces. It's a fun little extra for fans of the movie.
Comic Creator – This is an extra for kids who want to play around with select scenes from the movie, overlaying comic book expressions and sound effects words (like "Buzz" or "Swish," etc) to create their own version of the scene. They can then even save their version for future viewing again.
Behind The Mind – This is an image gallery broken down into four sections: Hideouts, Inventions, Vehicles and Megamind: Good & Evil. It's a collection of concept art related to the respective categories. For example, Hideouts shows you various pencil, pen and computer concept artwork for the various locations Megamind calls home or does battle in around the city.
Mega Features:
Meet The Cast Of Megamind (9:26) – One of my favorite bonus features for animated movies is when they focus on the voice cast and show footage from the recording sessions. "Meet The Cast" focuses mostly on Will Ferrell and his performance of Megamind, as well as the characteristics of this central character. We also hear a little from Tina Fey about Roxanne, David Cross about Minion and Jonah Hill about voicing Hal.
Deleted Scene (1:36) – Producer Lara Breay introduces the one deleted scene. It's a very, very brief but completed animated moment that shows Megamind brushing his teeth and regretting ridding the world of his nemesis. It was a cute moment, but as Breay points out, it hindered the pacing of the film. It's cool that they included it here at least (despite its brevity).
Inside Megaman's Lair (7:17) – Contrary to what the title suggests, this is a great behind-the-scenes look at creating the look and feel of the Megamind character, not just his lair. Director Tom McGrath even points out how Megamind is meant to represent rock & roll music while Metro Man represents country music — taking a musical approach to how they carry themselves (via performance and spectacle) and dress. It's an enjoyable look at the artistic and creative development of the film.
AnimatorMan (2:01) – This short video talks about how the film's animators acted out most of the scenes they created themselves to use as a reference. The video then shows the final film versus storyboards and clips of the animators acting out the footage all at the same time.
You Can Draw Megamind (13:14) – Story Artist Andy Schuler shows step by step how to draw Megamind by hand. It's pretty fascinating to see how the animators work and through different styles and methods of drawing. As an artist myself, I really enjoyed watching Schuler's drawing style and technique.
Mega Rap (1:01) – This is a one-minute promo of the movie with a rap about Megamind featured over clips from the film.
The Reign of Megamind: Video Comic Book – This is a panel-by-panel comic book that can be viewed with the arrow controls of your Blu-Ray remote. It allows you to read it at your own pace, but it sure involves a lot of clicking to move ahead speech-bubble by speech-bubble and then page by page.
Spot The Difference – This is literally a game of spotting three differences between two images. You can choose from an Easy, Medium, or Hard setting, and you're given a clock counting down 30 seconds to spot what's missing from one photo to the next.
Filmmakers' Commentary – Here's the visual commentary track from before, except this time, it's just audio. The commentary is provided by Director Tom McGrath, Producers Lara Breay and Denise Nolan Cascino, and Writers Alan Schoolcraft and Brent Simons.
World of DreamWorks Animation – This allows you to choose from four other active DreamWorks Animation franchises — Kung Fu Panda, Madagascar, Shrek and How To Train Your Dragon. Each one offers various features that can include a music video, trailer for the latest film (like the Kung Fu Panda 2 teaser), website trailer or previews for additional expanded-universe DVD releases (like Secrets of the Furious Five or Penguins of Madagascar).
Overall, Megamind looks real nice in high definition Blu-Ray and the combo pack offers enough goodies to take the viewer deeper into the world of Megamind (although I would have appreciated the addition of a digital copy here). I'm curious to see if DreamWorks will continue the legacy of this franchise with future installments, but even if they don't, Megamind is a great film for families (especially with older children) and animated/superhero film fans alike.
– John DiBiase, (reviewed: 2/23/11)
Parental Guide: Content Summary


 Sex/Nudity: Hal is constantly flirting with Roxanne; Roxanne shows a little cleavage in one of her shirts; A man and a woman briefly kiss


 Vulgarity/Language: 1 "L-rd," 2 "G-d" (as well as two uses of "freakin'" as a profanity substitute and the song "Highway To Hell")


 Alcohol/Drugs: None.


 Blood/Gore: We see a non-bloody or gory skeleton.


 Violence: Lots of cartoon action violence involving superheroes with super powers. Megamind has a lot of violent gadgets and traps that we see (like a pit full or alligators or little robots with chomper teeth that bite him, rayguns, etc); Megamind uses a raygun that turns people and things into little cubes which get rehydrated to normal size in water. We see one character turned to a cube early on in the film and it's not until the end credits that we see them turn back to normal; There's a stick that we see Megamind and Minion hit people with to knock them out; A person gets hit with a powerful weapon that presumably turns them into just a clean skeleton (killing them. SPOILER: we later find out that they're not dead); Another villain flies around the city burning up buildings and objects with their heat vision. The same villain tosses part of a skyscraper at Megamind; Objects are thrown, characters are thrown around, buildings are smashed or blown up — all kinds of random, non-lethal action violence.