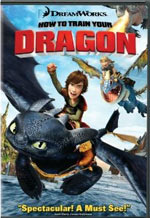 How To Train Your Dragon



– for Sequences of intense action and some scary images, and brief mild language.
Director: Dean DeBlois, Chris Sanders
Starring: voices of Jay Baruchel, Gerard Butler, Craig Ferguson, America Ferrera, Jonah Hill
Running Time: 1 hour, 38 minutes
Theatrical Release Date: March 26, 2010
Blu-Ray/DVD Release Date: October 15, 2010 (Amazon.com)
Official Site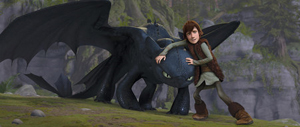 Plot Summary
Meet Hiccup Horrendous Haddock III, heir of the Viking chiefdom, but a boy with one very big problem: a hero he is not. "How to Train Your Dragon" is the riotous story of Hiccup's quest to hunt down the fiercest dragon, bring it into submission, and – hopefully – pass his initiation. Instead, he ends up with the smallest, most ornery dragon – it's even toothless! Thus begins the hijinx of the world's most lovable, unlikely hero and a most reluctant "beast." Packed with energetic drawings and plenty of action, this boisterous tale is just right for fantasy fans or anyone with a spirit of adventure. Based on the book by Cressida Cowell. (from MovieWeb.com)
Film Review
Ever since its debut, DreamWorks Animation has had to ride the cotails of Disney and Pixar, being compared to the successful animation studios with every project. As Pixar churns out favorite after favorite among critics and movie goers alike, DreamWorks' productions – for the most part – have still managed to find their way into the hearts of many film fans. Still, certain projects like 2008's Kung Fu Panda for example, have upped the ante a bit, while the studio will probably forever be associated with the hit-or-miss Shrek franchise as well. But this year, the oddly titled How To Train Your Dragon (but it's based on a book) just may change everything for the animation studio.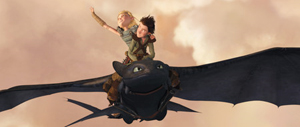 One thing that DreamWorks has missed as a whole has been the grand, epic scale and feel that Pixar and Disney have been able to achieve. Up was saturated to overflowing with heart, and heart is something DreamWorks seems to only dabble in, while placing its focus on entertainment. And oftentimes, DreamWorks won't shy away from crass humor or even toying with mild profanities, to the point of riding the line of being child-friendly at all. Enter How To Train Your Dragon. The story focuses on a teenage pseudo-viking who is trying to find his place among his people. Named Hiccup, the boy is an inventor of sorts who feels like he's missing out on the viking heroism of fighting fearsome dragons, and while trying to prove his worth, he knocks one of the most legendary of dragons out of the sky — the Night Fury. He tracks down the dragon in hopes to slay it and prove he's worthy of his viking kind, but realizes he doesn't have the guts to do it. Hiccup soon befriends the Night Fury, naming him "Toothless," and his view of the fierce beasts is forever changed. The story is filled with action, humor, and breathtaking visuals — something that the 3D elements actually beefs up a little bit (but isn't entirely necessary). When we are treated to some sequences of soaring through the sky, it really adds to the magestic feel the filmmakers are trying to portray.
And it's partly the visuals that give the picture a grandiose, epic feel (not the added 3D feature, that is). The big, "epic" visuals are a bit reminiscent of the recent phenomenon that was Avatar, but in a much more family-oriented fantastical way. There's an element to How To Train Your Dragon that sort of harkens back to the 80's fantasy features. A lot of the vikings are "larger than life" while the teenage characters ground the story enough for the audience. And those characters are teenage enough without alienating adults or even younger kids. Hiccup makes a great central underdog, while his peers are obnoxious enough to be foes but charming enough to become inevitable friends. Gerard Butler revisits the world of dragons (anyone remember him in Reign Of Fire with Christian Bale?), but this time as the quintessential viking. Some of the first scenes to really display the incredible animation detail involve his character Stoick alongside Gobber (voiced wonderfully by late night personality Craig Ferguson) conversing in a moonlit room. And to add to the impressiveness of the film's animation, the DreamWorks team even matched Butler's unique speech pattern perfectly, right down to matching the way his mouth moves when he speaks in real life! It's elements like that – the attention to little details – that help strengthen an already impressive production.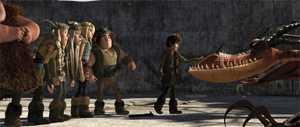 There's plenty of action to accompany the humor in How To Train Your Dragon as well. The dragons range from pretty intense and menacing to cute and lovable. The greatest amount of attention is put into the main dragon, Toothless, and it's really difficult not to find your heart won over by this creature. The writers and animation team load him up with a wealth of personality, so it's hard not to get wrapped up in the story and characters. There are some tense family elements between Hiccup and his father, but it's nothing that gets too overwhelming. However, the film's biggest issue may be the intensity of the dragons and some of the action sequences. A lot of the dragons can be pretty intimidating and monstrous – particularly for younger children. So I wouldn't run out to this one thinking it's fun for the whole family. The rating specifies "scary images" for pretty good reason. However, the "mild language" wasn't necessarily as bad as it sounds. Astrid says "son of a…" and finished it with the name of some kind of creature, while Stoick comments at one point that "all hell will break loose." Other than those two instances, it didn't seem like any other language was used (otherwise their Scottish accents made it difficult to tell). Lastly, there is some violence – like dragons spitting fire at characters, carrying off livestock for food, and a behemoth of a creature attacking vikings. We also see dragons kept in captivity, and a character actually loses their foot after an action scene. We don't see it happen, but we see the character with a false foot later on. There is also lots of talk about killing dragons and Gobber shares a story about how he lost his hand and his foot to dragons (he has a peg leg and a hook for a hand). NOTE: Kind of a spoiler regarding what DIDN'T happen ahead… But out of all the violence, I was actually surprised there didn't appear to be any focus on actually visually killing dragons or vikings. It's mostly talked about in past tense or intent, but never seen. So I was surprised there weren't random killings of characters left and right or significant dragon death sequences or anything – even shown off screen. There seemed to be a lot more lethal violence in Kung Fu Panda, like when Tai Lung escapes for example, and I was pleasantly surprised to see DreamWorks avoided included anything remotely like that here (which makes it a little more kid friendly and eases up the intensity of how menacing the dragons and vikings can be).
I was really impressed with what DreamWorks brought to the table with How To Train Your Dragon. It's exciting, unique, and captivating from start to finish. The voice acting is solid and the animation is top notch. I'd love to see the studio crank out more productions of this quality. I even enjoyed it a lot more than last year's Pixar effort, Up, and the impressive but ultimately overrated Avatar. If it weren't for the fact Toy Story 3 is releasing in just a few short months, I'd jump to stating that this is likely to be the best animated movie of the year. But regardless, it's seems pretty safe to say it's a must-see!
– John DiBiase, (reviewed: 3/26/10)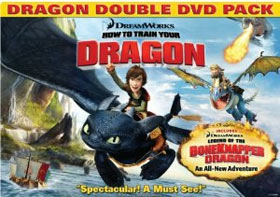 DVD and Special Features Review
One of the highlights of 2010's film selection is DreamWorks' How To Train Your Dragon. Now you can take the film home on Blu-Ray and DVD, and it's one you'll certainly want to add to your collection. However, looking at the DVD's picture quality, this was a movie that looked great in digital projection on the big screen and the DVD release just doesn't do the film justice. If you have a Blu-Ray player, you're going to want to get this title in HD for sure. However, this review is focused on the Double-DVD Pack release of the film (which most, if not all, of these features are on the Blu-Ray combo pack)…
Viking Sized Cast (11:44) – On Disc One, there are a series of Special Features. "Viking Sized Cast" leads them off. This featurette explores the voices behind the film's biggest characters and features the filmmakers talking about the story and choosing the actors. It's great to hear the enthusiasm from actors like Gerard Butler, Craig Ferguson and Jay Baruchel and to see the footage of all of the main cast in the studio recording. It's a featurette highlight.
The Technical Artistry of Dragon (10:13) – This segment focuses on the animation of the film — from creating fire and what kind of references they used to make that, how they created clouds and the flying sequences, to even just hearing from higher-ups at DreamWorks talk quite fondly about the production.
Legend of the Boneknapper Dragon (16:33) – The highlight of the bonus disc for the standard DVD release is an all-new 16 and a half minute adventure called "The Legend of the Boneknapper Dragon." From the start, it's clear that the writing doesn't quite hold up to the standard set by the feature film, but by the end of the mini-adventure, it feels as if the trip was worth it. "Boneknapper" takes the viking kids on a new journey as they follow Gobber who claims that the legendary dragon is real — yet no one else has seen it. The mini story also features 2D cartoon-style animation (remember the intro to Kung Fu Panda?) to tell backstory from Gobber's youth. Some of it is way over the top, but it's still a fun little addition (And an obscure reference to a quote from Dumb & Dumber is an appreciated effort).
Deleted Scenes (7:34) – There are three deleted scenes, all with director commentary. All of them are just animated rough storyboards, which are rather tough to watch in comparison to the final film, but they're fun for anyone wanting just a little more of the movie they enjoyed. These three are all extensions of existing scenes or ideas and aren't missed from the final film.
The Story Behind The Story (7:40) – The real charm of this featurette is getting to hear a lot from the original book's author Cressida Cowell as she talks about her childhood in Scotland and her inspirations for the book that the movie is based on. It's also fun to see Cressida overseeing the film's animation and reacting to it. This is a must-see for fans of the movie.
Racing for the Gold is a series of all new animations that show the viking kids doing random Olympic sports with Gobber narrating. It's very brief, very random, but fun for fans. The sports included are Ski Jumping, Snowboarding, Bobsled, and Speed Skating. All the clips are under a minute. It's kind of a dismissible and out-of-place inclusion, but entertaining for a few minutes.
How To Draw A Dragon (10:57) – For animation fans, the animator for Toothless takes watchers through the process of how to draw Toothless by hand. It's a great extra.
Your Viking Profile – This narrated series of questions evaluates whether or not you're a viking. Basically, it likens you, based on your answers, to one of the main viking kids from the film.
Dragon Activity Center – If you pop the DVD into your DVD-Rom on your computer, it gives you a series of additional activities including "Build Your Own Dragons" – A Life-size Toothless, a 3D Gronkle, a 3D Terrible Terror and a 3D Night Fury – and "Viking Zone" which includes "Viking Accessories," "Viking and Dragon Masks," "Flashlight Patterns," "Growth Chart," "Coloring Pages," and "Stickers." It'll give kids a lot of neat and creative activities to do after they're done watching the movie.
There are a fair amount of extras on the double disc DVD release, but if you can spring for the HD combo pack, that will be your best bet. Skip the standard version and go straight for HD. You'll be glad you did! And it will tide fans over until DreamWorks releases the announced sequel and TV show to follow-up this film in the near future!
– John DiBiase, (reviewed: 10/20/10)
Parental Guide: Content Summary


 Sex/Nudity: None really. Stoick gives Hiccup a helmet and says it was made from Hiccup's mother's breatplate, which startles Hiccup. He then thanks Stoick for the "breast helmet"


 Vulgarity/Language: Astrid says "son of a…" but finishes it with the name of some kind of creature. Stoick says "all hell will break loose."


 Alcohol/Drugs: None focused on, but the vikings may have been drinking ale or some kind of alcoholic beverage from steins they were drinking from.


 Blood/Gore: We see Gobber pushing a pebble in his mouth that serves as a false tooth (that apparently came loose); We see half-eaten fish a couple times. Toothless has Hiccup take a bite out of one of such halves; We see a character with a peg leg and hook for a hand; We see that a character has recently lost a food and it has been replaced by a metal sort of peg leg (we didn't see the accident or anything else, just the aftermath)


 Violence: Astrid smacks Hiccup a few times, and punches him in the arm; Dragons are often shown chasing vikings, picking off livestock (like sheep), and shooting fire at vikings. The vikings often wield axes, but we never see them slicing or cutting any creatures; During the training that the teen recruits do, we see them wielding weapons but never really doing much. They're usually just running away from the dragons and such; We see Hiccup fall through the air while riding Toothless, but Toothless catches him; We see dragons held in captivity. We watch one specifically getting captured; Toothless smacks Hiccup in the face with his ear; Hiccup tries to kill a dragon with a knife (by raising it above it), but can't bring himself to do it, so he sets it free. The dragon then pins him against a rock, roars in his face and then runs away; A giant dragon is seen chasing some smaller dragons. Later we see the creature chasing vikings and fighting with them; Some characters are seen falling in the air; We see a presumably hurt dragon; We find out a character has lost their foot by seeing that their foot has been replaced by a metal peg leg; A dragon sets almost a whole fleet of viking ships on fire; and some other violence (often comedic)