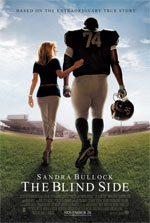 The Blind Side



– for one scene involving brief violence, drug and sexual references.
Director: John Lee Hancock
Starring: Sandra Bullock, Tim McGraw, Quinton Aaron
Running Time: 2 hours, 8 minutes
Theatrical Release Date: November 20, 2009
Official Site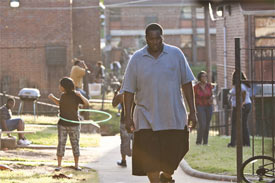 Plot Summary
Sandra Bullock, Tim McGraw, and Kathy Bates star in Alcon Entertainment and Warner Bros. Pictures' The Blind Side, which depicts the remarkable true story of All-American football star Michael Oher.
Teenager Michael Oher (Quinton Aaron) is surviving on his own, virtually homeless, when he is spotted on the street by Leigh Anne Tuohy (Sandra Bullock). Learning that the young man is one of her daughter's classmates, Leigh Anne insists that Michael – wearing shorts and a t-shirt in the dead of winter – come out of the cold. What starts out as a gesture of kindness turns into something more as Michael becomes part of the Tuohy family despite the differences in their backgrounds. As the family helps Michael fulfill his potential, both on and off the football field, Michael's presence in the Tuohys' lives leads them to some insightful self-discoveries of their own. (abridged from TheBlindSideMovie.com)
Film Review
The Blind Side is the true story about Baltimore Ravens' right tackle Mike Oher, a young man who was taken in by a wealthy Christian family in Tennessee and given the chance to really do something with his life. Surprisingly, Sandra Bullock steps into the shoes as the Christian mother of the family who directly supports Michael's education. It's a much different role for Bullock, especially given the spiritual background of her character and the family. But Leigh Anne Touhy is a tough character, and Bullock plays it strongly and with believable confidence.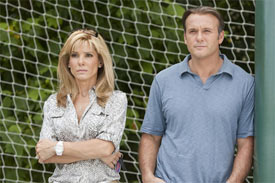 Quinton Aaron steps in as Michael, not having much dialog through his portrayal of the sheepish character. At times, Aaron's performance feels a bit forced (especially as he tries appear self-conscious or disconnected), but for the most part, he is convincing in the role. The acting aside from Bullock tends to range from below average to good. Country singer Tim McGraw is likable as her husband Sean, but his performance is a little inconsistant as well. For the most part, however, McGraw is charming in the role and good support for Bullock's lead. The weakest spot may be the family's youngest son, S.J. (played by Jae Head, who was previously seen in Hancock), who at times looks more like he's reading from a cue card than acting in the moment. He's a cute kid who gets his job done, but he takes the quality of some of his scenes down a notch.
The film is an emotional and heartwarming tale of hope and encouragement. The story portrays Christians pretty realistically and isn't preachy when it comes to the topic faith at all. Racial issues do awkwardly come into play, but given the film's setting in the South, it's more or less to be expected. The film can be a bit melodramatic at times too, but it's easy to get pulled into Michael's story and feel for his character's unfortunate circumstances.
Content in The Blind Side is on the lighter PG-13 side. There are a few instances of the "a" word, "d*mn," "h*ll," "b*tch" and a couple unintentionally irreverent uses of blasphemy (like "Good Lord" or "Oh my God"), but besides that, it's the inclusion of some violence and drug usage that gives the movie a more adult thematic leaning. In some cases, there have been some rougher PG movies when it comes to language or content.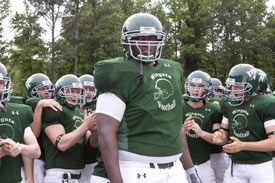 A movie like The Blind Side is an eye-opening contrast of those of us who take the littlest things for granted (like even owning our own bed) to those who might not even have a place to call home. It's an encouragement to know that this is based on a true story and a good example of living out the teachings of Christ. The Touhy family reached out to "the least of these" and it's something we as believers need to put into practice more often. They're not a perfect family by any means – and the film doesn't try to sugarcoat that – but it's an encouragement to put our beliefs into practice more and reach out to those in need.
Overall, The Blind Side is a good little film with a positive message, even if it feels a bit overlong at times (which can probably be due in part to its thoughtful pacing). Some content – mainly language, some drug use, and a little bit of violence – make it unsuitable for younger audiences, but it's a film Christians can take something away from. Christian filmmakers can learn a thing or two from John Lee Hancock's film, while Hollywood could certainly do so as well.
– John DiBiase, (reviewed: 12/11/09)
Parental Guide: Content Summary


 Sex/Nudity: Sean and Leigh Anne are kissing in bed and he starts to come on to her while she's talking about serious matters. It's playful (and they're married), but the scene ends before we see anything; Leigh Anne wears many outfits throughout the film that show cleavage or accentuate her figure (like tight skirts, dresses); Leigh Anne's wealthy friends express concern to her about Michael being a large black boy" living in the same house as Leigh Anne's daughter Collins; Leigh Anne smacks the football couch on the butt and Mike's teammates look at her butt with their mouths open as she walks away in a tight skirt; Leigh Anne tells a college recruiter that a different recruiter had taken Michael to a "t*tty bar" and it gave him nightmares; One of the inner city guys who Michael used to live around sees Mike and asks him if he slept with Leigh Anne (he says "did you tap that?"). He doesn't respond, so the guy assumes he did and says he'd like to get in on some "mommy-daughter action" too; When taking Michael to college, a few young girls walk by him and catch his attention. Leigh Anne then remarks, "if you get a girl pregnant out of wedlock, I swear I will come over here and cut off your penis."


 Vulgarity/Language: 5 "h*ll," 3 "d*mn," 6 "a" word, 1 "S.O.B," 1 "cr*p," 4 "b*tch," 1 "t*ts," 1 "t*tty," 1 "Good L-rd," 2 "n*gger," around 2 derivatives of "G-d"


 Alcohol/Drugs: We hear that Michael's mother is a drug addict but never see her doing anything; We see some inner city people drinking inside of an apartment and doing drugs. One hands Michael a large bottle of beer (and has a little bit); Leigh Anne is at lunch with some friends in a nice restaurant on a couple of occasions and there may be wine at the table; A man calls up Leigh Anne admitting he had several beers before calling (meant to be a funny moment); We see some wine on a table in Leigh Anne's house


 Blood/Gore: A person has bloody abrasions on their arm after a car accident, while another person has blood on their mouth and shirt as well


 Violence: We see a brief car accident; There are many instances of football action "violence;" Michael flips out at an apartment when a gang starts harassing him and he tears up the place