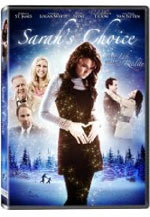 Sarah's Choice



– Family Approved.
Director: Chad Kapper
Starring: Rebecca St. James, Dick Van Patten, Staci Keanan, Julian Bailey, Brad Stine
Running Time: 1 hours, 36 minutes
Theatrical Release Date: November 17, 2009
Buy It: Amazon.com
Official Site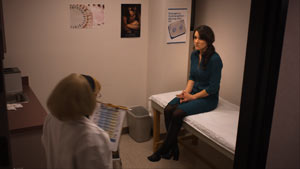 Plot Summary
Sarah Collins is a young woman on the rise. As a junior account executive at a major advertising agency, Sarah is poised to get it all: executive promotion, salary increase, new car, fabulous apartment and first-class travel. There's only one thing that's going to keep her from getting it; her unborn baby.
Sarah has a hard decision. Her friends and co-workers insist that she has the right to choose what will be best for her; a successful career and unlimited material rewards. But according to a mysterious stranger, and three visions, Sarah can make a choice that will not only change her life but the lives of her loved ones both now and forever.
Film Review
Being a Christian music fan since the early 90s when Rebecca St. James first got her start in music (and entertainment for that matter), it's a little surreal to be writing a movie review for a film in which the singer stars in her first leading role. The film is Sarah's Choice, which tells the story of a young career woman who discovers one day in the midst of trying to earn a promising promotion at work that she and her boyfriend are going to have a child. Rebecca has always been an advocate for abstinence and pro-life, so this film is right up her alley. And especially because of that, it's extra surreal to see her playing a woman who is angry at God, sexually active with a guy outside of marriage, and even toying with the idea of having an abortion.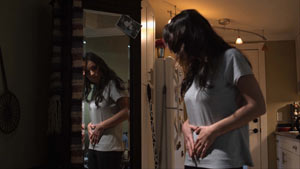 Sarah's Choice opens with Rebecca's character Sarah Collins vying for that promotion, and she learns that the person who previously had the job had left to have a baby. The idea of starting a family is far from Sarah's mind, and her best friend Megan, played by Logan White, is a fellow working woman who encourages her to fight for the career advancement. When the news hits the fan that Sarah is pregnant, Megan becomes a little devil on her shoulder, so to speak, encouraging her to have an abortion. Sarah's immediate reaction is to not even consider the option, but she quickly starts to realize that her job and relationship with her boyfriend are at stake. And when that happens, the idea of abortion doesn't sound all that unappealing anymore.
As an independent Christian film, Sarah's Choice actually fairs as one of the best-made Christian films I've seen. Rebecca turns in quite a strong performance as Sarah, and is believable as the daughter of a Christian family who strayed from her faith after an illness took the life of her father. Her believing mother and sister are the driving forces of faith in Sarah's Choice, and it's a rather realistic portrayal of what that kind of family might look like. Sarah's boyfriend Matt, played by television actor Julian Bailey, is kind of your typical "man-boy" who is old enough to know better but seems to rather have life his own way rather than accept his age and responsibilities and grow up. Julian's performance doesn't feel much stronger than what you might find on TV, but especially for a Christian film, he turns in one of the better performances I've seen in one. Matt's greatest source of inspiration is his Uncle and boss Clay, played by conservative comedian Brad Stine. Clay is a family man with a good sense of humor and a strong head on his shoulders who's able to advise Matt when the tough decisions fall in his lap. Stine's performance is much more restrained than his comic routines, and while some moments get a little iffy, he shines in a touching moment when he and Clay are talking in a bar & grill.
There seem to be more than a few moments where things feel a little too unrefined or unconvincing with many of the performances. One of the strongest performances is actually from Staci Keanan (of the TV show Step By Step from the 90s), who plays Sarah's sister Denise. Sadly, she doesn't get a lot of screen time, while the easily most grating performance came from White as Megan, who seemed to deliver nearly every one of her lines with forced attitude and/or sarcasm. It was bad enough that she nearly spoiled any scene she had dialog in, and just made St. James look all that more professional anytime they were in the scene together. Director Chad Kapper did a decent job with what must have been a pretty thin budget, so with a passable score and film music, Sarah's Choice never felt anything more than a straight-to-video film. It's unfortunate, too, because a Hollywood budget and professional players in place (a lovely Hollywood score would have helped tremendously) with St. James still in the lead role could have really done wonders for the final product. But regardless, Sarah's Choice, as it is, is still a step in the right direction for Christian filmmaking.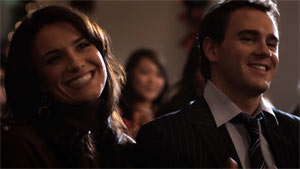 The main point of the movie is a pro-life message, and Sarah's Choice does well to show realistic viewpoints from career women afraid to give up their jobs for motherhood. Giving Sarah a background in Christianity made her inevitable shift back to Him a more natural one. The film also tackles that touchy topic of "unanswered prayer" when God decides to take a loved one despite His children's pleas. When Sarah finally confronts God about everything, St. James turns in a genuinely tearful scene.
Overall, Sarah's Choice may have been a little bit of what can be expected from the Christian film genre, but it's a cut above most of what's been produced before. St. James and company overall even do a much stronger job than last year's inspirational hit Fireproof in almost every aspect. Sarah's Choice is a heartfelt and genuine effort, attempting valiantly not to be too idealistic in a genre that often seems like it's trying too hard to be relevant and evangelistic at the same time. Sarah's Choice is a perfect little film for anyone struggling with an unexpected pregnancy or looking for a good discussion starter about sex outside of marriage and its consequences, and even dealing with great loss and why God might let us down with seemingly unanswered prayer. The theme of children outside of wedlock and such is prominent in Sarah's Choice, so it's probably not going to interest families with little kids who aren't going to understand what's going on. So while the content is clean enough for the whole family, the themes may not be suitable for everyone.
It was great to see Contemporary Christian Music's own Rebecca St. James set out to make feature films and accomplish her goal. Sarah's Choice is a good start to her leading lady film career and hopefully we'll see more of her on the small and silver screen in the near future.
– John DiBiase, (reviewed: 11/15/09)
Parental Guide: Content Summary


 Sex/Nudity: Matt spends the night at Sarah's place on a regular basis (and her mom complains to Sarah about this, and later refers to their actions as "living in sin"); A character reveals that she had an abortion when she was a teen; A man reveals to someone that he and his wife got pregnant before they got married and kept the child


 Vulgarity/Language: None.


 Alcohol/Drugs: Sarah asks her sister if she has any "Christmas spirits" hided away somewhere while checking the kitchen cabinets; Clay and Matt might be having drinks in a bar (although it looks like it could also be a soda and water)


 Blood/Gore: None.


 Violence: None.