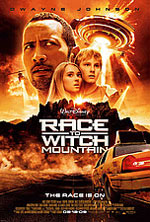 Race To Witch Mountain



– for sequences of action and violence, frightening and dangerous situations, and some thematic elements.
Director: Andy Fickman
Starring: Dwayne Johnson, Carla Gugino, AnnaSophia Robb, Ciarán Hinds
Running Time: 1 hour, 38 minutes
Theatrical Release Date: March 13, 2009
Official Site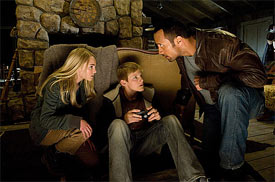 Plot Summary
For years, stories have circulated about a secret place in the middle of the Nevada desert, known for unexplained phenomena and strange sightings. It is called Witch Mountain, and when a Las Vegas cab driver (Dwayne Johnson) finds two teens with supernatural powers in his cab, he suddenly finds himself in the middle of an adventure he can't explain. When they discover that the only chance to save the world lies in unraveling the secrets of Witch Mountain, the race begins, as the government, mobsters and even extraterrestrials try to stop them. "Race to Witch Mountain" is a fun and thrilling adventure featuring incredible special effects. (from MovieWeb.com)
Film Review
In 1975, Walt Disney Pictures released the first of a pair of films in a franchise based on a book series, Escape to Witch Mountain, which was followed up with a sequel in 1978, Return from Witch Mountain. Now, thirty one years (and a made-for-TV sequel and remake) later, Disney releases Race To Witch Mountain, a brand new take on the old story.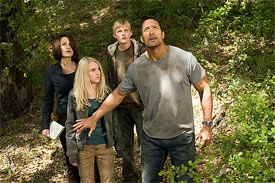 I admit, I'm not familiar with the original Witch Mountain stories, but to clear up any confusion some may have about the title, the film has absolutely nothing to do with witches or magic and instead named after a governmental site much like Area 51. Race To Witch Mountain is entirely about extraterrestrials from another planet and the U.S. government trying to conceal the otherwise known existence of them from the public. Dwayne Johnson (formerly simply known as "The Rock") plays a Las Vegas cab driver named Jack Bruno who is an ex-con trying to make a clean living by just driving people up and down the Vegas Strip. Bruno is a muscular guy who knows how to take care of himself, so he makes a great guardian for the alien teens who suddenly show up in his cab one day. AnnaSophia Robb (Bridge To Terabithia, Charlie & The Chocolate Factory) plays Sarah, while fairly newcomer Alexander Ludwig plays her brother Seth. Robb and Ludwig are a great match for Johnson and they are what make the latest Witch Mountain an enjoyable ride.
Still, there's an overall feeling that something is missing from Race To Witch Mountain. Whether it's the script or Andy Fickman's (The Game Plan) direction, there's a lackluster feel to the film. There is definitely a greater stress placed on action and frills than character development. Witch Mountain gets off to a promising start and even offers a satisfying finish, but it seems like the core of the story is a bit drawn out and overlong… and that's not a good thing for a movie that's just over an hour and a half. One scene in particular occurs at night as the kids and Bruno are being pursued through the dessert. Much of the special effects appear cheap (and some of the action beforehand in some kind of alien cave is a bit shoddily arranged) and when the chase never truly reveals its pursuer, masking them in a foggy haze, it has the tendency to feel more hokey than suspenseful. Still, Return from Witch Mountain manages to be pretty fun. Ciarán Hinds (The Nativity Story, Amazing Grace) plays the villainous government agent who wants to capture the children and proves to be a strong opposing force. Hinds doesn't overplay the role as many villains in family films tend to, so it does work to the film's advantage (although his character is pretty flat and one-dimensional). Carla Gugino plays a significant part about midway through the film, even though her role isn't much different than the one she had in Night At The Museum. Gugino proves to play well opposite Johnson as the film's female lead.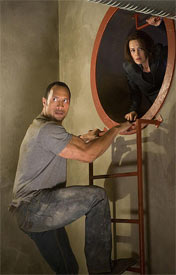 Content is very mild for this family film without ever feeling like it's too forced. Johnson's Bruno gets physically rough with some bad guys at times, but nothing is ever really brutal. There is also no language (except a possible "Oh G-d" at one point), which is really refreshing. The theme of aliens does bring a lot of talk of science into the film, however. Gugino's character Alex plays an expert on the subject, and in one exchange with Bruno, she insists that she believes the events of the story are due to "science" and predestination (of course, "who" did the predestining is never mentioned). In response, Bruno says he believes only in absolutes — simply "yes" and "no," using the example of not owning a car he really wants to at the moment be a "no" with hopes to one day make it a "yes." While the film deals with a fantastical subject like aliens visiting earth from another world, most of this kind of stuff can easily be taken with a grain of salt, but Alex's persistance in her belief in science may be something to make note of before taking the kids. Otherwise, the action violence in Race To Witch Mountain, which consists mostly of guns being pointed at people, car chases and vehicle destruction, and alien blasters, are the only other possible concerns. The violence is never bloody or gory in any way. Finally, the last thing to consider for the family is that an alien assassin does pursue the children, and the film uses camera angles and music to stress its threat on our
heroes. The alien wears a metal suit of some kind and eventually reveals its creepy alien face before the film's end. It could be a little unsettling for younger viewers.
Despite its flaws, Race To Witch Mountain is pretty fun family entertainment that isn't geared so exclusively towards children that the parents should be bored, nor does it ever feel too adult for the kids to enjoy. Some violence, the whole "science" topic, and the creepiness of the alien assassin are relatively minor red flags, but parents may want to take them all into consideration before taking the whole gang out for a Race To Witch Mountain. The film does leave things open at the end for a potential sequel, which I must admit might be fun. And the movie isn't over as soon as the credits begin rolling, so stick around for just a couple extra bits during the credit scroll.
– John DiBiase, (reviewed: 3/14/09)
Parental Guide: Content Summary


 Sex/Nudity: None.


 Vulgarity/Language: Maybe 1 "Oh G-d," and the phrase "pimped out" (in reference to something being remodeled or enhanced — in this case, a fridge that's a secret doorway)


 Alcohol/Drugs: None.


 Blood/Gore: None.


 Violence: All non-graphic action violence. Jack beats up a couple thugs who threaten him; Cars chase a taxi and try to run it off the road, damaging the car drastically; An alien boy stops a vehicle by standing in front of it. It crashes into him and flips in the air; An alien girl causes several car engines to explode; We see an alien creature shoot at and pursue the children all throughout the film; A pair of tranquilizer darts enter two people's necks; A girl slaps a man who then punches out two guys and throws them from a moving vehicle; A dog attacks a man and tugs on his clothing (the man is otherwise okay); There is a massive freight train wreck (we're not sure of the casualties, but it sounds like at least the conductor survived); A bar is raided by government agents and we see many characters holding each other at gunpoint; A character complains he doesn't have a gun in one scene and again in another. In the latter, he is handed a large rifle; A man struggles with a large creature and is thrown about before the creature eventually is punched and falls into a glowing orb/engine and disintegrates (not gross or gory); A couple convention goers act out an alien scene and a real alien assassin shows up to kill the alien children. Sarah makes a light fall and knock it into a display (which everyone else thinks is staged); A soldier accidentally fires on a group of people which causes other soldiers to fire as well, but a force field stops the victims from being harmed; And some other non-lethal action violence.