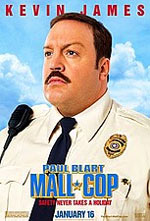 Paul Blart: Mall Cop



– for some violence, mild crude and suggestive humor, and language.
Director: Steve Carr
Starring: Kevin James, Jayma Mays
Running Time: 1 hour, 27 minutes
Theatrical Release Date: January 16, 2009
Official Site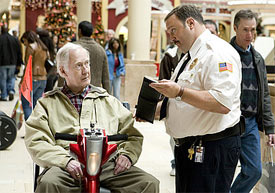 Plot Summary
In Columbia Pictures' comedy Paul Blart: Mall Cop, Kevin James stars as the title character, a single, suburban dad, trying to make ends meet as a security officer at a New Jersey mall. Though no one else takes his job seriously, Paul considers himself on the front lines of safety. When a heist shuts down the megaplex, Jersey's most formidable mall cop will have to become a real cop to save the day. (from MovieWeb.com)
Film Review
As I've said before in previous reviews, you can't expect much from films released in January because it is oftentimes the month movie studios will dump the films they have little to no hope in succeeding. So when Kevin James' first lead role in Paul Blart: Mall Cop dropped on January 16, it wasn't a very good sign.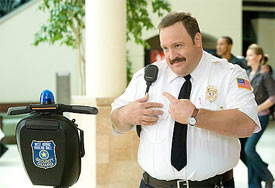 Still, there can be a lot of fun to be found in semi-mediocre comedies that at least still deliver the laughs. Last year's bizarre Eddie Murphy comedy Meet Dave (which we caught on rental) was a good example of that, and Mall Cop is really only slightly a step up. James' charm and underdog persona help make Mall Cop as enjoyable as it is. It's a silly film that relies heavily on fat jokes and slapstick comedy, which brings to mind the screwball comedy format of yesteryear with acts like Laurel & Hardy or Abbott & Costello. While films like Mall Cop aren't the kind you'd write home about, so to speak, or expect to win any awards (except maybe Razzies), they're the kind of films you see just to laugh at, and that's the entire point to their existence in the first place.
With that said, Kevin James is a lot of fun as the title character, Paul Blart – a devoted single father (whose Mexican wife abandoned him, having only used him for a green card) and committed mall security guard in New Jersey. Mall Cop is especially geared towards fans of James' shtick and those who enjoyed in in his show King Of Queens or the film Hitch will most likely enjoy what he has to offer here. Blart takes his job way too seriously and just about everyone around him likes to rub his failures in his face. Blart's vulnerability makes him a hero you want to root for – when his mall inevitably is siezed by a group of thieves – and jokes quickly follow the moments when the film begins to take itself more seriously than it may need to.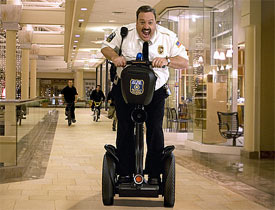 Content is relatively light, given it's rated PG, but there is still some mild profanity sprinkled throughout, and some occasional borderline crude humor (like when Paul borrows his Arab friend's daughter's cell phone, and keeps getting random calls from a teen Indian boy who is obsessed with the girl and who we see in just his boxers a few times). With how lighthearted and enjoyable the film can be, it's unfortunate that Mall Cop still includes some of the content it does, but it's nice to see Hollywood taking more steps towards more family-friendly films like this one (although it's certainly not perfect). In one sequence, Blart gets completely drunk but acts like a jerk, and we later find out he got tattoos done while he was intoxicated. The whole thing is played for laughs, but it never makes drinking to excess seem all that appealing.
Aside from James, most of the cast of Mall Cop are unknowns or small names. The most recognizable may be Jayma Mays as Amy, a new shop owner in the mall who Blart has a crush on. Mays previously has appeared in films like Red Eye and Flags of Our Fathers and TV shows like Heroes and Ugly Betty. Mays is delightful as Amy, even if she seems like a strange match for Blart. The other characters, which include a surprise villain, aid to the B-movie feel of Mall Cop, but don't detract from its enjoyability.
Paul Blart: Mall Cop is a surprisingly cute and sweet comedy film that takes strides towards more family friendly fare, but still remains just rough enough around the edges to warrant a closer look at content for some parents. Hopefully James and company make more family-oriented entertainment. In the meantime, Paul Blart is happy to be at your service.
– John DiBiase, (reviewed: 2/21/09)
Parental Guide: Content Summary


 Sex/Nudity: Paul nervously asks Amy, who runs a fake hair counter, if she does men and corrects himself and says "men's hair;" We see two women fighting over a bra in Victoria's Secret and when Paul tries to break it up, a large woman attacks him and we see her shirt ride up (exposing her belly and part of her bra) during the fight; A song that plays has lyrics that mentions something about messing around and "bedroom eyes;" A friend of Paul's in the mall gives him a bottle of hot sauce called "The Devil's Crotch;" While Paul is playing a video game in the mall, we see in the game video of a real woman referee wearing a short skirt and exposing some cleavage; Paul is using the cell phone of his friend's teenage daughter and receives a call from a boy named Pahud who we see in his bedroom, shirtless, in apparently just his boxers. He thinks Paul is with the girl and mentions that he is probably "sweating over her right now" and mentions she has sexy feet; Paul sees Amy and mumbles to himself "here come the love sweats" (which is overheard by others nearby)


 Vulgarity/Language: 1 "s" word, 3 "a" words, 3 "h*ll," 7 derivatives of "G-d"


 Alcohol/Drugs: We see some mall workers meet at a bar for drinks and Paul has way too much which results in him getting very drunk and obnoxious. He ends up accidentally causing a scene and trashing the bar, and we later find he apparently got some tattoos while drunk.


 Blood/Gore: Paul hides behind a wall and acts like he's got a serious wound on his arm. He rolls up his sleeve and we see a tiny little cut, which he puts a bandaid on. We also see some cuts and scrapes on his face


 Violence: Lots of action violence and comedic violence, including but not limited to: Paul is chased by a little dog on his Segway and as he gets away we see the dog go out of view of the camera and there's a thump and a yip, suggesting Paul ran it over; Paul accidentally rides his Segway into the back of a car while staring at Amy; Paul is beat up by an angry shopper at Victoria's Secret; While in a bar and very drunk, Paul grabs a singer and throws him off stage before falling through a window; Robbers set off an explosion to scare away police; Paul tries to hide in a vent shaft, but is hanging out of it. When he is spotted, a robber grabs a sharp rod and pokes holes in the vent in attempts to stab Paul. The vent eventually snaps and when he falls, it knocks out one of the robbers; Paul beats a man up with a tanning bed and ties him inside; There's an elaborate chase through the mall with Paul and some robbers that involves him being shot at and some physical violence (hitting each other with things), and Paul head-butts one of them; Paul tries to break a window by running into it but bounces off. He then runs his Segway through it; Paul passes out from hypoglycemia and smacks his head really hard on a table; Paul hides out in a Rainforest Cafe to face some of the robbers and beats a couple up before an explosion blows out the back of the restaurant in the mall; A robber wildly shoots a mannequin believed to be Paul; Paul squirts hot sauce into someone's eye; Paul drives a car out of the mall and is shot at briefly by the cops. Later, Paul tries to climb on top of the van and jump to another vehicle, but misses and lands on the ground; Paul struggles with another man and knocks him off his feet, but another man holds a gun on Paul, until someone shoots the gun out of his hands.