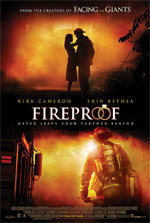 Fireproof



– for thematic material and some peril.
Director: Alex Kendrick
Starring: Kirk Cameron, Erin Bethea
Running Time: 2 hours, 2 minutes
Theatrical Release Date: September 26, 2008
Official Site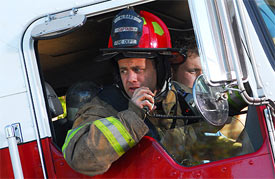 Plot Summary
At work, inside burning buildings, Capt. Caleb Holt lives by the old firefighter's adage: Never leave your partner behind. At home, in the cooling embers of his marriage, he lives by his own rules. Growing up, Catherine Holt always dreamed of marrying a loving, brave firefighter… just like her daddy. Now, after seven years of marriage, Catherine wonders when she stopped being "good enough" for her husband. Regular arguments over jobs, finances, housework, and outside interests have readied them both to move on to something with more sparks. As the couple prepares to enter divorce proceedings, Caleb's father challenges his son to commit to a 40-day experiment: "The Love Dare." Wondering if it's even worth the effort, Caleb agrees-for his father's sake more than for his marriage. When Caleb discovers the book's daily challenges are tied into his parents' newfound faith, his already limited interest is further dampened… (from fireproofthemovie.com)
Film Review
It's no secret that Christian films usually lack a great deal of quality. It seems only when major funding is behind them – like was the case with Mel Gibson's The Passion Of The Christ a few years back – that the film will be able to hold up against other Hollywood-made movies. For Fireproof, produced by the same team that did football movie Facing The Giants, the bar is raised slightly across the board, but there are still many improvements that could be made before faith based movies like this one will truly measure up.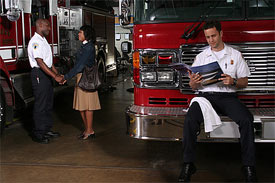 That's not to say Fireproof is a trainwreck by any means. The film devotes itself to encouraging married couples to fight for the vows they've made. Although it aims to evangelize as well as hopefully save the marriage of whoever watches it, it ultimately will speak loudest to the receptive hearts of Christ's children. Fireproof gets off to somewhat of a rocky start as it takes some time to establish its characters. From the moment we meet Kirk Cameron's main character, Caleb Holt, we find that he and his wife Catherine have drifted apart significantly. Things finally come to a head and after one firey argument, Catherine tosses her wedding band into a drawer and starts getting wooed by a charming doctor she sees at work on a daily basis. Caleb seeks counsel from his parents as well as his fellow
firefighter pal Michael, with both voices encouraging him to fight for his marriage… and to surrender his stoney heart to God in the process. The film's weakest moments lie mostly in its direction and acting, with the occasional wince-worthy dialog thrown in for good measure. Fireproof is only actress Erin Bethea's second outing (Facing The Giants was her first), and she turns in a decent performance throughout the film, only occasionally seeming like she's trying too hard (or not hard enough?). Cameron may actually turn in his best feature film performance to date with Fireproof, as he plays a frustrated husband who struggles with lust issues and puts all of his time and energy into his work, leaving nothing left for his home life. It isn't long before the mention of divorce comes up and Caleb decides he wants to work to save the marriage while Catherine is getting ready to walk away entirely.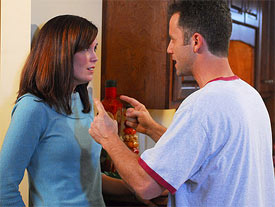 I was impressed with Cameron's ability to let go and not hold back his anger in a few scenes that called for some intensity. Bethea's role wasn't quite as demanding as it required her to be cute and charming in one scene and then cold and disconnected in the next. The film does well to paint both roles as wrong in the situation, not just the husband or the wife. It just so happens that in this situation, Catherine has given up hope, while Caleb is given a push to fight for her. And with that, significantly more is demanded from Cameron's role. Unfortunately, the TV movie quality of the production coupled with Kendrick's novice direction hurts what would have been some even stronger moments in the film. While I've seen worse supporting characters, many of the ones — either at Caleb's fire department or friends of Catherine's that work at her hospital — either overact or look like they're reading from a cue card while delivering their lines. Finally, two other main characters — Caleb's friend Michael, played by Ken Bevel, as well as his father, played by Harris Malcom — alternate between good deliveries and painfully forced ones. The acting can tend to feel even less natural than a Lucas-directed Star Wars prequel. All of these issues leave a lot to ride on the shoulders of an actor like Cameron. And if the TV movie feel wasn't enough, the fact that Provident Films is involved with the production means that all Provident Label Group artists are used for the movie's soundtrack, limiting the kind of mood music used for the movie. In one scene, Caleb's Christian friend Michael just happens to be listening to Third Day's brand new album Revelation, and then a few scenes later, a girl is blaring the album's opening track moments before being involved in an off-screen car accident which Michael and Caleb rush to in assistance. Later, Casting Crowns' "Slow Fade" is used as a theme for Caleb and Catherine's marriage slipping away and after Caleb has inevitably given his life over to Christ, a blatant worship song is used for a montage sequence that feels much too out of place. A little more variety in the music, or care in its selection, would have helped the mood (didn't anyone think of Jars Of Clay's "Show You Love," which is also a Provident-released song, or were they only concerned in promoting new music?) as well a stronger, more memorable score than the one provided by Mark Willard.
I know it sounds like I'm coming down really hard on Fireproof, it's just difficult not to get frustrated by even the little things that seem easy enough to avoid or improve upon. But there remain plenty of great moments in the film despite everything else. Cameron's performance, especially before he gets saved, is edgier than what we're used to seeing him do, and the way he portrays his emotions feels pretty real (especially when he's by himself). There are also some great moments where the film uses humor to lighten what is otherwise a pretty tense situation or occurrence. And while other movies have handled fire fighter scenes better than Fireproof does
(Frequency and Ladder 49 especially come to mind), Kendrick does fairly well considering. He doesn't rely on cheesy special effects or grandiose sets to draw people in. Thankfully, the biggest marketing ploy for Fireproof isn't in bragging about how many effects shots it offers (Anyone remember the abysmal Megiddo? Yeah, me neither). The action sequences of Fireproof are only accents, not existing solely to make it seem "cooler." Cameron's "everyday Joe" kind of character feels natural when on the job and in immersed in extraordinary situations. It's not like we're expecting to accept Nicholas Cage or Mark Wahlberg as just a regular guy in an extraordinary setting. But action and Cameron aside, Fireproof's strength lies in its portrayal of Caleb's chasing after his wife's heart again and the drama between the two. By the last quarter of the film, Fireproof has completely dedicated itself to their relationship and we, the viewers, are sucked in. Being a married man of five-plus years myself, it was difficult not to get carried away by the dramatic and emotional moments towards the end. By the movie's end, there wasn't a dry eye nearby, mine included (and that's saying a lot).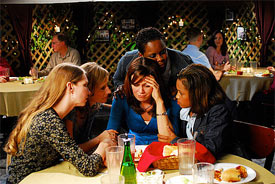 Fireproof takes an interesting look at marriage. It reinforces what it means to pledge our vows and KEEP them. The only thing that may hurt its case a bit, however, is that it kind of approaches divorce as being something that only exists outside of the Christian faith. While I absolutely believe Christians need to involve Jesus in their marriages to make them work, anyone who doesn't have a background in faith in Christ is likely to see Caleb's conversion as being portrayed as some kind of magical cure-all (which it's clearly not). We also learn that another character with a strong marriage has previously been married and divorced prior to his current marriage — and prior to his coming to Christ. The sad truth is that many, many Christians today go through divorce and suffer from broken relationships for one reason or another. The film never hints that Christians have these kinds of problems. While the solutions presented in the film apply to Christians and non alike, it's strange to see them paint marriage problems as if they only exist without
a foundation of faith in Christ. I'm sure this wasn't the intentions of the filmmakers, however. While it still applies to Christians who've taken their eye off the proverbial ball, it seems idealistic to show that every couple in the movie who had marital problems, had them before they found Jesus.
As far as content goes, Fireproof is nearly squeaky clean. While nothing offensive is in the film, it is made clear that Caleb struggles with an online porn addiction (but it's something he kicks after accepting Christ), but it's only referred to in the movie as "trash on the internet" by Catherine (and he later reads about "pornography" being among things that can hinder and choke a marriage). There are some tense screaming matches between the characters, some hinting towards infidelity (which appears to not go any farther than flirting, but it's never made clear), and some "action" sequences that involve a car accident aftermath and a house fire. In all of the screaming and arguing, not a single utterance of profanity slips in — which is a breath of fresh air — and all of the other content is handled tastefully and delicately.
Nitpicks aside — I know, I made a lot of them — Fireproof is still an encouraging look into how to rekindle the romance in a marriage through selfless acts and a dependence on Christ. Sure it's got its flaws, but deep down, the heart of Fireproof is firmly planted in the right place. It's a movie that improves upon "Christian films" as we know them, but still leaves considerable room for growth. Its message is a powerful one that will likely move any Christian married couple that sees it. It's a great way to realign our thinking about marriage and the responsibilities that come along with our wedding vows. Despite how much it tends to be rough around the edges, it's difficult not to still recommend a movie with such an emotional and spiritual impact. Hopefully Sherwood Pictures will continue upping the ante with each film.
– John DiBiase, (reviewed: 10/18/08)
Parental Guide: Content Summary


 Sex/Nudity: Caleb has an internet porn addiction which Catherine refers to as "trash on the internet;" Caleb is sitting at his computer (and we see his face in a view from the back of his monitor), and when Catherine comes walking in, he quickly closes out browser windows (we hear the clicking on his mouse) and then he turns off his monitor. She then asks him if he cleared his browsing history,
which keeps track of the sites he's been to; Caleb reads in a book that addictions can choke marriages, and lists gambling and "pornography" among them; While looking at a boat (to buy) online, a popup ad pops up on his screen saying something like "Wanna see?" with a woman's face on it. He contemplates viewing the link, but decides to close it out.


 Vulgarity/Language: None.


 Alcohol/Drugs: None.


 Blood/Gore: After a car accident, a girl behind the wheel has a little bit of blood coming from her nose.


 Violence: Caleb throws his garbage can against the side of his house; Caleb beats his garbage can with a baseball bat; Two cars apparently drag race and we see the aftermath of a car accident where the victims' car is sitting on train tracks. A train then comes by and several people lift the car off the track just in the nick of time (with one of the rescue workers narrowly escaping being hit by the train); A house fire traps a girl inside. Caleb goes in to rescue her and is also trapped. He then takes his axe and hacks a hole into the floor before crawling out it; Caleb destroys a computer with a baseball bat.