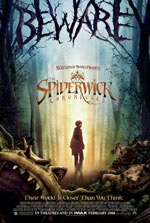 The Spiderwick Chronicles


– for scary creature action and violence, peril and some thematic elements.
Director: Mark Waters
Starring: Freddie Highmore, Mary-Louise Parker, Nick Nolte
Running Time: 1 hour, 37 minutes
Theatrical Release Date: February 14, 2008
Official Site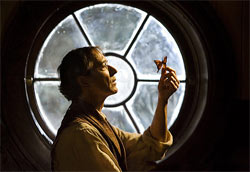 Plot Summary
When the three Grace children — troubled Jared; his bookish twin, Simon; and their sister, Mallory, a fencing jock — move to the ancient Spiderwick mansion, they are at first none-too-enchanted by the rundown Victorian … until they discover a Brownie, an enchanted creature, living in the walls. They soon find a book — Arthur Spiderwick's Field Guide to the Fantastical World Around You — that will open their eyes to the invisible, odd, and sometimes dangerous world of dragons and boggarts, phookas and fairies, sprites and goblins that is all around them. When they cross paths with Mulgarath, an ogre, they realize quickly that he will stop at nothing to get his hands on the Field Guide. Based on the bestselling series of books by Tony DiTerlizzi and Holly Black. (from MovieWeb.com)
Film Review
With the successes of fantasy films made from books like Harry Potter, The Chronicles Of Narnia, and The Lord Of The Rings, it should be no surprise to find a story like The Spiderwick Chronicles make it to the big screen. The film is based on the series of stories written just a few years ago, about a world of faeries and goblins, ogres and trolls, and other unique creatures. I knew nothing of the books or the story going into this movie, so what I saw ended up being quite the surprise.
To set the story up, we meet the Grace family as they move into the Spiderwick house after Helen and Richard Grace – the parents – had separated. The kids – Jared, his twin brother Simon, and Mallory – don't exactly want to be living in this new home (particularly Jared who hopes it's only temporary), and a lot of conflict between the kids and their mother is what starts out the film. With Jared being the most opposed to the move out of the bunch, when weird things start happening around the house, the rest of his family end up blaming him for the odd occurrences. Thankfully, the blame game doesn't persist all too long before the sibs are let in on the Spiderwick fantasy fun.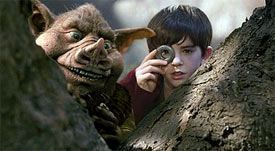 I found it surprising that The Spiderwick Chronicles really isn't quite a kids movie. The whole thing with the goblins attacking and trying to kill the kids – and being that they're quite hideous – is rather unsettling for children. And, if that wasn't enough, the friendly little Thimbletack turns from a cute little guy to a hideous angry goblin-esque goon when agitated. In addition, the goblin creatures tend to claw at and drag children away while not being able to be seen, and to top it off… Mulgar the ogre is ridiculously hideous and scary. By the climax of the movie, you'll feel like you're watching Signs all over again with a touch of I Am Legend – and somehow this movie squeaked by with a PG rating. Although our theater wasn't packed, our suspicions about the movie's intensity were only confirmed by a young child we heard mutter "That was really scary!" as their father led them down the steps and out the door. So it's definitely not the kind of movie you can take all the kiddies too. Of course the creatures weren't quite as bad as, say, the Orcs from Lord Of The Rings,
but I can imagine its intensity would rival that of Ghostbusters from my childhood – some aspects of that PG-rated film scared the pants off of me. And trust me, the final confrontation with the frightening Mulgar is a far cry from the smiley Staypuff Marshmallow Man!
Because the content was otherwise pretty clean — save for Jared asking "what the h*ll?" when he is trying to figure out what exactly is going on, a handful of "Oh my G-d's" and an incomplete "Oh sh–" from the head goblin — the film makes for a great fantasy film for the older age groups. The kids bicker at times, but there's thankfully no school scenes or little kiddie game stuff, or tree houses — it's kind of like an edgier Zathura in that sense. With the violence, there's a little gross stuff, mostly goo from the creatures, but there's also a particularly frightening moment where we see a human morph quickly into a giant monster that should scare the socks off a few youngsters – which directly follows us seeing a kid stab that monster disguised as a human in the stomach with a large knife. It all sounds a bit worse than it really is, but it's still a shocker of a moment and one not quite suitable for a kids movie. It's not exactly what you'd consider Saturday Afternoon TV Special kind of material. It's more like if M. Night Shyamalan took a stab at a horror movie for kids or something.  Actually, this isn't much tamer than Lady In The Water, come to think of it – and that was PG-13.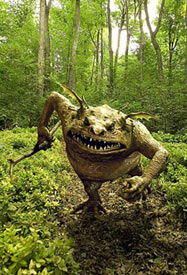 As a story, I was pulled into it rather quickly. Jared and his twin brother and sister go through your typical sibling strifes, and we sort of are thrown in the middle of their conflicts without prior introduction. So as the family discovers and learns about their ancestor's book and the hidden world of creepy creatures around them, we begin to learn more about them as well. Also, the special effects were actually quite wonderful, particularly when Mulgar is revealed and we see his ugliness penetrate the dark. I also appreciated the fact that the story had a magical feel without having to involve witchcraft or sorcery. It was just a creative little made-up world with its own unique story. The acting was sufficient. Freddie Highmore, in dual-role mode, was better as Jared than his more "pacifist" brother Simon. Some of his scenes in the beginning didn't quite feel natural, especially when he was dialoguing with himself. Sarah Bolger was quite good as his sister Mallory, while Mary-Louise Parker was only so-so as their mother. Finally, Nick Nolte was as wonderfully creepy as ever as the ogre Mulgar while David Strathairn, most recently known for his villainy in The Bourne Ultimatum, got a chance to play a much more charismatic and likeable character as Arthur Spiderwick.
I was pleasantly surprised with The Spiderwick Chronicles. Director Mark Waters – whose last work, Just Like Heaven, I also enjoyed – clearly had fun building the imaginary world that Arthur Spiderwick discovered for moviegoers like us to enjoy. Sadly, the intensity of the monsters and some of the harrowing scenes involving the creatures attacking the kids all make this one a tough recommendation for families. Younger kids aren't going to take too kindly to the horrific goblins and ogres and such, with most if it being the kind of stuff nightmares are made of. Also, a strong theme about divorce and the kids involved trying to cope with the separation of their parents is brought into the mix. Overall, it just isn't the kind of "Disney," family-friendly feature some parents will hope for. That aside, The Spiderwick Chronicles is a fun, thrilling, and imaginative fantasy film that is more than a nice appetizer to tide us over before the Summer movie season hits in a few months.
– John DiBiase, (reviewed: 2/16/08)
Parental Guide: Content Summary


 Sex/Nudity: None. But we do learn that the kids' father is apparently moved in with another woman after their parents have separated or divorced.


 Vulgarity/Language: 1 incomplete "s" word, 1 "h*ll," 5 "Oh my G-d," 4 "G-d"


 Alcohol/Drugs: None.


 Blood/Gore: When Simon is pulled down by invisible goblins and then he's pulled away by his siblings, we see scratch and bite marks suddenly appear on his bare leg. It's slightly bloody, and then we see the same marks on his leg, looking even worse, a few minutes later; We see quick scrapes appear on Mallory's arm and leg as she's attacked by invisible goblins; We see an unidentified animal roasting on a stake by the goblins; We see green goo on Mallory's sword from slicing the goblins; A truck hits a troll and see see green goo on the front of it; We see ugly scars on a person's arm after they'd previously been attacked by the goblins years ago; We see goblins eaten away like by acid when tomato juice is thrown on them; A person is stabbed with a knife, but it turns out not to be a person as the knife has green goo on it and the person turns into a monster; A monster's fingers get severed when a door/hatch closes on them


 Violence: SPOILER ALERT! We see goblins attacking and pulling people away, A little "good" goblin turns into a mean little thing when he gets upset; The big ogre Mulgar is frightening and threatens to kill the children and every other living thing. He chases Jared
and attacks him; A troll chases Mallory and Jared and gets hit by a truck; Mallory slices at the goblins with her sword; The goblins tear into their house and are killed by large amounts of tomato sauce, etc