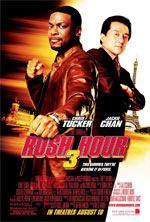 Rush Hour 3



– for sequences of action violence, sexual content, nudity and language.
Director: Brett Ratner
Starring: Jackie Chan, Chris Tucker
Running Time: 1 hour, 30 minutes
Theatrical Release Date: July 23, 2004
Official Site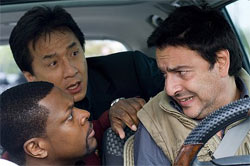 Plot Summary
Rush Hour 3 sees the beloved action comedy duo of Tucker and Chan reprising their roles as LAPD Detective James Carter and Chinese Chief Inspector Lee respectively. This time around, the two must travel to Paris to battle a wing of the Chinese organized crime family, the Triads, after Ambassador Han is targeted and shot…
Film Review
I remember sitting in the theater nine years ago watching the first Rush Hour film and loving the chemistry between Jackie Chan and Chris Tucker, and the mix of Chan's martial arts skills and Tucker's comedic timing. However, Rush Hour was also as riffed with profanity as it was with comedy and action, and the end result was a flawed but entertaining action comedy. Three years later, Tucker and Chan reunited for a sequel, the aptly (albeit unimaginatively) titled Rush Hour 2, which decreased the amount of profanity from the first but introduced some sexual humor into the mix. As Chan ages, his abilities begin to lessen while Tucker begins to seem less hyperactive (which can be a good thing). But Rush Hour 3, which comes a surprising six years after the previous sequel brings a now 35-year-old Tucker and 53-year-old Chan  back in action. Tucker seems a lot more grown up than in Rush Hour 2, despite still trying to act himself. So with everyone seeming considerably aged, there's a sense of wear and tear that Rush Hour 3 displays. While after Rush Hour 2 I would have been more than thrilled to have a third installment, it just seems too long ago to even think about revisiting this franchise.
However, Rush Hour 3 has enough to make it worth the effort. While it's not a needed film, it's fun for anyone who enjoyed the first two to see the pair together once again. There's a sense of unity between Tucker's James Carter and Chan's Chief Inspector Lee that makes it a treat to see their growth together as friends and, in a way, brothers – something the film even touches on. But I couldn't help feel like Chan looked exhausted and bored through much of Rush Hour 3. The passion in his eyes seen in the previous films or in characters he plays in flicks like Shanghai Noon and Knights isn't there anymore. So while Tucker still has plenty of lines and antics to keep the audience laughing, Chan seems ready to get his paycheck and go home. But Chan still has his moments. He really comes alive during his action sequences, and while few moments are as spectacular as when he was faster and more agile in his younger days, there are plenty of great moments for Chan to shine. Tucker is just a bit less frantic and is more reserved this time around. "The fastest mouth in the West," as he was dubbed in the promos for the first movie, seems to have slowed a bit, but as the film progresses, we adjust to the older version of these guys and accept them where they're at today. And watching the films in succession, you really can see their growth together.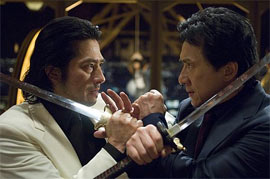 Unfortunately, language isn't Rush Hour 3's biggest problem. While the profanity still isn't nearly as frequent as in the first installment, it's worse than the previous film, and the sexual content is considerably worse as well. This time around, Carter is actually seen in bed with a woman (with her in lingerie on top of him), but it's interrupted before it can go further. Another sequence has a line of topless women shown from behind, and some scantily clad dancers performing in a dance club/theater. Carter has women on the brain for most of the story it seems, and it comes out in the dialog. Violence is of the usual PG-13 action film kind. We briefly see some blood on a woman's arm after being shot there and on a man's jacket after he is shot. Also, a villainous character is caught in a gear/wheel of some kind and we don't see it, but hear them get crushed (and see other's reactions). The action is a lot less bloody than the first film, but nonetheless something to consider.
Fans of the series will be the best audience for Rush Hour 3, even if it seems past its time. A few cameos of characters from the first film are a nice treat, and we even get to see a character all grown up as well. The biggest story complaint I have, however (besides a bit of tampering with the background of Lee's character), is in the film's abrupt ending. Although we can assume how things resolve, there aren't quite as many tied-up loose ends as in the first two movies. Believe it or not, it's left open enough for a fourth film. And while these characters are great to watch, I can't imagine how much further it could go with a fourth. So for this being the assumed end of a trilogy, it doesn't have a very tight resolution.
Rush Hour 3 is the Summer's final "threequel" and definitely not a disappointment. While it may be one of the more unnecessary third installments to a franchise (Shrek 3 also comes to mind), director Brett Ratner and central players Jackie Chan and Chris Tucker make this an enjoyable and entertaining action comedy with plenty to keep the audience entertained. Unfortunately, there's also quite a bit of profanity and sexual humor thrown into the mix along with the action violence, so keep that in mind before deciding to view this one.
– John DiBiase (reviewed: 8/10/07)
Parental Guide: Content Summary


 Sex/Nudity: Carter calls up Lee and tells him he has a couple of dates for them that night, and uses some innuendo; Carter and Lee argue about Isabella and how Lee never got to sleep with her because of Carter; Carter gets excited when he reads that a good percentage of French women are naked; At an airport in France, Carter and Lee are taken into custody by the French police and we see the chief put on a surgical glove before the next scene which shows the two walking out of the police station awkwardly, implying that they had an anal search; At a casino/club, a woman convinces Lee to go upstairs with her. Carter sees him going inside a room and comments that
Lee will become a man. Inside the room, the woman begins to fight Lee and outside the room it sounds as if Lee and the woman are making sexual sounds inside the room. Carter comments to himself, cheering on Lee with "Come on Crouching Tiger, stop hiding that dragon!" (or something to that effect). When Carter opens the door, he calls Lee a superfreak before realizing there was a fight going on the whole time; We see scantily clad dancers in a dance club; Carter enters a dressing room full of women in small attire. Carter says he's the designer. The girls ask if their costumes are okay, he hesitates, and then tells them no. The scene cuts to a different one and when we see Carter again, the girls are all topless in a line (we see them from behind and some nudity reflected in the mirror) and most of their bare butts as they appear to be wearing thong bottoms; During a dance number, we see girls expose their legs, wearing garters, and then a line of them come out on stage in see-through tops with buttons over where their nipples would show; Genevieve is seen in a low cut dress that reveals her cleavage, and later in a tiny dance outfit, then later again stripping down to a tiny set of lingerie. Carter tells Lee they have to get information from Genevieve, and comments on them having to calm her down. Lee suggests a "dirty movie" and when Carter scolds him, he insists it's only "$9.95." (in the outtakes, we hear all kinds of alternate takes Chan offers that he's told to say, including him saying things like "One with hairy women," "One with horses," etc. It's apparent in these takes that Chan doesn't even realize what he's being told to say but is trying out the dialog anyway); Genevieve and Carter begin kissing and when she heads to the bathroom, he calls in room service for honey and a Redbull. When she comes out of the bathroom in a small outfit, he's under the covers in just his underwear. She climbs on top of them and they kiss some more. The scene ends abruptly however; Later, Carter freaks out thinking Genevieve might be a man and comments that he went to second base with her and that he's now "Brokeback" Carter, but she insists that she's a woman.


 Vulgarity/Language: 1 incomplete "mother-," 17 "s" words, 2 "g*dd*mn," 20 "h*ll," 17 "a" words, 19 "d*mn," 1 "J-sus," 1 "a–h*le," 1 "Oh my G-d," 1 "My G-d." In a scene where Carter and Lee interrogate a French-speaking man using a nun, they both tell the nun to say certain profanities in French to the man, while referring to the profanities by just a letter (referring to the "f" word as "F," "n*gger" as "the n word," and so on…)


 Alcohol/Drugs: We see some people having drinks randomly throughout the film (in a dance club, etc).


 Blood/Gore: When the ambassador is shot, we briefly see some blood on his jacket; We see blood on a woman's arm after she's been shot; a gunshot is sounded and we see a man step toward a pool and fall in, with the water turning a bit red with blood


 Violence: A lot of martial arts action; some people are shot and killed; a car bomb goes off; a man shoots another man; a man and woman fight using knives and objects around a hotel room; a woman is caught in a gear/wheel and crushed/cut in half as it turns (we don't see this, just hear it and see other's reactions); a person falls to their death, etc