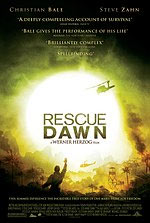 Rescue Dawn



– for some sequences of intense war violence and torture.
Director: Werner Herzog
Starring: Christian Bale, Steve Zahn, Jeremy Davies
Running Time: 2 hours, 6 minutes
Theatrical Release Date: July 4th, 2007 (limited)
Official Site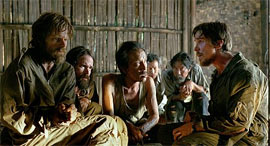 Plot Summary
Christian Bale and Steve Zahn will star in Rescue Dawn, an action drama by Werner Herzog and based on the director's acclaimed 1997 documentary, "Little Dieter Needs to Fly". The film recounts the true story of German-born Dieter Dengler, who dreamed of being a pilot and eventually made his way to the United States, where he joined the military during the Vietnam War era. He was shot down over Vietnam and captured. Eventually he organized an escape with a small band of captives. Bale will play Dengler, and Zahn will play an ill-looking and bent POW.
(from MovieWeb.com)
Film Review
While I often am intrigued by the films that are based on true stories, it always bugs me when I learn that the director and screenwriter took a lot of artistic liberties in making the movie the way they wanted – especially if it's twisting facts.
Director Werner Herzog brings to life the story of Dieter Dengler, a US Fighter pilot who was shot down over enemy territory during a classified mission to Viet Nam. Dieter gets captured, tortured, and imprisoned along with six other US prisoners. However, Herzog's version of the story only has five other prisoners, and apparently a lot of factual differences including Dengler's impact and influence on his fellow captives and their attempted collective escape. For me, the factual errors taint the overall end result of the film, but all facts aside Rescue Dawn remains a good story.
Rescue Dawn isn't your typical Hollywood war film. The meat of the story takes place within the prison camp walls in Viet Nam. Christian Bale's take on Dieter is a strong, convincing performance as a German-born U.S. soldier who loves his country too much to forsake it for his pardon by the Vietnamese. Bale is an intense actor and he brings a lot of passion to the role. Steve Zahn portrays Duane Martin, a captive who had already been imprisoned over a year and a half before Dengler's capture (at least, in the film's version of the story). By the time Dengler has reached the camp, many of its inhabitants have already begun losing their minds due to the isolation, starvation, and cruelty from the guards. Jeremy Davies, who seems to often play more mentally unstable characters, performs his version of Gene DeBruin as selfish, insane, and eccentric (despite reports being that the real Gene was the complete opposite). Davies is great, even "looking" the part with his frail, emaciated frame. Zahn, who excels as comedic support in a lot of his films, pulls off the much more serious role as Duane, who tragically suffers through the treatment and is barely hanging on to his sanity (and dignity) through much of the story.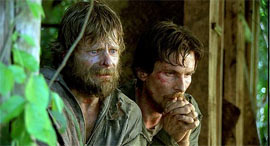 Although Rescue Dawn is slow in pacing, never using any of composer Klaus Badelt's eerie score to make things seem grandiose or heroic, there's a great deal of tension and suspense throughout the film. With not knowing exactly how the story progresses or just what evils the POWs will have to endure next, the audience is set on the edge of their seat as they become pulled into the camp alongside Dieter and his buddies. Watching what they go through serves as a reminder of what frivolities we take for granted, and what basic necessities like cleanliness, or even a hearty meal, we grow conditioned too. To know these freedoms can be stripped away at any time is a sobering thought. It's widely known that Dieter Dengler was the only American POW of the Viet Nam war to escape, and when the inevitable rescue comes in the film, and a comrade hands Dengler as simple a pleasure as a Butterfinger bar, it's such an impacting moment to watch Bale's reaction as we can feel the emotion of that moment along with him. But among the horror of it all, spirituality is barely touched upon. At one bleak moment, Dieter is shown offering up a single prayer of "God, where are you when we need you most?" The story soon follows it with a pretty tragic moment which almost is to say that He doesn't show in times of despair. Later on, when his fellow Naval friend ask him what he has learned about God and country, Dengler just spouts some nonsensical answer. One might expect a person in such a faith-trying experience to maybe have some hope, but at least this version of Dengler has clung to nothing spiritual.
Due to the nature of this POW flick, the content is rather heavy. The guys really are put through some incredibly horrible things, and although Herzog has said some of the worst was cut by his own discernment (and not just for rating purposes), it's still pretty  harrowing. Language is frequent more so at the beginning of the film while Dengler is still with his Naval crew and appears again a bit towards the end, but most of the prison camp scenes don't have a whole lot of it. There are some violent moments, including a bare-skinned Viet Nam soldier being shot with the bullet holes briefly being seen, and a character is sliced in the leg and then beheaded in what proves to be a pretty intense sequence (we don't see the actual beheading, just a body with a head lying next to it from somewhat of a distance).
Rescue Dawn is definitely a well-made POW/war film that tells a fascinating story about survival, friendship, and loyalty to one's country. A heavy film that isn't for everyone, it's an emotional experience that is more educational than entertainment. Definitely not a film to see if you're looking for a summer action movie. It focuses more on realism than heroism, and drama more than anything. With the historical accuracy up for debate (You may want to check out www.rescuedawnthetruth.com which argues against some of the story elements in the movie, labeling them as lies, but it's possibly just someone's opinion. Also, keep in mind the site gives spoilers of the film), I would have rather the film stick to as much truth as possible, and I would have liked it better knowing that. If what is present in Rescue Dawn was all truth, I'd have to say it was certainly a strong film… just not really one you'd want to watch over and over or ultimately recommend.
– John DiBiase, (reviewed: 8/1/07)
Parental Guide: Content Summary


 Sex/Nudity: Spook jokes about a sailor in a training video having a "nice *ss for a sailor;" Duane jokes about a turkey dinner that had "breasts the size of Jayne Mansfield's"


 Vulgarity/Language: 1 possible "f" word, 14 "s" words, 1 "S.O.B.," 7 "g*dd*mn," 1 "J-sus," 1 "J-sus Chr-st," 6 "h*ll," 3 "a" words, 3 "d*mn," 3 "p*ssed," 1 "cr*p," 6 derivatives of "G-d"


 Alcohol/Drugs: While fantasizing about food, Duane talks about a six pack of beer while Dieter talks about a stein


 Blood/Gore: We see abrasions and such on Dieter's face; We see some blood on the side of Duane's face after he's been shot (but he's okay); Duane and Dieter shoot some Vietnamese soldiers and we briefly see some bloody impact wounds. Some bullets hit a body that isn't wearing a shirt, so we see some bloody bullet wounds as they are shot and fall; We briefly see Duane vomit; We see Duane and Dieter pull leeches off their bodies with a little bit of blood; Vietnamese villagers attack a couple soldiers. One of them is sliced in the leg and we briefly see the bloody cut before the the victim is beheaded with a machete. We don't see the act, but do see the victim's body on the ground afterwards with what looks like their head (face away from the camera) lying next to the body; Dieter bites into a snake and it's a little bit gory; Dieter has bloody scrapes on his face


 Violence: Dieter's plane is shot down and crashed, he's held at gunpoint and taken as prisoner; Dieter goes through different kinds of tortures including being tied to the ground, dragged by a car, held under water, and hung upside down; a prisoner is shot in the face but is okay; the Vietnamese shoot at some of the prisoners, hit them, etc; Some of the guards are shot to death; a man lights an old abandoned building on fire to get the attention of an airplane, but is shot at instead by the plane; A man is cut in the leg, then beheaded, etc.