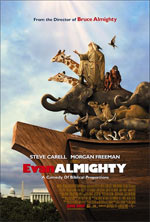 Evan Almighty



– for mild rude humor and some peril.
Director: Tom Shadyac
Starring: Steve Carell, Morgan Freeman, Lauren Graham, John Goodman
Running Time: 1 hour, 30 minutes
Theatrical Release Date: June 22, 2007
Official Site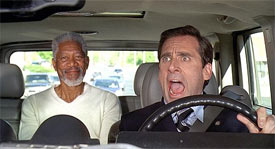 Plot Summary
Steve Carell reprising his role as the polished, preening newscaster Evan Baxter of Bruce Almighty, is the next one appointed by God to accomplish a holy mission in the hilarious new comedy Evan Almighty. Newly elected to Congress, Evan leaves Buffalo behind and shepherds his family to suburban northern Virginia. Once there, his life gets turned upside-down when God (Morgan Freeman) appears and mysteriously commands him to build an ark. But his befuddled family just can't decide whether Evan is having an extraordinary mid-life crisis or is truly onto something of Biblical proportions… (from EvanAlmighty.com)
Film Review
In 2003, comedic director Tom Shadyac released the overtly controversial Bruce Almighty, a film starring Jim Carrey as a man angry at God who in turn is given the powers of God by God to see if he could do it any better. The film ended up having a strong message about humility and reliance on God and the importance of living for others, using a comedic package that was a bit edgy and potentially offensive at times. The movie was a success and it wasn't too long before a script began floating around (no pun intended) titled The Passion Of The Ark, which was soon snatched up to be used as a sequel to Bruce Almighty. Carrey bowed out of returning and newcomer Steve Carell, who merely had a small, albeit scene-stealing, role in the first installment was given a spin-off all his own to be titled Evan Almighty. Instead of Evan being angry at God and given the lesson of a lifetime by the Creator Himself, Evan's self-involved ways are countered when He decides to pray for God to give him a chance to change the world – and a new lesson for a new servant begins…
Evan Almighty is intentionally a more family-oriented story which strips most of the language and vulgar content from the previous film out to give it a more accessible feel. There's very little in this installment that would prevent families from enjoying it. Morgan Freeman is once again a wonderful pick to play God and the story doesn't take very long before getting right into the spirituality, bringing God into the picture. While Bruce Almighty was lighthearted in a lot of ways or goofy at times, Evan Almighty goes a bit further to keep the mood light, even when things get a bit more serious as the world begins singling out Evan for his overtly strange behavior. While Bruce was given the chance to play God, Evan is being forced to be a modern day Noah and completely trust God to the point of possibly losing everything. Evan Almighty ultimately serves as a new parable for our times, one that you can't help watch and relate to. Freeman's incredible acting talents make his delivery as the Almighty so tangible, it's almost scary. While certain things said in the first film were cryptic or could be viewed as a bit skewed, the portrayal of God here is wonderful. When Evan asks God why He'd flood the Earth again, God pauses before stating that everything He does is because He loves us – a sobering view of God to find coming out of Hollywood, indeed.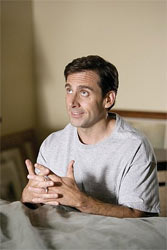 As a story, Evan Almighty is a lot of fun and a fair mix of laughs and heart. Any fan of Carell's antics on the TV show The Office or in any of his other theatrical offerings, will find his spastic reactions to the insanity around him humorous. But most of the comedy is generated from these outrageous moments, and like with most Jim Carrey vehicles, if you don't like the main actor much, you're most likely not going to enjoy a film helmed by them. But Carell is a fantastic comedic leading man and he carries Evan Almighty with seemingly great ease. Once his transformation physically into Noah begins, some of the humor generated by Carell's facial expressions is sacrificed a bit. But the message of faith and trust in God is so strongly painted, it's tough not to get misty-eyed at least once during the movie. Lauren Graham (most familiarly known from the TV show Gilmore Girls) is okay as Evan's wife, but comparing her performance to that of the arguably more passionate display from Jennifer Aniston in Bruce Almighty, Graham's presence lacks a bit. However, one of the best moments in the film comes when she encounters God, not realizing it's Him, and they have a memorable conversation in a restaurant.
Those worried about the fact that God promised in the Bible never to flood the Earth again can rest assured that Evan Almighty does not impose on any Biblical promise. The cause for the flood – which I won't ruin, because it's kept a surprise til the climactic moment – is also a neat device for making the plot work. The special effects for the flood, however, are a bit cheesy and clearly synthetic. For a film being dubbed "the most expensive comedy of all-time," I'd have expected some more impressive effects. With a film that relies on its climactic finish, it's really important to have that visual pay-off. Effects aside, skeptics can find solace in knowing Evan Almighty handles its subject matter with reverence. It possesses a message even worth building a Bible study around.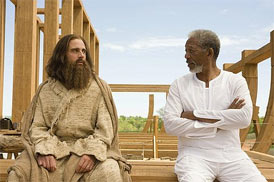 The PG content is nicely mild. The strangest piece of crude humor included are two references to the length of a certain species of duck's genitals being as long as its body. It didn't fit in the movie and felt a little distasteful to include. Other than that, Evan is caught leaving his house completely naked when he doesn't don a robe God supplies for him. The suit he was wearing suddenly vanishes and he's left nude outside his house. We don't see anything with strategically placed shrubbery around him, so it's not nearly as inappropriate as it could have been, but I was a little surprised to see that in there.
Being that Shadyac directed Liar Liar with Jim Carrey a decade ago, it shouldn't come as a surprise that Evan Almighty bears some resemblance to the aforementioned film. From being a neglecting father who lets work get in the way of a promise to his kid(s), to having to overcome the challenge of a sudden wish come true or, in this case a prayer, while trying to impress at the office, it seemed like Shadyac borrowed some elements that worked before to use here. It may be a bit too familiar at times, but nonetheless works, especially for those not familiar with Shadyac's previous material.
All in all, Evan Almighty is a wonderful family film with a message that shoots straight to the heart and leaves an impression. While not perfect, the film is a testament to where faith-inspiring family films fit in to today's world. Support this one to support entertainment with merit. I'm not sure where else the Almighty stories could go, but if writer Steve Oedekerk and director Tom Shadyac are behind them, they're bound to be contemporary Bible lessons that tug at the heartstrings while making you think. Evan Almighty is a grace flood for film fans.
– John DiBiase, (reviewed: 6/21/07)
Parental Guide: Content Summary


 Sex/Nudity: One of Evan's sons randomly quotes a nature fact about a certain duck's penis being as long as its body. When Evan is later asked if he knows about animals, he nervously spouts the same fact; Evan goes walking out of his house wearing a suit when he should be wearing the old robes God wants him to wear. All of a sudden he appears nude before the mail woman and we just see his bare chest and legs with shrubs on his front steps blocking any nudity. She points out his nakedness and he quickly runs back up the stairs; In the outtakes, while people are dancing, we briefly see Molly Shannon's skirt ride up, revealing a lot of leg, and a brief shot of Steve Carell doing a pelvic thrust in his dancing; A dog constantly either bites or sniffs Evan's crotch.


 Vulgarity/Language: 1 "By G-d," 5 "Oh my G-d" 1 incomplete "Son of a…," 9 "G-d," 1 "p*ssed"


 Alcohol/Drugs: People make a few jokes about what substances Evan could be on to cause him to act the way he's acting.


 Blood/Gore: None, just a lot of bird poop, particularly in one scene.


 Violence: Evan accidentally hits himself with a hammer several times and falls off piles of wood several times. We later see him with all kinds of bandages on himself; A lot of houses and buildings are crushed by the flood.