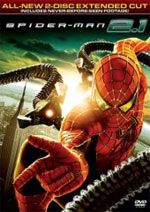 Spider-Man 2.1



– for stylized action violence.
Director: Sam Raimi
Starring: Tobey Maguire, Kirsten Dunst, Alfred Molina
Running Time: 2 hours, 16 minutes
DVD Release Date: April 17, 2007
Official Site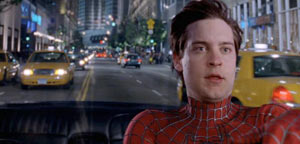 Plot Summary
Two years have passed, and the mild-mannered Peter Parker faces new challenges as he struggles with "the gift and the curse," desperately trying to balance his dual identities as the web-slinging superhero Spider-Man and his life as a college student. Tormented by his secrets, Peter finds that his relationships with all those he holds dear are in danger of unraveling. His life-long yearning for M.J. (Kirsten Dunst) becomes even stronger as he fights the impulse to reveal his secret life and declare his love. His friendship with Harry Osborn (James Franco) is complicated by the young Osborn's bitterness over his father's death and his growing vendetta against Spider-Man. Even Peter's beloved Aunt May (Rosemary Harris), who has fallen on hard times after the death of Uncle Ben, begins to have doubts about her nephew. Peter's life is about to become even more complicated as he encounters a formidable new foe — Dr. Otto Octavius (Alfred Molina). Peter must use all the powers at his disposal to try to stop this diabolical madman in his octagonal tracks. (from MovieWeb.com)
Film Review
Nothing can be more frustrating for the hardworking film fan than to see a movie they already own on DVD be re-released in a different
form. The first of the Spider-Man film franchise to get some kind of extended re-release is its first sequel, 2004's Spider-Man 2. Redubbed Spider-Man 2.1, and not just on the packaging of a newly feature-packed re-release like with X-Men 1.5, this extended cut boasts 8 additional minutes of content added to the film of cut or previously unfinished material. Despite the film breaking box office records and being critically acclaimed, director Sam Raimi caught a bit of the same bug Lucas suffered when retouching the Star Wars films and has altered the original version of Spider-Man 2.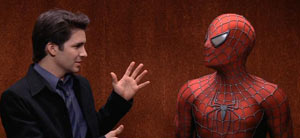 The changes in Spider-Man 2.1 are hardly drastic and don't change the story much, although it basically extends some short sequences a little longer and adds a little dose of character development here and there. There are also many instances of just added fluff that feature alternate camera angles, takes, and extended moments that may not add much to the film but are fun little treats. Most of the additions and changes happen within the first half of the film. The first noticeable extension is the dialog between Peter and his pizza delivery boss, which also uses an alternate take altogether for some of it. Next we're shown a different cut of Peter's entry in the office building where he delivers the pizzas (and comes through the janitor's closet). Here the scene is also extended to show a great, funny interaction between the receptionist and Peter as he tries to leave back the way he came in. Peter's birthday party sequence and his dialog with MJ afterwards is also extended, with the latter showing some more of the friendship between Pete and Harry despite the bitter feelings about Harry's father's death. It's moments like these that feel like they should have been left in originally despite the cutting that was needed to get the story moving quicker.
Tiny little changes can also be picked up by the more devoted of fans. From a moment where Spidey hangs some thugs on a lightpost and we get a brief glimpse of him driving away in their car and removing his mask, to a second more of interaction with him and the stubborn playhouse usher, or the brief introduction of Doc Ock's wife when he first meets the villain-to-be, they're subtle and unneeded alterations, but inevitably fun to pick out. One obvious alteration is the inclusion of an extended, alternate exchange between Spider-Man and the guy on the elevator, played by comedian Hal Sparks. Instead of the slow, awkward interaction between the two, Sparks' character is seen riffing about possible marketing ideas for the masked hero. It's probably an even funnier scene, but the original is also so perfect that it's bittersweet to note its absence. Other added bits include some dialog when Peter visits the doctor (although that added dialog only seems to make the physician look less wise in his advising of Peter), and a great exchange between MJ and a friend about her decision to marry John Jameson. The last changes worthy of note are extended bits for the fights between Doc Ock and Spidey on the clock tower and the elevated train. The fights just include more punching and physical fighting, with the most notable being when the two briefly fall into the window of a law office during the tower fight.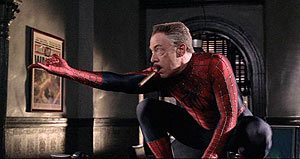 With the third installment less than three weeks away, it's fun to revisit this exciting action/adventure comic book film. While some moments can flirt with the more campy (a toddler pulls Peter up from dangling on a ledge, some of the cliched superhero dialog, etc), Spider-Man 2 is a great achievement in the comic book film genre. So is Spider-Man 2.1 worth the double-dipping if you own the original DVD release? It depends on how fanatic of a fan you are. I found it to be a great revisitation with the little additives being subtle but delightful. We could have done without the cut sequence of Peter's newspaper boss donning Spider-Man's suit and role-playing in his office, but it's some of the added dialog and attention to detail that make this a fun alternate version. Also, some behind-the-scenes
featurettes on the second disc give you a firsthand look into the process of creating this edition and adding back in originally deleted footage or creating new effects. There are also visual effects breakdown featurettes, a look at the crew as they celebrate their Academy Awards for the special effects, and a brief look into the upcoming Spider-Man 3.
As a fan of the franchise, I enjoyed Spider-Man 2.1, but I would advise that if you own the original DVD release of the theatrical cut, you won't want to shell out the money for this version if you're merely a casual viewer. Only the most devoted fans should look into this one.
– John DiBiase (reviewed: 4/17/07)
Parental Guide: Content Summary


 Sex/Nudity: We see MJ and her boyfriend kissing passionately. We see two other characters kissing very passionately.


 Vulgarity/Language: 1 "a" word, 3 "h*ll," 1 "p*ss," 3 "cr*p"


 Alcohol/Drugs: We see some characters drinking at parties, etc. Harry appears to be drunk in several different scenes and it even leads him to lash out violently at Peter.


 Blood/Gore: We see some deep gashes through Spider-Man's costume exposing bloody cuts on his torso.


 Violence: A lot of action/comic book related violence. There are some pretty heavily violent sequences especially a scene where Doc Ock's arms brutally demolish an operating room and the workers inside. Other explosions, cars being tossed, hand-to-hand fighting, etc, take place.