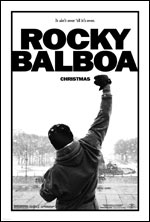 Rocky Balboa



– for boxing violence and some language.
Director: Slyvester Stallone
Starring: Slyvester Stallone, Burt Young, Antonio Tarver, Geraldine Hughes
Running Time: 1 hour, 42 minutes
Theatrical Release Date: December 20, 2006
Official Site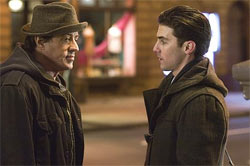 Plot Summary
Thirty years ago he was a man with no future, working for a small time loan shark on the South Side of Philadelphia. When blind luck landed him the chance to enter the ring against reigning champ Apollo Creed, it was the million-to-one-shot of a lifetime. And all he wanted was to go the distance. His courage and perseverance, both in life and in the ring, gave hope to millions. Now, glory has come and gone and Rocky Balboa (Sylvester Stallone), the one-time Italian Stallion, spends his evenings telling old stories to the patrons of his restaurant, Adrian's, named after his late wife, whom he quietly mourns. His son (Milo Ventimiglia) doesn't want to spend time with him; he's too busy trying to live his own life. Time and knocks have humbled Rocky, deformed his fists, slouched his shoulders and taken away all he had except his old stories, but in his heart he's still the same man. In his heart, he's still a fighter. (from MovieWeb.com)
Film Review
Before it was completed, there was probably only one person who believed a sixth Rocky film was necessary or even wanted. Now sixty years old, Slyvester Stallone resurrects his legendary boxing hero Rocky Balboa with the aptly titled sixth installment, Rocky Balboa, for one final fight. Since fans last saw him in Rocky V in 1990 (which I admittedly haven't seen more than a few minutes of), Rocky's love Adrian has passed on from cancer leaving him to struggle to move forward from his past and legacy every day. Balboa still hangs out with his old friend Paulie (Adrian's brother), and manages a restaurant named after his late wife. After a virtual, computer-generated fight broadcast on TV between the current undefeated champion Mason "The Line" Dixon and the 1970's young Balboa piques the world's interest with Balboa declared the victor, things are set in motion for Rocky to take the ring just one last time to face Dixon. But many probably wonder how the sixth film in a boxing series could be any good…
I admit I was among the majority who thought Stallone was either crazy or desperate to be making a sixth Rocky. However, after seeing the trailer (which often doesn't mean much considering so many movies work better as trailers than actual movies), I was willing to give Rocky Balboa a chance. Also, Stallone pitched the film to Christian and "faith-based" media because he felt the message of the film applied to our audiences and I had the pleasure of listening in on a one-sided conference call Stallone did for the Christian media. To hear him share his heart and vision just made me more interested in this project, so by the time I sat in the theater and the credits began to roll, complete with the first film's classic theme song, I was hooked.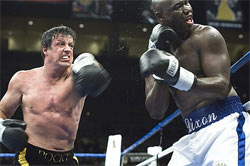 What makes Rocky Balboa feel genuine is Stallone's precise writing. Balboa's seen better days, but there's hope and kindness in his heart that drives him. But because of the naysayers, his anguish over the loss of Adrian, and the unwanted distance between him and his son, Balboa is tormented inside, knowing the best way to relieve the junk inside him would be through proving his worth through a boxing match. Stallone's injected a bit of spirituality into the film as well. From blessing himself and pointing toward heaven in acknowledgement, to an old friend sharing scripture with him before the big fight, Rocky knows where his hope and strength comes from and Stallone isn't afraid to admit that. The spirituality of the film is subtle, in no way making it a "Christian film," but it's just enough to give more depth to Balboa's struggles. Also, the movie is strengthened by a clever and meaningful script, likeable, genuine characters, and a relevant array of issues, topics, and emotions. While it's mostly a serious drama, Stallone uses plenty of dry humor here and there to lighten up the heavier moments. Burt Young's Paulie offers a lot of the comic relief, but he also is given the chance to pull on the audience's heartstrings.
If there's anything that may actually seem forced about Rocky Balboa, in the midst of its tangible heroic storyline, it's the subplot with Mason Dixon and his need to find a worthy opponent. The scenes involving Dixon and his slimy manager are a bit formulaic and by the numbers in execution, but it becomes forgivable through the sheer substantiality of the titular character's pursuit of a dream. Sure Rocky Balboa may have its idealistic tonalities, but perhaps that is part of the film's charm? But one of the most memorable things about this film is Stallone's brilliant use of nostalgia. Sly uses images from the previous films in an updated way that feels relevant yet nostalgic. The continuity is perfect and everything about this installment feels entirely natural. It's clear while watching Rocky Balboa that this character (and the entire series) is his baby. The film is a love letter to his fans and an appropriate final bow for Balboa.
Content is mild with just a handful of cuss words like the "a" word, "d*mn," and "h*ll," with violence being kept to just your usual rock 'em, sock 'em boxing action. While I'm guessing younger viewers will be bored by seeing a grandfather-aged former boxing legend pull himself up from the dirt for one last hoorah, adults and any fan of the previous Rocky films will find a whole lot to like about Rocky Balboa. I happened to see the film with a near sell-out crowd in a room filled with enthusiastic fans who ended up cheering and clapping through several moments in the flick — something you don't get much of these days in the theaters. It's a cheer-worthy film and a definite surprise of 2006. I'm eager to see what Stallone hones his energy to next. Rocky Balboa is a hit!
– John DiBiase, (reviewed: 12/21/06)
Parental Guide: Content Summary


 Sex/Nudity: We briefly see some women in bikinis on stage at the fight.


 Vulgarity/Language: 6 "a" words, 4 "d*mn," 4 "h*ll," 1 "cr*p," 2 "b*stard"


 Alcohol/Drugs: There is some drinking in bars and restaurants throughout the film; some drunk people in a bar heckle Rocky; Paulie appears drunk after being fired.


 Blood/Gore: Rocky goes into a meat locker and practices his punches on large slabs of meat. We later see short flashbacks of those punches as he's fighting; We see some blood trickling down Rocky's face during the fight (with the image being in black and white and the blood being red); We see some blood on Mason and Rocky's faces during the fight.


 Violence: Rocky throws a bar heckler up against the wall and tells him to apologize to Marie; the rest is all boxing violence