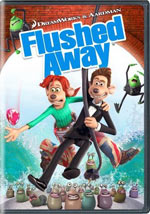 Flushed Away



– for crude humor and some language.
Director: Sam Fell, David Bowers
Starring: voices of Hugh Jackman, Kate Winslet, Ian McKellen
Running Time: 1 hour, 26 minutes
Theatrical Release Date: November 3, 2006
Official Site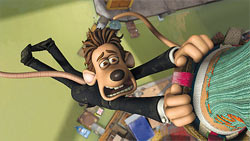 Plot Summary
From DreamWorks Animation and Aardman Features, the teams behind the worldwide hit Wallace & Gromit – The Curse of the Were-Rabbit, comes the computer-animated comedy Flushed Away. Blending Aardman's trademark style and characterizations with DreamWorks' state-of-the-art computer animation, Flushed Away is a madcap comedy set on and beneath the streets of London. Roddy is a decidedly upper-crust "society rat" who makes his home in a posh Kensington flat. When a common sewer rat named Sid comes spewing out of the sink and decides he's hit the jackpot, Roddy schemes to rid himself of the pest by luring him into the "whirlpool." Sid may be an ignorant slob, but he's no fool, so it is Roddy who winds up being flushed away into the bustling sewer world of Ratropolis. There Roddy meets Rita, an enterprising scavenger who works the sewers in her faithful boat, the Jammy Dodger. Roddy immediately wants out, or rather, up; Rita wants to be paid for her trouble; and, speaking of trouble, the villainous Toad-who royally despises all rodents-wants them iced… literally. The Toad dispatches his two hapless hench-rats, Spike and Whitey, to get the job done. When they fail, the Toad has no choice but to send to France for his cousin-that dreaded mercenary, Le Frog. (from MovieWeb.com)
Film Review
Aardman Features has made a name for themselves with their clever stop motion clay-mation films, finding hits on the big screen with Chicken Run and Wallace and Gromit. Flushed Away is completely new territory for the studio, using their clay-mation style in a CGI format to bring their characters to life. The characters are given the look of being animated through stop motion and it works surprisingly well (they even texturize them to look like they were molded with clay). The CGI format is beautiful, allowing the animation team to get more expression out of their characters and place them in settings, and with mediums (like lots of water), that are normally limited through the clay / stop motion process.
Flushed Away is a witty and fun film. I found myself enjoying the film way more than I expected to. Subtle spoof gags were inserted throughout the movie, working well in each instance (although some gags have been used in other animated films). In fact, among the spoofs seem to be constant jabs at classic Disney animated feature moments, poking fun at Toy Story, Finding Nemo, and Lady and The Tramp, to name a few. Aardman pay so much attention to detail, it's truly impressive. Familiar references also include Star Wars, Terminator, The Fly, Mary Poppins, James Bond, and other DreamWorks/Aardman films. Also, there are plenty of expected bathroom jokes given the film's setting (a sewer), but the story just often feels fresh and enjoyable despite its occasional familiarity or reliance on pop culture references.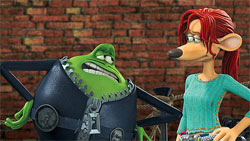 The voice cast is an impressive one, as well. Jackman is perfect as the upper class Roddy while Winslet fits the feisty Rita quite suitably too. Andy Serkis (most popularly known as Gollum in Lord Of The Rings) makes a perfect ratch henchman to the villainous Toad, along with his partner in crime, Whitey, who's voiced by the versatile Bill Nighy. Also from Lord Of The Rings fame — and alongside Jackman in the X-Men movies — is Ian McKellen who shines in a much less serious, much more expressive and unbridled performance as Toad. Jean Reno rounds out the voice acting talent as the sticky Le Frog, completing a team of actors and actresses who add quite a lot to the movie.
The humor of Flushed Away is fast paced and often on-the-money, knowing just when it's perfect to drop some humor (or an adorable little slug) into a slower moment. And even though the slow moments do pop up here and there, they're fleeting. With so much going on in the film, I noticed that, more than once, the soundtrack seemed to overpower the dialog, which in a movie with such detail as this one, is a critical error. Finally, I was a little surprised at how much bathroom humor permeated the film, allowing the pushing of the comedic envelope to take place. While there was never any profanity or anything especially vulgar, some jests may surprise adults while, at the same time, zip right over the little ones' heads.
Overall, I found myself enjoying Flushed Away far more than I expected. Smart and creative, Flushed Away may hit a few bumps along its rushing sewer ride, but ultimately succeeds in being a little mucky fun for the whole family.
– John DiBiase, (reviewed: 11/7/06)
Parental Guide: Content Summary


 Sex/Nudity: As Roddy grabs onto Rita's belt to keep from falling, it rips, sending him grasping for her pants, which ride down revealing her bloomers underneath.


 Vulgarity/Language: None.


 Alcohol/Drugs: Sid mentions being in a pub; Le Frog tries a bottle of wine, but spits it out upon seeing that it's British.


 Blood/Gore: None – merely potty jokes.


 Violence: There's quite a bit of cartoon violence – including plenty of crotch hits; Roddy burns his hands on an outdoor grill; We see frogs sticking their tongues out to catch and eat live flies, and use them as weapons too; Characters become frozen by liquid nitrogen; Roddy keeps receiving shocks while trying to fix a problem with a ship; Rita's family's house rocks back and forth like a ship, repeatedly slamming the people inside against a wall; While Toad's rats pursue Roddy and Rita, Spike prepares to kill Roddy with a can opener but
ends up being yanked off the boat by accident; One of Rita's little siblings uses cables to shock Roddy (as a joke); Rita kicks Spike into a box of pushpins (and we see them sticking out of him, but it's not gross); Toad fires staples at Roddy who's flying a balloon in attempts to rescue Rita; Spike is bitten by baby tadpoles; Spike is hit by a champagne bottle after it's popped open; and more slapstick violence…