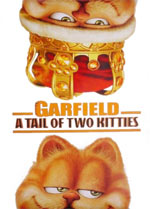 Garfield: A Tail Of Two Kitties



– for some off-color elements.
Director: Tim Hill
Starring: voice of Bill Murray, Breckin Meyer, Jennifer Love Hewitt
Running Time: 1 hour, 18 minutes
Theatrical Release Date: June 16, 2006
Official Site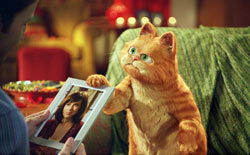 Plot Summary
America's favorite feline, Garfield, follows his owner, Jon, to England. The U.K. may never recover, as Garfield is mistaken for a look-alike, regal cat who has inherited a castle. Garfield savors the royal treatment afforded by his loyal four-legged subjects, but his reign is in jeopardy. The nefarious Lord Dargis is determined to do away with Garfield, so he can turn the castle into a resort. Garfield's bigger, better, more purr-fect world is soon turned upside down in this tale of two kitties. (from MovieWeb.com)
Film Review
Oh, I'm such a sucker. I'm a sucker for a big, fat, lazy orange cat named Garfield. Almost since I could read, I've been a near immeasurable fan of Garfield. When he first hit the big screen two summers ago in the form of a CGI cat in the real world, I understandably had mixed feelings about their process for bringing him to life. So when the mild success of Garfield: The Movie
spawned a sequel that would inevitably (and cornily) be titled Garfield: A Tail Of Two Kitties, I was torn about whether this would be a good thing or yet another bad thing.
When I reviewed Garfield: The Movie, I'd seen it following the relentless backlash that critics and naysayers online spouted. The mudslinging lowered my expectations immensely, so I found myself thoroughly enjoying the film. To no surprise, and my utter disappointment, Garfield: A Tail Of Two Kitties is receiving much of the same reception. And while I left the theater feeling like the sequel did indeed improve upon its predecessor, I also felt, once again, it wasn't nearly as bad as the critics made it out to sound.
What works about Garfield: A Tail Of Two Kitties, is the inclusion of more of what works in the comic strip and personality of Garfield's character. Once again perfectly voiced by Bill Murray, Garfield has better lines, better expressions, and just a lot more to do than he was given in Garfield: The Movie. Set this time mostly in England, Garfield: A Tail Of Two Kitties is aiming at diehard Garfield fans (*bows*) and children almost exclusively. Casual fans and cynical adults need not apply. Garfield: A Tail Of Two Kitties is by no means a classic or a "wonderful" film, but it's about as adorable as they come for live action films.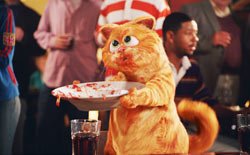 I found a lot more amusing about "Garfield 2" than I did with the first film. While I was mostly distracted about what was wrong about the first when watching it (Arlene is gray instead of pink, Nermal is Siamese and stupid instead of gray and cute, Odie isn't CGI, Jon isn't dorky enough, Liz is sweet and interested in Jon instead of sarcastic and reluctant), a lot of those problems don't exist when certain characters are completely written out of the story, or given less screen time. While I've begun warming up to the idea of Breckin Meyer as Jon Arbuckle, he still seems too normal to be passable as Jon. And while I did get a kick out of Garfield stowing away on Jon's trip to London in true comic strip and cartoon fashion, I felt it lacked the dynamic and relationship that Jon and Garfield share in those mediums. It's to the point that when we finally switch to Garfield or Jon wondering where the other is (once they separate in London), you realize, "Oh yeah! I forgot about Jon…" This is seldom the case found in either the strip or any of the animated specials or TV show.
The mistaken identity plot is nothing new, but it brings a fun little angle to the big screen world of Garfield. Also, replacing director Peter Hewitt with Tim Hill seemed to improve upon the flow and feel of the film. While the original tried too hard to be "hip" and "cool," A Tail Of Two Kitties feels more deliberate and genuine. Thankfully a worthless song by Baha Men or Blackeyed Peas is replaced with more instrumental scoring and The Beatles. It feels more natural. Billy Connolly serves as the film's villain this time around, as he tries to dethrone Prince, Garfield's look-alike in England. While the film's finale finds Connolly's approach reaching a bit over the top, Connolly still fairs better on every account than Stephen Tobolowsky did before him. Tobolowsky has done fine work before, but he simply cannot carry a film as a villain or central character, which he proved in Garfield: The Movie. Connolly stole his scenes in Lemony Snicket's as a heartwarming uncle a year and a half ago, and despite being evil here as opposed to charming there, he manages to pull off the role well.
The live animals used in A Tail Of Two Kitties have increased in numbers and director Tim Hill uses them to the film's benefit when possible. While it could have played out as disastrously as such an idea has in past cinematic attempts, the animals are often quite cute and play along well with Garfield and his shtick. Finally, Ian Abercrombie (most notable as Mr. Pitt from Seinfeld) is a delightful addition to the cast.
While imperfect, indeed, Garfield: A Tail Of Two Kitties is a cute little film that is suitable for all ages. Those who don't mind a goofy little family comedy, or who are big fans of the cat or Bill Murray, will find a lot more to like about A Tail Of Two Kitties than what Garfield: The Movie had to offer. Still leaving considerable room for improvement, Garfield: A Tail Of Two Kitties is nonetheless a fun little Summertime movie escape that you won't have to worry about taking the family to. I couldn't help but enjoy the second installment more than the first, so for that, I give it a rating of four stars out of five.
– John DiBiase (reviewed: 6/16/06)
Parental Guide: Content Summary


 Sex/Nudity: Jon and Liz kiss passionately a few times; When Jon is practicing a proposal speech for Liz on her picture (and Garfield thinks he's talking to him), Garfield remarks that his marriage to Jon may be illegal (subtly referencing gay marriage); Liz wears cleavage-revealing outfits in most of her scenes; Another woman's dress reveals her cleavage.


 Vulgarity/Language: None.


 Alcohol/Drugs: None.


 Blood/Gore: None.


 Violence: Dargis tries to kill Prince by throwing him into a river in a basket; There's quite a bit of comedic violence while Dargis tries
to rid the castle of Prince (and later Garfield who he thinks is Prince) – a dog bites him several times,  he threatens to use a knife, crossbow, and mounted gun, etc.