Poseidon



– for intense prolonged sequences of disaster and peril.
Director: Wolfgang Petersen
Starring: Josh Lucas, Kurt Russell
Running Time: 1 hour, 39 minutes
Theatrical Release Date: May 12, 2006
Official Site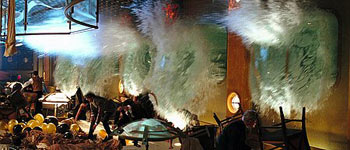 Plot Summary
When a rogue wave capsizes a luxury cruise ship in the middle of the North Atlantic Ocean, a small group of survivors find themselves unlikely allies in a battle for their lives. Preferring to test the odds alone, career gambler John Dylan (Josh Lucas) ignores captain's orders (Andre Braugher) to wait below for possible rescue and sets out to find his own way to safety. What begins as a solo mission soon draws others as Dylan is followed by a desperate father (Kurt Russell) searching for his daughter (Emmy Rossum) and her fiancé (Mike Vogel), a young couple who hours before couldn't summon the courage to tell him they were engaged and now face much graver challenges. Along the way they are joined by a single mother (Jacinda Barrett) and her wise-beyond-his-years son (Jimmy Bennett), an anxious stowaway (Mia Maestro) and a despondent fellow passenger (Richard Dreyfuss) who boarded the ship not sure he wanted to live but now knows he doesn't want to die. Determined to fight their way to the surface, the group sets off through the disorienting maze of twisted steel in the upside-down wreckage. As the unstable vessel rapidly fills with water each must draw on skills and strengths they didn't even know they possessed, fighting against time for their own survival and for each other.
(from MovieWeb.com)
Film Review
In 1972, a little disaster film about an ocean liner capsizing from a monstrous title wave and a small group of survivors that fight their way out made a splash at the box office. Cornily but infamously dubbed The Poseidon Adventure, the action drama was intense, intriguing, disturbing but most of all, memorable. Now with filmmaking effects at their best, 2006 seemed like a prime time to give the story a second go-around. The more appropriately titled remake Poseidon revisits the concept of the original while introducing all new characters, an updated time and ship, and new perilous entrapments for the passengers to endure while trying to make it out alive.
Disaster movies are strangely entertaining. Considering the fact that there is nothing exciting or entertaining about a true disaster if it's happening to you in real life, there's something intriguing about watching people going through suspenseful and strenuous peril. And when its packaged in the action movie presentation like in such films as Twister, Dante's Peak, Independence Day, or even The Day After Tomorrow, it can make for solid entertainment. Poseidon's update of its original is a tricky one. While the updated effects bring a lot to the story, there's also a lot less dimension to the cast of characters, making it harder for the audience to care what happens to any of them unless they're already a fan of the actor portraying the character. This might be fine if we aren't intended to like any of the characters, but when you're only given tiny pieces of a much larger puzzle, how can you be expected to see the big picture?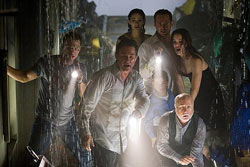 Wolfgang Petersen's last boat film The Perfect Storm may have been entirely dismissible, but he takes a little more care of the overall presentation of Poseidon. Changing the cast of characters is fine in the update, however, some of their individual professions may feel a bit too contrived when revealed (one served on a sub in the Navy giving them a knowledge of ships inside and out, one is an architect, and one was formerly a firefighter). But perhaps who else would even think they'd stand a chance to navigate an overturned ship to begin with without previous knowledge of such a structure? Regardless, the hour and forty-minute film is fast-paced, leaving little room to really introduce the characters as well as they need to be. Just as we're barely introduced to them, the wave hits and we're all thrown together into the action.
The effects are probably the film's strongest point. While using CGI to enhance sequences, add people where real could not be used, or insert an explosion in harm's way of the cast, the filmmakers relied heavily on tangible set pieces. And incredible set pieces they were indeed. It's obvious so many portions of the ship's guts are real sets from scene to scene and the detail is remarkable. From the fire and water damage to the effect that everything is completely upside down, the visuals are nothing short of impressive (not to mention the extensive sequence in which the ship is actually struck by the devastating wave).
But all of these ingredients are only part of what Poseidon delivers. Peril is its star and with that, much death and destruction follows. And for a PG-13 film, I must admit Poseidon rides the line for violence and carnage. From a room of electrocuted passengers (of which we see it actually happen, too), to flash fires that consume many (and the aftermath of such), it's a harrowing and intense film from nearly start to finish. So while sexual content is hardly an issue for the film, and language appears in mere spurts, it's constant glimpses of bloody, creepy, and charred accident victims that puts a serious warning label for viewers on Poseidon.
In the end, this remake falls somewhere between disappointing and engaging, not quite besting the original, but hardly falling short of being entertaining. With some serious attention to character development, a little more realism, and a lot less focus on the dead and marred, Poseidon could have been the hit it should have been. One nod I must give to Petersen, however, is while the original painted a less than favorable view of God, one of the main characters calls on God for help and a symbolic use of a cross to help them out of a jam was a nice little touch. While it's minor in the grand scheme of the film as a whole, it was a pleasurable contrast to the 1972 original.
Poseidon rides the wave of excessive gruesome disaster aftermath, giving it enough reason to want to either see edited or to skip it entirely (especially for the young ones). Those looking for a smart, deep, surivival film will be left feeling quite empty, while those looking for an entertaining popcorn film should find something worthwhile in Poseidon.
– John DiBiase, (reviewed: 5/17/06)
Parental Guide: Content Summary


 Sex/Nudity: Robert tells Jennifer that he's not comfortable with her and Chris spending time alone in their quarters. Jennifer responds sarcastically that with how big the ship is, there are many places where they could "do that thing you think we want to do" (implying sex); Lucky Larry smacks a waitress on the butt as she walks away; Robert asks Jennifer to button the top button on her dress to hide any remaining cleavage (Jennifer refers to them as "the twins"); Gloria, a lounge singer, is seen in a tight dress that reveals much of her cleavage; Elena mentions to Nelson that she "bunked" with Valentin, but it isn't clear whether or not she was implying that he let her room with him so she'd sleep with him; Nelson is gay and calls Valentin "gorgeous," prompting him to correct him that his name is Valentin


 Vulgarity/Language: At least 1 incomplete "f" word (said as "mother f-"), 2 "s" words, 4 "g*dd*mn," 1 "J-sus," 2 "d*mn," 1 "a**h*le," 1 "h*ll," 1 "S.O.B.," 8 "Oh my G-d," 1 "G-d"


 Alcohol/Drugs: Many share drinks during the New Year's ceremony; Lucky Larry appears drunk and is seen drinking out of a flask


 Blood/Gore: Considerably heavy. We see many, many dead bodies with varying degrees of blood and burn wounds all over them (some are pretty grotesque). Many dead bodies also have their eyes wide open with ghostly stares which will appear unsettling to some viewers. Robert has a great deal of blood running from his mouth down his chin after the boat flips over; A person falls down an elevator shaft and we briefly see the image (from the perspective of the floor looking up the shaft) of them being impaled by debris at the bottom of the shaft before the elevator falls on top of them; When a number of people are electrocuted (we see the act), we see a smoking and charred body with numerous bloody wounds fall to the floor; We briefly see a bloody cut on Chris's leg; While swimming a considerable distance, a person hits their head on a cement block, knocking them out, causing some blood to drift out into the water; Nelson is hit in the face by a steel hatch door and his face is very bloody; we watch a person drown and see their body violently go into seizures as they taken in water and stop moving


 Violence: A rogue wave strikes an cruise ship, capsizing it and causing many people to be burned, drown, electrocuted, etc; We see many dead people with varying forms of blood, burns, and other kinds of injuries.