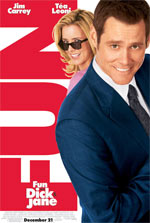 Fun With Dick & Jane



– for brief language, some sexual humor and occasional humorous drug references.
Director: Dean Parisot
Starring: Jim Carrey, Tea Leoni, Alec Baldwin
Running Time: 1 hour, 30 minutes
Theatrical Release Date: December 21, 2005
Official Site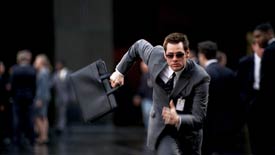 Plot Summary
In Columbia Pictures' larcenous romantic comedy Fun with Dick and Jane, Dick (Jim Carrey) and Jane (Téa Leoni) are in love and living the American dream – until one day it becomes an American nightmare. When the company Dick works for becomes involved in an Enron-like scandal and he is confronted with the prospect of losing everything, Dick and Jane are forced to bag, borrow and steal to get it all back. (from MovieWeb.com)
Film Review
And the remakes continue… The 1977 Jane Fonda, George Seagal comedy Fun With Dick and Jane gets a 2005 makeover as a modern day statement against corporate America. Set in 2000, before corporate scandals like Enron took place, the remake puts Jim Carrey and Tea Leoni in the titular roles.
I haven't seen the original film, so I can't compare this remake to the first. On it's own, Fun With Dick and Jane is a fun comedy, albeit not the laughfest some might expect from a Carrey film. Director Dean Parisot, known for his fantastic film Galaxy Quest and the popular TV show, Monk, crafts this film into a traditional screwball comedy where reality is present but bent enough to make way for some truly outrageous moments. Carrey is up to his usual shtick here, but never treads into the excessively vulgar or overly animated traits he has been known for. The Carrey here feels more mature and restrained, but is given a chance to shine through a few trademark outbursts from time to time.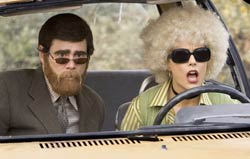 In fact, the film itself is surprisingly restrained in content. While tame at times (even adopting a few substitutions of "gosh" and "heck"), the language remains probably the film's greatest content flaw. Jane blurts out a use of the "f" word before being corrected by Dick, while a couple other uses of the word by a corporate employee are bleeped out on a newscast on TV. Other language includes a variety of other words and phrases, but is not constant, unlike most of today's increasingly vulgar comedies. There is a bit of comedic violence (Dick gets punched in the face while trying to get a job; tackles a man in anger; to name a couple), and also a somewhat glorified view of stealing (which the title characters do to make ends meet when they become financially destitute). The film's closing message is positive, but it's possible a few could get the wrong idea from the way the film portrays stealing. In the end, the screwball comedic
delivery of the film lightens the mood and makes it easier to take what we see on film a lot lighter.
There isn't much about Fun With Dick and Jane that is outrageously funny, though. The film's humor is at times bland or just chuckle-worthy, but remains entertaining nonetheless. Carrey fans will enjoy him in this film, and those not too thrilled with his normal over-the-top behavior might actually like him in this role instead. As he's gotten older (he's in his forties now), it's been more appropriate for him to tame his commonly unbridled humor and it works well here — especially if he's to be believable as someone who's been able to be successful at an office job. Tea Leoni compliments Carrey but isn't given any scene-stealing material. They work well together, especially when their thieving escapades begin.
The social commentary is well-deserved. While In Good Company, from earlier this year, attacked the corporate world head-on with a much more serious approach, Fun With Dick and Jane exaggerates the circumstances enough to make it funny. At times, however, one may find themselves stopping mid-way through a laugh to realize the comedy here may be outlandish but also remains 'sad but true.' Corporate greed in fact has affected people's lives very tragically. I doubt the film will change anyone's life, but it's nice to see a subject like this being handled this way, even if it is done in a pretty lighthearted fashion.
Although never really rising above a "good" or "decent" verdict, Fun With Dick and Jane possesses enough humor and fun to draw a comparison to classic screwball films from decades ago. Maybe not Carrey, Leoni, or Parisot's best, but Fun With Dick and Jane is fun enough to make good on the title.
– John DiBiase, (reviewed: 12/29/05)
Parental Guide: Content Summary


 Sex/Nudity: Dick and Jane start cuddling on the bed and he gets on top of her. She says "We should have sex…" and pauses before adding "…on Saturday," which they agree to and immediately go to sleep; Jack asks Dick if he has a nickname and Dick says he used to be called "Squirt" because of something to do with the way he was conceived; Dick has to pee in a cup for a test when applying for a job. We see his face as he stands at a urinal and he appears uncomfortable. As the camera pans out, a female store worker is standing over him and encourages him to pee because she's been married for decades and that she knows "what it looks like;" Through determination to make sure every customer gets greeted at the store he works in, Dick follows a customer he missed throughout the store. When he catches up to the old woman, she throws powder in his eyes and insists he was stalking her and was "all up" in her "goodies" (meaning her large chest); Dick jokes that prostitution is always an option for making money. Jane acts surprised and Dick replies "I mean me;" Jane wakes up to find Dick covered in dirt in bed. On her pajamas is a hand print of mud on her chest where Dick had apparently touched her in the night; All excited from their first successful robbery, Dick and Jane exaggeratingly and passionately make out in the car (played for laughs), but the scene ends there.


 Vulgarity/Language: At least 1 "f" word (2 more bleeped out a TV news broadcast, as well as 1 "g*dd*mn"), 1 "J-sus," 2 "s" words, 1 "d*ck," 4 "h*ll," 4 "S.O.B.," (plus 1 incomplete one), 2 "a" words, 2 "d*mn," 1 "cr*p," 22 "G-d," 2 "b*stard"


 Alcohol/Drugs: Several characters have drinks throughout the film; Dick & Jane rob a man who appears to be stoned and thus doesn't think the robbery is real; Frank has become and alcoholic and appears drunk or is drinking in a lot of scenes; A former Globodyne is busted for having marijuana plants; we see a person holding a joint for a brief second


 Blood/Gore: Dick's mouth is swollen from being punched in the face; Jane's lip is inflamed/deformed from signing up for a drug testing project to earn money


 Violence: (All of the below is intended for humor) A dog gets shocked from a collar everytime it barks; Dick tries the collar and is surprised by how harsh the shock is; Frank slaps Dick; Dick is punched in the face and falls off a truck when trying to get on; A group of guys fight for the same job knock as they walk to an interview; A customer throws powder into Dick's eyes for thinking he's a stalker; Dick and Jane crash a car through a store window; Dick chases, tackles, and roughs up Frank a bit; Dick falls from a ceiling; Frank backs his car into another; Jane trips a man and slaps another; Dick holds a fake pistol on several people; A man is forced to wear a dog collar; A man is hit with a nightstick, etc.
** Disclaimer: All reviews are based solely on the opinions of the reviewer. Most reviews are rated on how the reviewer enjoyed the film overall, not on content (with a few exceptions). However, if the content really affects the reviewer's opinion of the film, it will definitely affect the reviewer's rating.