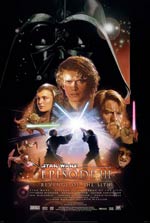 Star Wars Episode III: Revenge Of The Sith



– for sci-fi violence and some intense images.
Director: George Lucas
Starring: Ewan McGregor, Hayden Christensen
Running Time: 2 hours, 26 minutes
Theatrical Release Date: May 19, 2005
Official Site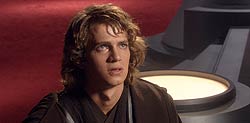 Plot Summary
After three long years of relentless fighting, the Clone Wars are nearly at an end. The Jedi Council dispatches Obi-Wan Kenobi to bring General Grievous, the deadly leader of the Separatist droid army, to justice. Meanwhile, back on Coruscant, Chancellor Palpatine has grown in power. His sweeping political changes transform the war-weary Republic into the mighty Galactic Empire. To his closest ally, Anakin Skywalker, he reveals the true nature of power and the promised secrets of the Force in an attempt to lure him to the dark side.
(from MovieWeb.com)
Film Review
Being that I was born in the same year the first Star Wars sequel, Empire Strikes Back, was released, it may be needless to say that I've grown up with the Star Wars films. I can fondly remember popping A New Hope into the VCR on a day home sick from school. As I got older, the films were more nostalgic than anything, and I lost appreciation for them. When Lucas revived the series in 1999 with Episode I: The Phantom Menace, I returned to the original trilogy and fell in love once again with the somewhat campy heroics of Luke Skywalker, Han Solo, Princess Leia, and company as they battled the evil empire lead by the Emperor and his righthand man, Darth Vader. The new adventures in Episodes I and II were created to provide a history and back story to the ways of the "force" and good and evil, showing fans particularly Darth Vader's origin. While those films were fun and a great treat for the fans, they failed on several levels including acting, dialog, and… Jar Jar Binks. But with Episode III: Revenge Of The Sith, Lucas has one more chance to bring the films to the fun and exciting world that was created with the original trilogy almost thirty years ago. It's Lucas's swan song. Does it succeed? I can't say "yes" emphatically enough.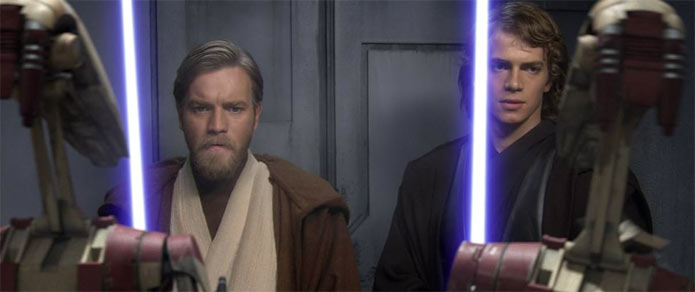 Revenge begins as the Clone Wars are winding down and the Jedi are struggling to bring an end to the war while trying to find out who the mysterious Dark Lord of the Sith is. What unfolds is Anakin's emotional struggle with deciding which path to follow — good or evil. And while we all know which path he infamously decides to take, we don't know how or why, and Lucas does a fine job exploring this. Revenge takes on a much, much more serious tone than Episodes I and II, following an even darker route than Episode V had taken. Lucas does manage to include some classic Star Wars humor, however, which mostly involved R2D2's antics and Yoda just being himself. And much needed this humor is. The film's dark overtones are often emotionally heavy and truly heartbreaking. But this is to be expected, considering the evil empire is in rule in Episode IV: A New Hope, so naturally, all comes crashing down devastatingly in its final prequel, Revenge Of The Sith.
Revenge Of The Sith is officially the first and only Star Wars film to ever get any rating higher than PG. This PG-13 rated film earns every bit of its higher rating. Death runs amuck in the film and violence is in abundance. Whether some characters are being dismembered, impaled, or literally burned alive, it's a brutal film. It's unfortunate for the younger Star Wars fans that it has to be like this, but I have to admit, I can understand Lucas's choice to go in this direction. It's not a comedy this time around, but a true tragedy. We see a hero fall, and peace and good come with him. We know in the original trilogy that Anakin will wear the Vader suit — and it's not just for looks. Lucas spares little detail in showing the audience why Anakin must wear the suit and mask. And for this gruesome fact, the film truly earns its rating. Revenge is a film for long-time Star Wars fans, indeed — and, sadly, not for children.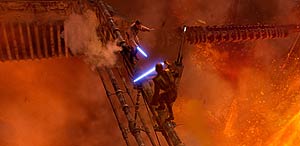 Episode III, for the most part, corrects the biggest problems that plagued Episodes I and II. The dialog, while not perfect (as notable in a few of the more romantic scenes), has improved notably, as has the acting — particularly McGregor's as Obi-Wan Kenobi. Some of the exchanges between Anakin and Padme, and Anakin and Obi-Wan are truly heartbreaking. There's just enough emotion fueling the scenes to really get the impact the film needed. While I'm still trying to get used to the idea of the boy from Episodes I, II, and the start of III being who terrorizes the galaxy in Episodes IV, V, and VI, Hayden Christensen did a much finer job portraying his struggle with which fate to accept, and it worked well. I couldn't help but wish it didn't end up the way it did. The brotherhood Obi-Wan and Anakin share, as shown better in the opening sequences, made it extra hard to watch things crumble between them. However, you just know what's inevitable.
The strength of the story, the little details and loose ends that are tied up so nicely and the exciting plot developments are what really carry Revenge Of the Sith. From the exciting introduction of new character General Grievous, to the shocking demise of some key characters, there is a lot that takes place in Episode III — to overwhelming proportions, even. I'm a bit reluctant to jump to the conclusion so soon after seeing the film, but Episode III may be the best of the series since Empire Strikes Back.
With that said, it's hard to recommend the film due to its heavy and devastatingly dark theme, but it's definitely a must-see for the diehard Star Wars fans. Please exercise extreme caution when contemplating taking the young ones. I personally advise against it. But to the fellow Star Wars enthusiasts… rest assured Lucas has not disappointed, and be sure to leave time to watch A New Hope directly after this climactic galactic tearjerker.
– John DiBiase (reviewed: 5/19/05)
Parental Guide: Content Summary


 Sex/Nudity: We briefly see a woman wearing a small outfit that shows some cleavage; Padme and Anakin kiss passionately in a few scenes.


 Vulgarity/Language: None.


 Alcohol/Drugs: None.


 Blood/Gore: Heavy. (**Contains Spoilers!**) During a duel, both of a character's hands are cut off (we see the charred stumps briefly), before he is beheaded and we see his headless body slumped over; A man's face slowly gets deformed and turns old and hideous as he is being shocked; A character's hand is cut off; A character's legs are cut off along with one of their arms. We then see their body catch on fire and their hair burned off (seen at somewhat of a distance in dark lighting). We later see several brief views of their groteque remains; Vader comes off the operating table enraged and his powers beging crushing items and droids in the room with him, causing one of the medical droids to crush and spout blood.


 Violence: (**Contains Spoilers!**) Lots of space action involving ships exploding, crashing, etc; Many troops are shot up / sliced down by light sabers; a character's hands are cut off before being beheaded; An alien is blown up when shot in the heart repeatedly; We see many characters executed via light sabers and blasters throughout the film; A man's hand is cut off before he is thrown out a window; A character is ordered to kill all Jedi and we see them standing before a group of children Jedi before the scene ends. We later see some dead children lying on the ground (not graphic), implying the character killed them all. A character's legs are cut off along with one of their arms. We then see their body catch on fire and their hair burned off (seen at somewhat of a distance in dark lighting). We later see several brief views of their groteque remains; & more sci-fi related violence.