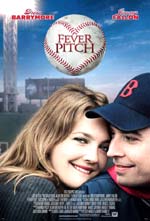 Fever Pitch



– for crude and sexual humor, and some sensuality.
Director: The Farrelly Brothers
Starring: Drew Barrymore, Jimmy Fallon
Running Time: 1 hour, 41 minutes
Theatrical Release Date: April 8, 2005
Official Site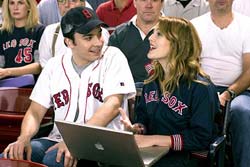 Plot Summary
A contemporary romantic comedy about a high school teacher who meets and falls in love with a successful businesswoman. Although their lives are vastly different, the relationship seems perfect until the baseball season begins and she has to compete with his first true love: the Boston Red Sox. (from MovieWeb.com)
Film Review
You either love or hate Jimmy Fallon. Few lie somewhere in the middle, but during his days on Saturday Night Live (SNL), Fallon was more known for laughing and breaking character during a sketch than for his dead-on celebrity impressions. Since his theatrical debut flop Taxi (which may not have been great, but was certainly entertaining), Fallon has turned in his sophomore stint as a leading man, this time in the romantic comedy, Fever Pitch. Fever Pitch is a different kind of movie, not just for Fallon, but especially for directors The Farrelly Brothers. Known best for their largely crude and often offensive comedies There's Something About Mary, Me Myself & Irene, and Dumb & Dumber, the Farrellys step out of their comfort zone to turn in a more sensitive effort in Fever Pitch. This side of the brothers was seen partly in the true-beauty-is-on-the-inside message comedy Shallow Hal, but Fever is toned down much more drastically. With significantly milder language (especially for the genre), and little to no gross-out humor, it's genuinely a surprise to even see the Farrelly's name attached to this film.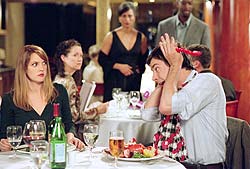 Now hold up before you accept the above paragraph as my seal of approval. Fever Pitch is indeed a more adult-oriented comedy which does all but outright promote the idea of premarital sex and even conceiving outside of wedlock. While it is possible to watch the film and let this aspect of the film roll off your back, it's a message you don't want your kids getting out of this film. On the positive end, the film does bear a good message about making sacrifices for one another (specifically in the name of love), and being selfless. Considering the worldly beliefs of Hollywood, it's no surprise there's such an unbiblical message about sex, but it's indeed one to be cautious about.
Acting-wise, Fallon is the best here he's ever been. Even in Taxi, you could visibly see a few moments where they cut the film just before he started laughing at himself or another actor. Here, Fallon's acting abilities are even stretched emotionally. Drew Barrymore's signature sweet personality compliments Fallon's nicely. Ben's obsession with the Red Sox is a funny plot element that works favorably for creating a different kind of romantic comedy. Fever Pitch is more cute than funny, however, and ultimately would be the perfect date movie were it not for a few of those misguided sex-related messages.
No actual sexual encounters are shown, however, we do see Ben and Lindsey passionately kissing as they enter his bedroom and fall onto the bed (the scene ends as he takes his shirt off). Another scene shows them in bed directly after the act and they discuss how good it was, but no nudity is shown. Language is mild with only 2 "s" words and a handful of other obscenities.
Fever Pitch was inches away from being the perfect date movie. It's some subtle sexual humor and more downright unnecessary content that really hinders its result.  It's closer to being a more family-friendly comedy than most, but it's still a ways off.
– John DiBiase, (reviewed: 4/18/05)
Parental Guide: Content Summary


 Sex/Nudity: Some innuendo comments are made and include, but aren't limited to, the following… Some of Ben's students use some innuendo in reference to just meeting Lindsey; Lindsey and her friends show some significant cleavage while at the gym; On their first date, Ben finds Lindsey in a rather sickly state and offers to put her to bed for her. He gets her pajamas out of the drawer and offers to change her for her and promises not to look. After he puts her top on (we just see her bare shoulders in the process), he sheepishly says he looked; Ben tells Lindsey he rented movies for her in case she woke up in the middle of the night. When she asks what kind, he jokingly says it's "mostly animated pornography from Japan," but it's not at all; A man, upon finding out Ben has season tickets to see the Red Sox, asks him if he finds his wife attractive to work out a deal. Ben laughs, but the man asks again seriously; Lindsey's mother tells her on the phone that Ben is washing her father's balls and we then see them on the golf course with Ben cheerfully using a ball cleaner to clean golf balls. Later, Lindsey makes a joke about doing it to someone and Ben says it's not so funny when she says it; Ben and Lindsey passionately kissing as they enter his bedroom and fall onto the bed (the scene ends as he takes his shirt off); Lindsey tells Ben she's late (meaning she missed her period, and potentially pregnant), but we later find out she isn't. We see Ben and Lindsey lying next to each other in bed directly after having sex. They inexplicitly talk about it before a phone call interrupts them (no nudity or sex is seen); Ben's friends wash him down in the bathtub after they find him depressed and in a filthy state, and his doctor friend apparently is shaving his privates out of view of the camera (all played for laughs, as it causes Ben to ask "Why are you shaving my balls?")


 Vulgarity/Language: 2 "s" words, 1 "b*tch," 2 "a" words, 1 "cr*p," 1 "a-h*le," 1 "d*mn," 1 "h*ll," 7 "Oh my G-d," 9 "G-d"


 Alcohol/Drugs: Ben makes a joke about the kids' drugs kicking in; Ben's friends find him in a depressed state, trying to torture
himself by watching a tape of a classic Red Sox upset and they treat it like a drug addiction (played for laughs)


 Blood/Gore: We distinctively hear Lindsey puking in another room from food poisoning. Lindsey has a gross bulge on her forehead after being hit in the head by a baseball. We see a brief closeup of a pitcher bearing a bloody sock during a famous Red Sox game.


 Violence: Lindsey accidentally lets go of the rope that is holding her friend up while rock climbing at the gym, causing her to drop to the floor. Lindsey is hit in the head by a baseball.