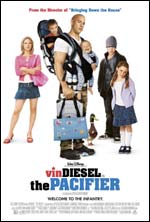 The Pacifier


– for action violence, language and rude humor.
Director: Adam Shankman
Starring: Vin Diesel, Lauren Graham
Running Time: 1 hour, 31 minutes
Theatrical Release Date: March 4, 2005
Official Site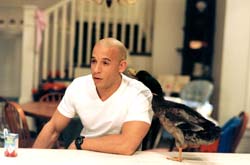 Plot Summary
Vin Diesel redefines what it means to be an action hero in the heartwarming family action-comedy The Pacifier. Diesel stars as Navy SEAL Shane Wolfe who, as an elite member of the world's fiercest and most highly trained force thought he was prepared to take on any duty no matter how perilous or impossible… until he tried baby-sitting. Assigned to protect the five out-of-control children of an assassinated scientist working on vital government secrets, Shane is suddenly faced with juggling two outrageously incompatible jobs: fighting the bad guys while keeping house. Replacing his usual arsenal of wetsuits and weapons with diapers and juice boxes, Shane not only must battle a deceptive enemy but wrangle teen rebel Zoe (Brittany Snow), sullen 14 year-old Seth (Max Thieriot), 8 year-old Ninja-wanna-be Lulu (Morgan York), as well as 3 year-old Peter and baby Tyler – not to mention their off-beat Romanian Nanny (Carol Kane). But while drop zones, demolitions and destroying enemy targets come naturally to Shane, he has no idea what tough really is until he pits his courage against diapering, den-mothering and driver's education. He's truly a SEAL out of water, and now it's up to this one-time lone warrior to take on the most important mission of his life: keeping a family together…. (from ThePacifier.com)
Film Review
Vin Diesel… in a Disney movie?! Not something you'd really expect from an actor like Diesel. Not since Bruce Willis hung up his guns and blood-soaked white undershirt to star in Disney's The Kid has an action star been so surprisingly cast in a family film. But despite critical opinion, Diesel worked quite well in this film. Half of the entertainment of The Pacifier is watching the film and thinking, My goodness, this man was in "The Fast and The Furious," "XXX," and "Pitch Black!" Now he's changing diapers and getting attacked by a duck?
Family comedies these days often either are geared too strongly to the younger audience or too much towards the adult audience. The Pacifier falls somewhere in between, however leans mostly towards children. While some plot elements aren't especially fresh, giving the film a Kindergarten Cop meets Home Alone meets Uncle Buck vibe, Diesel offers enough to the role to give The Pacifier a fighting chance. And while it is a little too contrived of a reason for the Plummer family's mother being away for Shane to take over the home, it makes the premise of the film possible.
The mood of the film mixes the downright silly and implausible with an attempt at the serious and the sincere. But sincerity is what makes the more heartfelt moments of the film work. As Diesel's character inevitably begins to warm up to the Plummer family, it only seems to make sense. Although a stark contrast from the hard-nosed, all business character Shane starts out as, his experience with being the guardian of a family becomes a new experience he grows fond of.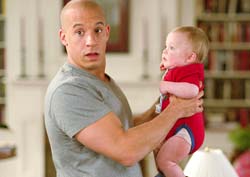 Content-wise, the film is pretty mild in the language department, with just a couple "h*ll's" and unnecessary name-calling as the extent of it. Violence is clearly what earned this film its PG rating, where mostly comic-style action is the brand of violence here. The most entertaining sequence borders slightly on the cheesy as Shane takes on two ninjas in a sort of Jackie Chan meets Home Alone presentation. Action buffs would probably be more embarrassed than entertained, but the kids will most likely be captivated by it. The only somewhat distasteful and rather offbeat action sequence involves a troop of girl-scouts (here called "Fireflies") who beat and tie
up a troop of obnoxious and heartless boy scouts. While played for laughs, it just seemed awkward watching a bunch of little kids beat each other up and see it passed off as acceptable. I don't think it's a value we want kids to take away from this film.
The soundtrack was, for the most part, a disappointment. The score, provided by the ever-talented John Debney (The Passion Of The Christ, Bruce Almighty) was overbearing at times and mostly too dramatic or silly. His work in more adult-oriented comedies (namely Liar Liar) had that sense of charm while it reinforced the comedic scenery. Here it just seemed to distract. The pop and pop/punk mainstream songs (i.e. artists like Good Charlotte) didn't seem to really fit or help either. And while we're pointing out the film's weak points, the villains are way too weak, stereotypical, and farfetched to really give the film the edge it could have used to make it stronger as a whole.
For the most part, I found The Pacifier surprisingly enjoyable. It's no masterpiece by any stretch of the imagination (it's also no Snow Dogs), but it's entertaining enough, and essentially fit enough, for the family. It's a bit violent and maybe crass at times for the younger ones, but is overall a decent flick for the family.
– John DiBiase, (reviewed: 3/5/05)
Parental Guide: Content Summary


 Sex/Nudity: We briefly see Shane scrubbing his face in the shower (chest-up shot) and later walking around in just a towel. We briefly see a male baby's genitals from a distance as his diaper's being changed. We see a child's bare butt when his diaper falls off.


 Vulgarity/Language: 2 "h*ll," 3 "G-d"


 Alcohol/Drugs: None.


 Blood/Gore: None. We do see a baby vomit on the nanny and a diaper smear excrement on a car windshield. We also see some minor abrasions on Shane's forearms at the end of the film.


 Violence: Bloodless action violence. Quite a few explosions as well as hand-to-hand combat.