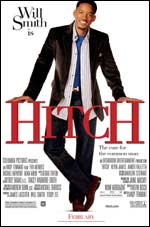 Hitch



– for language and some strong sexual references.
Director: Andy Tennant
Starring: Will Smith, Eva Mendes, Kevin James
Running Time: 1 hour, 58 minutes
Theatrical Release Date: February 11, 2005
Official Site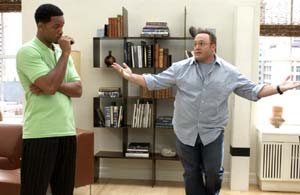 Plot Summary
In Hitch, Alex "Hitch" Hitchens (Will Smith) is a legendary — and deliberately anonymous — New York City "date doctor" who, for a fee,
has helped countless men woo the women of their dreams. While coaching Albert (Kevin James), a meek accountant who is smitten
with a glamorous celebrity, Allegra Cole (Amber Valetta), Hitch finally meets his match in the person of the gorgeous, whip-smart
Sara Melas (Eva Mendes), a gossip columnist who follows Allegra's every move. The ultimate professional bachelor, Hitch suddenly finds himself falling deliriously in love with Sara, a reporter whose big scoop could very well be the unmasking of Manhattan's most famous date doctor… (from Hitch.com)
Film Review
Romantic comedies these days are often a gamble. They're either too crude, too serious, too sad, or just poorly made. It's a rarity when one comes along that's just the right mix of comedy and romance without wrenching one's heart from their chest in a desperate attempt
to create a tear-jerker. Hitch manages to blend the two almost perfectly with an outcome that would be almost perfect save some truly unnecessary content.
While some films do fill their movies with crude content for the sake of crude content, Hitch crosses the line a few times in the dialog department with some of it having a purpose. Despite the fact that they use this as a way to paint lust and the selfishness of one-night stands as vulgar and offensive, it's done in a way that's anything but subtle and perhaps a little too blunt. Some of the dialog easily makes the film more adult-oriented, which is a real shame because the story and the characters presented are some of the best for a film of this genre.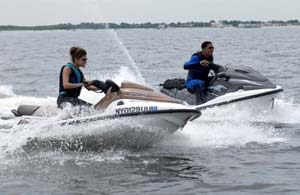 Will Smith carries the film beautifully. With the charm and slickness that Smith brings to the role of Hitch, it's hard not to like him. Director Andy Tennant gives some comical insight to the background of how Hitch came to assuming the role of a date doctor which help flesh out Hitchens' character. We're given plenty of time to get to know the lead as well as the significant secondary characters of Albert and Sara, who share ample screen time with Hitch. Kevin James and Smith have a surprisingly solid chemistry that makes nearly every moment they're together on screen really fun. Eva Mendes makes a great match for Smith as well, with her smart and confident demeanor. Mendes carries herself believably and sensitively as she interacts with Smith's Hitch, making Sara almost just as likable.
I was concerned that some of the funnier parts were all in the previews, but I was pleasantly surprised that that wasn't the case. Tennant uses a healthy mix of slapstick and verbal comedy to keep the film alive and funny. Hitch has its sensitive and serious moments but knows when it's the right time to slip a laugh in to lighten the mood. Most films will let a serious tone burden the mood. Even when a fight breaks out in Hitch, it's often handled in a realistic, yet humorous, way.
Love is a strong theme of Hitch and possibly its most redeemable quality. While it doesn't get it a hundred percent right, an emphasis is placed on getting to know a person and just being who you are in a dating relationship. It's a refreshing concept to find coming from Hollywood. Unfortunately, sexual innuendo and the secular world of dating is still represented, but in the end, love does remain the victor.
Overall, Hitch one of the better romantic comedies available. Some language and some sexual content are present enough to make this a film not suitable for the younger crowd. It's really a shame it couldn't have been cleaned up more to reach a wider audience.
– John DiBiase, (reviewed: 2/12/05)
Parental Guide: Content Summary


 Sex/Nudity: We see one of Hitch's clients in bed after sleeping with a woman Hitch helped him meet. We don't see any nudity or activity, but it's clearly implied they slept together; Sara makes a comment about guys wanting to "screw" everything that walks; Casey uses some sexual innuendo while sitting with Sara in a bar; We see a flashback of a young Hitch in college kissing a woman in a library. We then see he finds the same woman kissing another guy in a parked car; We see Albert in his boxers when he takes his pants off in the bathroom after spilling something on them; Hitch meets with a man who's interested in his services. Once Hitch discovers that this man's only interest is in getting a woman to have sex with him (and not to fall in love), Hitch refuses to help him. During this exchange, the man uses some blunt sexual references to just wanting to have a one night stand with a woman; Albert meets Allegra's friend Maggie who turns out to be a gay guy. Maggie later asks Allegra if he's gay and tells her he likes him (but it's not specified if he's approving Albert as Allegra's friend or if he's interested for himself); While teaching Albert how to dance, he tells him that women equate dancing with sex; While trying to coach Albert on how to kiss a girl properly, Albert accidentally kisses Hitch which causes him to get mad and walk away (it's just for comedic purposes); Casey tells Sara about a guy who has just used her for a one night stand the night before. Later, Sara confronts him and makes reference to it; A newspaper headline makes a suggestive comment about Allegra which inspires a man to ask Albert "How was she?" (he doesn't answer); A woman randomly shouts during a power dating session that she hasn't had sex in a year (using the word "laid"); Thinking Hitch took a the client that he refused to help, someone tells him to go to a "t*tty bar" with that man; We see a man leave a woman's apartment (possibly hinting they were sleeping together), but find out the man is family and was just visiting.


 Vulgarity/Language: 1 "f" word (possibly 2), 1 "g*dd*mn," 5 "a" words, 1 "a-h*le," 2 "s" words, 1 "J-sus," 1 "cr*p," 6 "h*ll," 3 "d*mn," 1 unfinished S.O.B., 7 "G-d," 11 "Oh my G-d"


 Alcohol/Drugs: We see some people drinking at a bar; Hitch gets tipsy from drinking Benadryl from the bottle (we then see it with a straw inside as he drinks from it); Hitch and Sara drink some wine (which she guzzles fast from the bottle at one point)


 Blood/Gore: Nothing, but we do see Hitch's face swell up and get really disfigured from an allergic reaction to food.


 Violence: Hitch accidentally kicks Sara in the head while getting on a water ski; a man grabs Hitch's arm and threatens him, causing Hitch to hold the man's head to the table and tell him never to touch him again; Sara and Hitch throw salad pieces at each other during a fight; A man flips out and starts tearing apart a newspaper stand and gets arrested; a man strangles another man (done for comedic purposes), but stops.