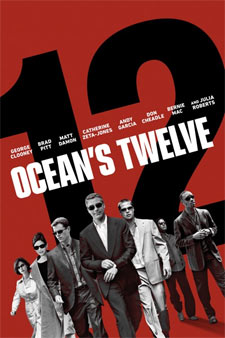 Ocean's Twelve



– for language.
Director: Steve Soderbergh
Starring: George Clooney, Brad Pitt, Matt Damon, Catherine Zeta-Jones
Running Time: 2 hours, 5 minutes
Theatrical Release Date: December 10, 2004
Official Site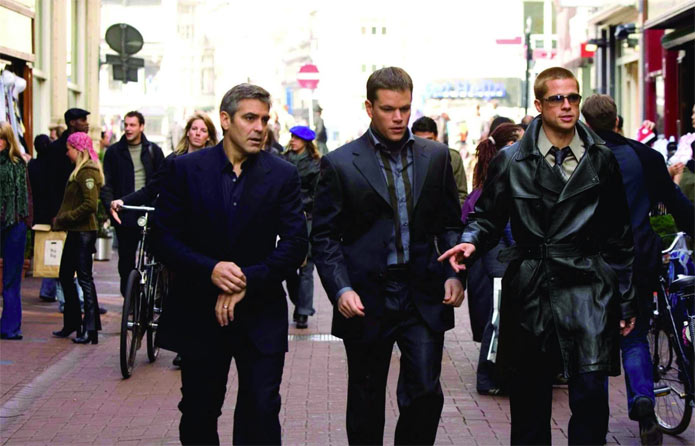 Plot Summary
It's been three years since Danny Ocean (George Clooney) and his crew — fronted by detail man Rusty Ryan (Brad Pitt), up-and-coming pickpocket Linus Caldwell (Matt Damon), explosives expert Basher Tarr (Don Cheadle), and safecracker Frank Catton (Bernie Mac) — pulled off one of the most audacious and lucrative heists in history, robbing ruthless entrepreneur Terry Benedict (Andy Garcia) of every dime stored in his impenetrable Las Vegas vault. After splitting the $160 million take, each of the infamous Ocean's crew have tried to go straight, lay low and live a legit life… but that's proven to be a challenge, much to the chagrin of Danny's wife Tess (Julia Roberts). When someone breaks rule number one and rats them out to Benedict, going straight is no longer an option. He wants his
$160 million back – with interest – or else. And, as the gang quickly discovers, Benedict isn't the only powerful person in the world looking for Ocean's eleven… (from Oceans12.net)
Film Review
Ocean's 11 was one of the better remakes Hollywood has produced in recent years. With an all star cast to say the least, the film was smartly written and directed by Steve Soderbergh and was an instant hit. Because of this, it wasn't too long before plans for a sequel were in the works. Ocean's 12 is an original sequel and continues the story that the 2001 remake began. The end result is somewhat of a mixed bag, but overall a pleasant surprise.
Sequels are often bittersweet offerings. While fans of the original get to revisit the characters they have grown attached to and have even come to love, the story can sometimes be tampered with a little too much. In this case, the eleven guys that pull off the big heist in the 2001 film now have to pay back the scoundrel they originally ripped off. While a lot of the events of Ocean's 12 aren't quite as brilliantly planned or as slick as its predecessor, it's a fun story that has plenty of twists, surprises, and cameos to keep it especially enjoyable.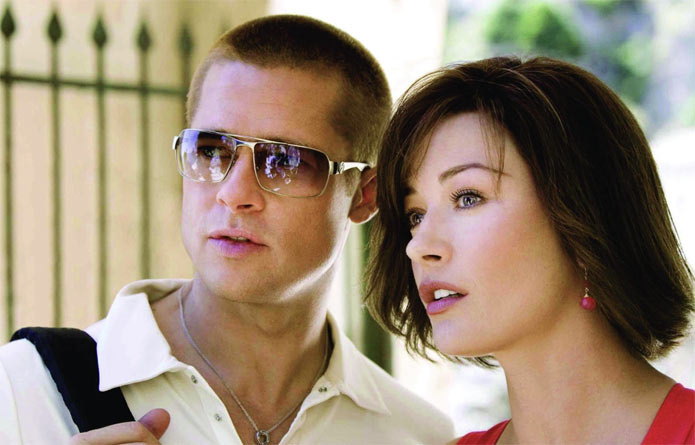 What I found so redeemable about the 2001 remake is the chemistry between the characters, the well-planned mega-heist, the many surprises the film offered, and even the fantastic soundtrack. Ocean's 12 takes a much different approach. While some elements of 11 are indeed present, the setting is no longer Vegas, but now Europe, and now the guys must struggle outside their turf to attempt to raise over $190 million to save their necks. While there are plenty of laughs, the film does get off to quite a rocky start before concluding with a pretty strong finish.
Questionable content is mostly limited to the language department, most noticeably in a sequence with Basher in a recording studio listening to a song with profanity bleeped out. As he complains to a producer about the edits, the guys exchange over a dozen "f" words that are also bleeped out (which is rather odd, but intended to be a joke in regards to censoring the music). It's a pointless sequence and by the time the scene has ended, you're still wondering what it has to do with anything. Other colorful words are also present, including some unnecessary blasphemy. All the other content is especially tame for such a film.
For the most part, 12 isn't nearly as good as 11, but is almost just as fun. Soderbergh and company include plenty of surprises, but due to such an extensive cast, several characters and actors are shortchanged on screen time. I was surprised when a couple characters were left out of the story for extended periods of time, but I suppose this can be expected with so many people to focus on. Also, the camera work was way too shaky and span around way too much at times. It wasn't nearly as bad as The Bourne Supremacy, but it definitely hurt certain scenes. At the same time, Soderbergh kept the shots more on the artsy side many times which aided in giving the film a slick and cool feeling.
Overall, Ocean's 12 is no 11, but it's a worthy and fun sequel. If the language had been minimized further or removed, this could have easily been more of a family-friendly film. With a stronger start Ocean's 12 may have been better, but it's still one of the better sequels you'll see and a great heist film.
– John DiBiase, (reviewed: 12/11/04)
Parental Guide: Content Summary


 Sex/Nudity: None.


 Vulgarity/Language: 1 "f" word and 14 bleeped out in one sequence, 3 "J-sus," 2 "Chr-st," 1 "J-sus Chr-st," 1 "s" word, 4 "h*ll," 2 "cr*p," 1 "a" word, 1 "d*mn," 1 S.O.B., 12 "G-d"


 Alcohol/Drugs: Some drinking casually throughout the film's duration.


 Blood/Gore: None.


 Violence: A car blows up but no one was inside.