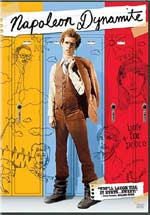 Napoleon Dynamite



– for Thematic elements and language.
Director: Jared Hess
Starring: Jon Heder, Jon Gries
Running Time: 1 hour, 28 minutes
Theatrical Release Date: June 11, 2004
Official Site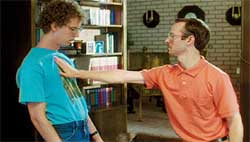 Plot Summary
From Preston, Idaho comes Napoleon Dynamite (Jon Heder), a new kind of hero complete with a tight red 'fro, some sweet moon boots, and skills that can't be topped. Napoleon lives with his Grandma and his 30-year-old, unemployed brother Kip (Aaron Ruell), who spends his days looking for love in internet chat rooms. When Grandma hits the road on her quad runner, Napoleon and Kip's meddling Uncle Rico (Jon Gries) comes to town to stay with them and ruin their lives. Napoleon is left to his own devices to impress the chicks at school and help his new best friend Pedro (Efren Ramirez) win the election for Student Body President against the stuck-up Summer Wheatley (Haylie Duff); all the while making sure to feed Grandma's pet llama Tina, and avoiding association with Uncle Rico and the herbal breast enhancers he sells door to door. Napoleon and Pedro put their skills and knowledge of piñatas, cows and drawing to good use, but it is a surprise talent that leads the two to triumph in the end. (from MovieWeb.com)
Film Review
Most comedies of today are nothing like the classics our parents and our parents' parents grew up with. We have no Cary Grants, no Bob Hopes, no Marx Brothers. Wit and situational comedy has been substituted with sexual and bathroom humor and the ever popular shock humor. What happened to good old-fashioned comedy?
Napoleon Dynamite is no classic from yesteryear by any means, but it is one of the quirkiest and unique comedies you'll find below a PG-13 rating that isn't animated. Napoleon has had an admirable box office run this Summer since its June 11th opening, moving in and out of theaters across the nation, succeeding when big budget box office blockbusters flopped. It's a bizarre comedy about a high school student in Preston, Idaho who comes from one of the most socially unstable families you could imagine and tries to survive living in a world not quite ready for someone like him. Through a blank stare, Napoleon sees his world differently than most and this is where the comedy comes to fruition.
Being a social outcast in school isn't territory I'm unfamiliar with, but Napoleon doesn't really seem to have a problem with it. He's content drawing mythical creatures and sitting alone at lunch while most kids are busy trying to get elected for class president or building up their popularity. Jon Heder is a fresh new face in acting who embodies the title role incredibly. You feel for Napoleon's outcast status while laughing at his antics and how he interacts with his family and peers. The film mostly plays out like a series of comedy sketches with one central theme, but newcomer director Jared Hess does a nice job holding it all together. A few times, the viewer may wonder what it is they're watching and what that has to do with anything else, but Hess ties up the loose ends and utilizes some unique moments to build up his characters.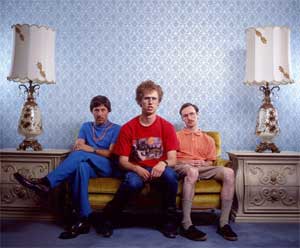 Napoleon Dynamite isn't a film for everyone. Some viewers won't like the random, dry humor the entire film possesses or its utter silliness at times. But the world Hess creates for Napoleon is realistic yet almost nonexistent as he mixes 70's and 80's clothing, styles, and trends into a modern age. The location of Idaho offers some gorgeous backdrops and a remote setting that helps create the feeling that you're not liable to just run into a character like this in your local mall… but they're out there.
I left the theater with mixed feelings about Napoleon Dynamite. With so many bizarre and wacky moments with odd things being done and said, I found myself wondering what I was watching half the time. In retrospect, I came to appreciate Hess's creativity and originality with Dynamite and his ability to create a comedy that is genuinely funny without being especially offensive or vulgar. From random moments where Napoleon and his his friend Pedro do "sweet jumps" with a bike off a tiny ramp to seeing Napoleon stuff a handful of tater tots into his pants pocket to eat later in class, it's difficult not to laugh at the weird situations in the film.
Content is very mild with language just being a handful of "cr*ps" as well as mostly substitute words for profanity like "flippin'", "freakin'", "jeez" and "gosh". The film makes the substitute words fashionable and it made scenes funnier than if they were actually swearing. It's refreshing not to have profanity thrown at the audience so frequently as most films do these days. The only other questionable content comes when Napoleon's Uncle Rico thinks up a new get-rich-quick scheme where he attempts to sell bust-enhancers to Napoleon's classmates called "Bust Must". While Rico is essentially doing this to make money and persuade girls to buy it, his goofy and arrogant nature comes off a bit creepy at times (but the plan does ultimately fail, coming to a comical resolution).
All in all, I wasn't too sure what to make of Napoleon Dynamite after leaving the theater, but after having a few days to digest the film, I can easily applaud Hess for a job well done in making one screwball comedy that is benign enough for almost anyone to watch. A new spin on viewing the social status of high school students through the eyes of one of the strangest characters to be on film in recent years, Napoleon Dynamite is indeed worth a viewing.
– John DiBiase (reviewed: 8/27/04)
Parental Guide: Content Summary


 Sex/Nudity: As a get-rich-quick scheme of Uncle Rico's, he passes out fliers for a new bust-enhancement product called "Bust Must". Later he tries to give a flier to Deb in a sort of awkward way.


 Vulgarity/Language: 6 "cr*p"


 Alcohol/Drugs: None.


 Blood/Gore: None.


 Violence: Merely comedic violence.