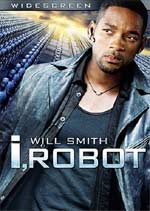 I, Robot



– for intense stylized action, and some brief partial nudity.
Director: Alex Proyas
Starring: Will Smith, Bridget Moynahan
Running Time: 1 hour, 56 minutes
Theatrical Release Date: July 16, 2004
Official Site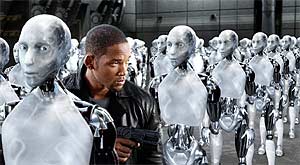 Plot Summary
Will Smith stars in this action thriller inspired by the classic short story collection by Isaac Asimov, and brought to the big screen by dynamic and visionary director Alex Proyas ("Dark City," "The Crow"). In the year 2035,
robots are an everyday household item, and everyone trusts them, except one, slightly paranoid detective (Smith) investigating what he alone believes is a crime perpetrated by a robot. The case leads him to discover a far more frightening threat to the human race. I, Robot uses a spectacular, state-of-the-art visual effects technique to bring a world of robots to life. (from MovieWeb.com)
Film Review
Will Smith established himself as an action star in 1996 with the summer blockbuster Independence Day. By the time Men In Black proved a big hit the following July, Smith began owning the Summer movie box office. But following the bomb Wild Wild West in 1999, Will Smith's momentum began losing steam. 2002 produced the disappointing yet still successful Men In Black 2 while 2003 yielded the vulgar and violent Bad Boys 2. This year's
I, Robot is really the first original film in awhile possessing the potential to make Smith's name synonymous with Summer blockbuster success once again.
I, Robot isn't your typical Summer action flick nor is it the typical brainy drama some could expect either. However, I, Robot does manage to blend the two genres quite nicely despite its flaws. The film offers an intriguing whodunnit? murder plot that pits Smith's paranoid Detective Del Spooner against a case that makes society's impossible seem possible. I, Robot takes place on 2035, which is ultimately the not-so-distant future where cars drive themselves and having a fully-featured robot in their homes is almost as common as owning a television today. So while director Alex Proyas and company paint an intangible near future, they flesh out the characters so they're real and believable. Smith does a fine job as your regular guy living in a high-tech society with technology running amuck. And Bridget Moynahan — who you might recognize from films like The Recruit, Coyote Ugly, and The Sum Of All Fears — is a fine co-star, playing a scientist who firmly believes in modern advancements. What unfolds over the duration of the film is an entertaining hybrid of action, suspense, and even comedy.
I was worried how the robots would look in the film following the countless previews I saw before the movie's release. However, the attention to detail of these machines that the producer put into the making of it is truly incredible. From the tiny parts moving beneath the translucent skin of the machines to the fluid movements they make and seamless interaction with live actors, they pulled it off quite nicely. The action sequences are elaborate and exciting, especially a sequence that takes place on a highway. I, Robot is also clever and surprisingly funny, thanks to Will's wit and charm. While he was goofier and more arrogant in films like ID4 and MIB, he's more serious here, even wrestles a few past memories that add some depth to his character.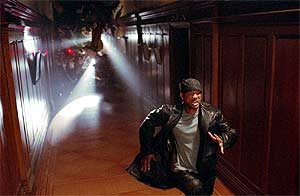 The content varied. While there is no sexual content, Proyas still manages to include some random nudity via shower scenes that adds nothing to the film. In fact, the whispering and disbelief I heard from the audience when a partial view of Smith's bare butt makes a cameo appearance within the film's opening moments just reinforces the thought that it was incredibly unnecessary. The language was typical for a PG-13 film, but held to a handful of "s" and "a" words. And with the action intense, there is some graphic moments including seeing a dead body with a pool of blood surrounding their head and some blood on Spooner following several encounters with the robots.
What hindered the otherwise interesting and fun storyline of I, Robot for me were a few poor directions I felt Proyas chose. One included the irrelevant inclusion of a young kid who briefly appears near the start of the film offering profanity and crude speech which Spooner rebukes — all apparently for an attempt at comic relief. Later the kid shows up again and it just feels out-of-place and redundant. Following more profanity, Spooner corrects him and sends him on his way. Another sequence (possible spoiler warning!!!)… shows the town rising up against the robots in a pitchfork-Frankenstein fashion that isn't just silly, but it's stupid and doesn't really gel with the feel that I, Robot had spent a majority of the film building up. (end of spoiler) Aside from content issues and these bizarre plot elements, I, Robot is a pretty fun Summer outing.
I enjoyed seeing Will Smith returning to the Summer blockbuster genre in a way that isn't a rehashed sequel or a Restricted profane offering. I, Robot is a fun popcorn affair that is flawed but forgivable. Content, as usual
with films like this, hinders the watchability of the film, including material worth considering beforehand. With that, you may want to read the information below before making your decision.
– John DiBiase (reviewed: 7/18/04)
Parental Guide: Content Summary


 Sex/Nudity: We see a brief shot of Del taking a shower and we see him nude from the side with a brief glimpse of his bare butt. Later, we see a silhouette of Susan through a fogged shower door but no explicit nudity is visible. We see Spooner in just his boxers a few times.


 Vulgarity/Language: 11 "s" words, 2 "g*dd*mn", 1 "d*ck", 16 "h*ll", 6 "a" words, 2 "*ssh*le", 3 "d*mn", 1 "S.O.B.", 5 "G-d", 1 "Chr-st"


 Alcohol/Drugs: Del and his boss (as well as others there) have a couple beers at a bar. Del poors himself a drink at Susan's place.


 Blood/Gore: We see a person's dead body lying on the ground after a fall (which we didn't see) with a pool of blood beneath their head and some blood running from their mouth. We then see photos of this several times during the course of the movie. Del has some blood and scrapes on the side of his head. Del has some blood on his head and running from his mouth after an accident. We then see a spray of blood as he spits some out. We also see his shoe is apparently soaked with blood. We see the skin on a person's arm is torn away to reveal a robotic arm underneath. We later see the person spraying their arm, repairing the torn skin. A character is seen lying on the ground dead with burn or melt marks on their neck after they were apparently strangled to death (not seen). Del has some scrapes on his face.


 Violence: There is a lot of nongraphic violence involving the robots attacking people, etc (**not much can be said without giving away plot elements**)