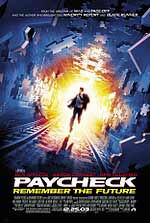 Paycheck



– for intense action violence and brief language.
Director: John Woo
Starring: Ben Affleck, Uma Thurman
Running Time: 1 hour, 50 minutes
Theatrical Release Date: December 25, 2003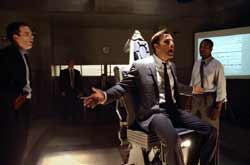 Plot Summary
Michael Jennings (Ben Affleck) is being hunted, but he doesn't know why. A world-famous genius hired by high-tech corporations for specialized top-secret projects, Jennings routinely has his memory erased once a job is completed so as not to divulge any company secrets. Highly paid for his work, he expects to earn eight figures for his latest three-year project, but upon finishing the work, instead of a big paycheck, he is given an envelope full of random objects and told that he has agreed to forfeit all payment. With his memory erased per his contract, Jennings has no defense until he discovers that the objects are clues to his past. Now with the help of Rachel (Uma Thurman), the woman he has worked with and loved for the last three years, Jennings is in a race against time to put the pieces of his past together… before his previous employers have him killed.
Film Review
Paycheck is based on the short story from the author who wrote Minority Report. The concept of the story is fantastic and quite intriguing, but the film's execution doesn't quite fair so well. Director John Woo, famous for his films Face/Off and M:I-2 helms this project, giving it the same unbelievable angles as he did with the action-packed stunt-fueled M:I-2. While Paycheck may not have as memorable stunts as that film did, its concept is what stands out most. But like any good story that loses something when not told by the most efficient storyteller, Paycheck is just missing the ingredients it needs to be as solid as Minority Report was. And while Woo's direction may excel at certain times, it can fall flat in the area of dialog or plot development.
Ben Affleck stars as the engineer with a wicked punch, Michael Jennings. Aaron Eckhart plays Rederick, a man who commissions Jennings for 91 million greenbacks to do a project that would take three years, only to then have his memory erased, forgetting all that was involved. Affleck did okay in his role but felt ultimately poorly miscast as this ultra-fit computer geek with a soft spot for working out a lot. Affleck just seems more believable as the lankier fellow who starred in Armageddon or Bounce than how he is here. Uma Thurman is adequate in her role as Rachel, but doesn't really turn in anything too memorable. Eckhart does an acceptable job as Affleck's nemesis while the entire FBI team feels silly and incompetent. As they show the team discovering things about Jennings's case, you have to wonder why they didn't pick up on them sooner considering how obvious the revelations are for them. And when the FBI team leader begins to support Jennings, it seems forced and contrived. In fact, most of the acting feels forced. The only genuine character seemed to be Shorty, humorously played by Paul Giamatti.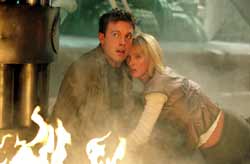 Content-wise, the film is violent more than anything else. There is some language, mostly a handful of "s" words and some blasphemy. There's one brief sexual encounter where a woman comes on to Jennings before his mind is to be erased. We see them passionately kiss, and while memories flash on a screen during the erasing process we briefly see for a second her shirt open and her in her bra as he kisses her. Violence consists mostly of gunfire (some resulting in non-graphic deaths), hand-to-hand combat, some explosions, etc. A lot of the action is outrageous and unrealistic as it's mostly done as action-for-action's-sake.
Overall, I found it entertaining and a fun concept to watch as you try to figure out what the 20 random objects mean and how they come into play. So while some questions might go unanswered (like how did Jennings get the objects to mail to himself and how did he know they'd be as useful as they were), the film is enjoyable on a no-questions-asked, mind-numbing entertainment level. If you're looking for the thinking man's thriller or a film comprised of Oscar-winning performances, you'll definitely be disappointed with this Paycheck.
– John DiBiase (reviewed: 12/27/03)
Parental Guide: Content Summary


 Sex/Nudity: Knowing his mind is going to be erased that day, a woman comes on to Michael. They passionately kiss before the scene ends there. Later, while his mind is in the process of being erased, we see a memory of their encounter with a quick flash of her shirt open and a glimpse at her red bra with him kissing down her neck before it quickly ends. Michael meets Rachel at a party and asks her if she'd like to "go somewhere" and she declines. We see footage of Michael bringing a cupcake to her on her birthday while she lies in bed in a nightgown. They kiss, but nothing else happens.


 Vulgarity/Language: 6 "s" words, 3 "J-sus", 1 "J-sus Chr-st," 4 "h*ll", 2 "d*mn", 3 "G-d"


 Alcohol/Drugs: Michael has champagne with a woman. Random people at a party have drinks.


 Blood/Gore: We see a large needle go into Jennings's arm (no blood is seen). We see the close-up image of a man (who'd been murdered) with a pool of blood beneath his head as he's lying on the ground (we see it again later). We see a man with a small bullet hole in his jacket with a little bit of blood around it. We see blood on Rachel's hand and on the window she has it pressed up against. We see a dead man who is lying on a glass floor after been shot with some blood around their mouth.


 Violence: Heavy. Many instances of gunfire resulting in deaths, hand-to-hand combat, fighting with staffs/poles, lethal and nonlethal action. A few lethal explosions, car crashes, etc.