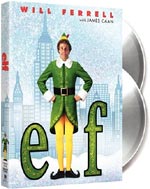 Elf



– for some mild rude humor and language.
Director: Jon Favreau
Starring: Will Ferrell, James Caan
Running Time: 1 hour, 48 minutes
Theatrical Release Date: November 7, 2003
Official Site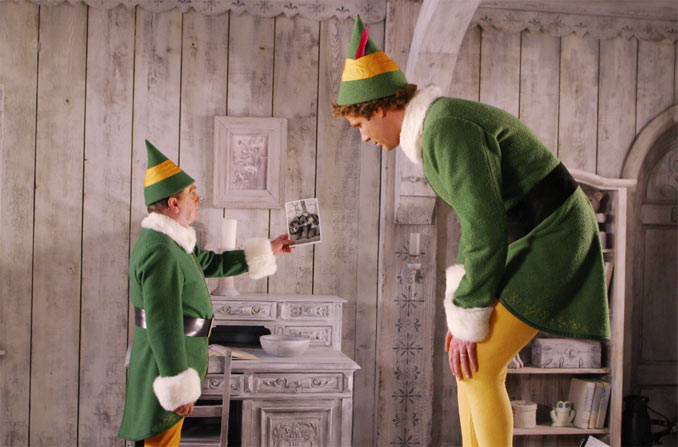 Plot Summary
On Christmas Eve, a long time ago, a small baby crawled into Santa's bag of toys during a stop at an orphanage. Undetected by Santa, the child was accidentally whisked back to the North Pole. Once discovered, the boy was quickly taken under the wing of Santa's most trusted helper and raised as an elf. But when he grew three sizes larger than everyone else in Santa's workshop, it became clear that Buddy (Will Ferrell) would never truly fit into the elf world. So Buddy decided to set off for New York City, in search of his roots and his real father. He seeks out his real father, Walter Hobbs (James Caan), a workaholic publisher of children's books with a place on Santa's "naughty" list. Walter doesn't believe Buddy is who or what he says he is; the only thing Walter believes in with any certainty is the bottom line. Elf becomes a story of Buddy finding his place in a new and unfamiliar place… from the North Pole to the Big Apple!
Film Review
Elf is a secular Christmas comedy about a man raised by elves in the North Pole who sets out to find his real family in New York City.  Buddy the elf is played by Will Ferrell of Saturday Night Live fame. Ferrell is amazing at playing character actors and it's nice to see him in at his best here, stretching his acting wings. Elf is yet another family comedy that proves all you need is a good comedic actor and a good story sans the vulgarities to make a hilarious film. Ferrell's antics as Buddy are so innocent and charming and often just downright funny. He embodies Buddy perfectly (I'd love to see outtakes from this), giving a childlike wonder to his personality that just helped make the scenario believable enough. The film's delivery is extremely lighthearted as well. A lot of the jokes border so much on the ridiculous that the more serious of watchers probably won't be able to enjoy. But the charm Ferrell exhibits in each moment of his screen time is worth the price of admission alone. Just expect one enjoyable cornball dish (covered in syrup).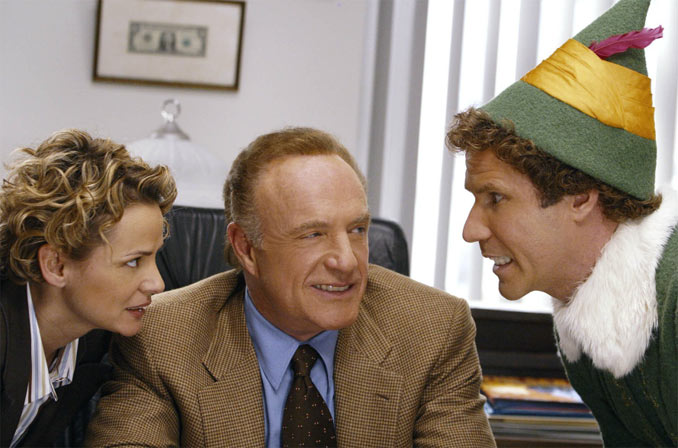 It's hard to find Christmas films these days that get the "true meaning of Christmas" right. While the act of giving and loving are big factors to defining the spirit of Christmas, most films like these miss out on the truth and wonder of the Savior's birth on Christmas day. Showing nuns twice in the film in a positive light is the extent of the spirituality of Elf, but the film serves as a benign piece of uplifting family entertainment. The content is fairly clean with only a few awkward moments (and an incident where Buddy gets unknowingly drunk), so it's nice to see a comedy as tame and smartly written as this one. My only beef with Elf was the sugar-overload of an ending where Ferrell's Buddy is given less of the comedic spotlight as they turn on the cheesy message of Christmas spirit. While it tiptoes across the fine line between being acceptable and overdone, the film is just too lovable to let a few odd moments ruin the hilarity that precedes it.
The supporting cast was near perfect. 23-year-old Zooey Deschanel played Ferrell's love interest, Jovie, who added a perfect cynicism to her part that helped balance Buddy's boyish enthusiasm. James Caan played off of Buddy very well as the straight man receiving the brunt of Buddy's hyperactive immaturity. But the weakest member of the cast was the unimpressive and awkward Daniel Tay as Buddy's half-brother.
Fans of Will Ferrell's work on Saturday Night Live will find him hysterical in Elf. Those unfamiliar with him are liable to find his character either irresistible or intensely annoying. But Elf has got what it takes to be a memorable Christmas film you'll wanna watch again each year.
– John DiBiase (reviewed: 11/8/03)
Parental Guide: Content Summary


 Sex/Nudity: We see Jovie in the shower from the shoulders up as she sings a song that Buddy hears from outside the store bathroom. Feeling compelled to sing along, Buddy begins singing along with her while in the bathroom and her unaware of his presence. When she discovers him there, she kicks him out; Walter tells Buddy to "lose the tights" (meaning to change into normal clothing), but Buddy mistakes his suggestion as a literal here-and-now instruction and drops his pants. We don't see anything, but Emily does as she walks in during this and freaks out.


 Vulgarity/Language: 3 "h*ll", 2 "cr*p", 1 "d*mn", 2 "G-d"


 Alcohol/Drugs: Buddy and a coworker get drunk; We see some guys in a bar with drinks


 Blood/Gore: Buddy gets sick from running in a revolving door and throws up in a garbage can, but we don't see anything (just briefly and subtly hear it)


 Violence: Cartoon-related violence including a raccoon attacking Buddy, a taxi hitting Buddy, a store Santa attacks Buddy, a midget attacks Buddy after he refers to him as an elf.