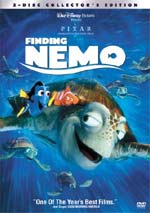 Finding Nemo



– for not containing material to warrant a higher rating.
Director: Andrew Stanton
Starring: voices of Albert Brooks, Ellen Degeneres
Running Time: 1 hour, 32 minutes
Official Site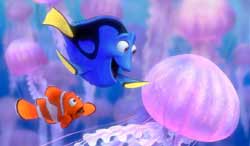 Plot Summary
The film follows the epic journeys of two fish – the overly cautious Marlin and his curious son, Nemo – who have become separated in the Great Barrier Reef when Nemo is taken from their ocean home. Despite his fears of the open sea, Marlin embarks on a dangerous trek to find Nemo. Buoyed by the companionship of a friendly-but-forgetful fish named Dory, Marlin finds himself the unlikely hero of a thrilling journey to rescue his son.
Film Review
If you've seen either Toy Story film, A Bug's Life, or 2001's smash hit Monster's Inc., then you're familiar with Pixar Animation Studios. Finding Nemo is the fifth theatrical offering from the studio and is a worthy addition to the growing list of spectacular Pixar productions.
Finding Nemo follows the story of a clown fish named Marlin who loses his only son to a deep sea diver in the ocean and sets on a quest to find him. In the process, Marlin, who is voiced by Albert Brooks, runs into the cute but forgetful Dory who is voiced by Ellen Degeneres. Now although I'm from being a fan of Degeneres or any of her previous work, she actually does an excellent job voicing Dory. Albert Brooks is also perfect as Nemo's often neurotic father, and all the supporting vocal talents fit like a glove with their characters. It amazes me how Pixar continues to come up with unique and original storylines in clever environments with genuinely funny plot elements. But one of the aspects of Nemo that make this film so amazing to behold, is actually its animation. The underwater shots are so alive and so detailed, it's downright incredible. There is so much to see and take in that repeated viewing would be ideal to really see everything.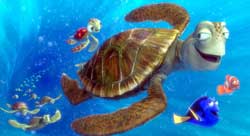 Finding Nemo is amazing and unique in its own way, but probably still not the best work Pixar has done. While their best may yet be ahead of them, Toy Story 2 still stands out in my mind as the most entertaining project from this studio. That is hardly a knock against this film, because, in fact, Finding Nemo is easily their most visually exciting and breathtaking work.
Content-wise, the film's virtually spotless. There is some violence related to the peril Marlin and Dory must endure, but otherwise Finding Nemo is guiltless entertainment.
So all in all, Finding Nemo is an incredible film that wowed me from start to finish. Go see it in the theaters and take the family. And this is certainly one to add to the DVD library.
– John DiBiase (reviewed: 6/1/03)
Parental Guide: Content Summary


 Sex/Nudity: none.


 Vulgarity/Language: none.


 Alcohol/Drugs: none.


 Blood/Gore: Some blood floats up from Dory after she is hit in the face and this causes Bruce to go crazy.


 Violence: Cartoon-related violence including a large fish that attacks two others (supposedly eating one, but we just find that they've disappeared); Bruce the shark tries to eat Dory and Marlin because he smelled Dory's blood, etc.