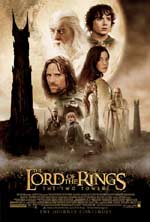 The Lord of the Rings: The Two Towers



– for epic battle sequences and some scary images.
Director: Peter Jackson
Starring: Elijah Wood, Ian McKellen, Liv Tyler
Running Time: 2 hours, 59 minutes
Official Site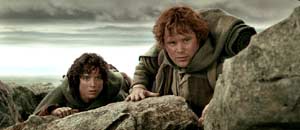 Plot Summary
The Lord of the Rings: The Two Towers begins in the hills of Emyn Muil, where lost Hobbits Frodo (Elijah Wood) and Sam (Sean Astin) discover they are being followed by the mysterious Gollum (Andy Serkis). Across Middle-earth Aragorn (Viggo Mortensen), the Elf archer Legolas (Orlando Bloom) and Gimli the Dwarf (John Rhys-Davies) encounter the besieged Rohan kingdom, whose once great King Theoden (Bernard Hill) has fallen under Saruman's deadly spell through the manipulations of his spy, the sinister Wormtongue (Brad Dourif). In their parallel journeys, the Fellowship will face unimaginable armies and deception while also witnessing ancient wonders and the untapped strength of their people. Together they must stand against the powerful forces spreading from the Two Towers – Orthanc Tower in Isengard, where the corrupted wizard Saruman has bred a lethal army 10,000 strong; and Sauron's fortress at Barad-d–r, deep within the dark lands of Mordor…
Film Review
When I saw The Fellowship of the Ring last year, I was met with mixed emotions and was unsure about how to embrace the film's personality and content. While I normally have a bone with films glorifying magic, wizards and filled with demonic looking creatures, something about The Lord of the Rings seemed oddly different. Perhaps because it was penned by a Christian, I'm not sure. But since January of 2002, I have seen The Fellowship… several times, including the relatively recent "extended" DVD edition (very cool) and have acquired an appreciation for the film and story. It really is an amazing story and relative to our struggle with sin and temptation. Naturally, with the ridiculously painful cliff-hanger at the end of the first film, I just couldn't wait to see the second installment, this year's The Two Towers. What I was met with was a completely different approach and an undoubtedly amazing film.
It's arguable to describe The Fellowship as a really slow movie but containing pertinent information to the background of the story and building up of the characters. Fellowship's strongest point was the one-tracks story focus involving Frodo, Samwise, Merry, Pippin and their quest with the fellowship. In The Two Towers, the fellowship has broken and the story is split into at least three (sometimes four or more) different views as we keep checking in with different characters on different stages of their quest. While this worked just fine and well here, I didn't like this aspect as much as when the group was all together. However, I really enjoyed the greater focus on and development of Aragorn, Legolas, and Gimli. All the new characters were good additions and the special effects were often as good as the first film or better (except maybe when Merry and Pippin are riding Treebeard). Frodo and Samwise's presence was diminished considerably compared to Fellowship, but with Gollum's part beefed up and given great focus, a new spin was added to a lot of their scenes. I loved watching Gollum's schizophrenic personality as he literally argued with himself as he battled temptations. I felt I could relate to his inner struggles and it was amazing to see such life from a completely CGI character. The live action characters interacted well with him too.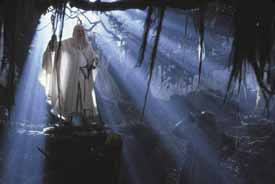 Violence is just as ever present — and probably moreso — as it was in The Fellowship of the Ring. A massive, epic battle scene at Helm's Deep takes place about 2 hours into the film and lasts for a pretty long time while featuring seemingly endless sequences of sword fighting and arrows flying everywhere. But never did the action get tiresome or boring. Instead it was gripping and exciting while not being especially graphic or gory. In fact, during the entire battle sequence, I don't recall a single instance of blood or gore. Earlier in the film there is a sequence where the Orcs are ambushed by a group of men on horseback and we see a few Orc heads fly. This may be disturbing to some — as it would for me normally — but considering how downright disgusting and hideous these characters are, it's tempting to celebrate a little Orc decapitation from time to time.
Humor exists, mainly in the form of the dwarf Gimli and his silly prideful comments. Thankfully the comedy never dips into the cheesey or corny it could and is used at just the right moments. The acting is solid and the story tight. All I can say is I anticipate the final chapter greatly and will hate to see the story end, but it'll be awesome to finally see the resolution.
Overall, I thought the second installment of this story was excellent. A little different but still never straying from its purpose, the continuation of this great fictional story is awesome and sets the story up nicely for its grand finale next year. This is NOT a family or children's film as there are plenty of horrific images from the faces of the Orc monsters to even the creepy slithering creature Gollum. The film is indeed a sight to behold as the first was, but it is not for everyone.
– John DiBiase (reviewed: 12/21/02)
Parental Guide: Content Summary


 Sex/Nudity: None.


 Vulgarity/Language: None.


 Alcohol/Drugs: None.


 Blood/Gore: Theoden's son was injured in an unseen battle. We see him laying in bed with some blood on the right side of his face. Merry has some blood on his face. We see dead faces beneath the surface of the water in a swamp. It's neither bloody or gory but it is bound to be disturbing to some people. We see a pile of charred Orc bodies but there isn't enough detail to make it especially gory. We also see an Orc head on a stick next to the pile. Gandalf has some blood under his nose in a flashback. Gollum breaks the back of a dead rabbit and tears some flesh from it. Following a battle, we see a tiny bit of blood on Gimli's axe. We also see a dead horse with some blood on it. While Legolas talks to an Orc who has been fatally wounded, we see it has some blood on its face. Aragorn has a bloody wound on this shoulder.


 Violence: Extreme. Various battle sequences, characters fight with swords, arrows, etc, other assorted violence.