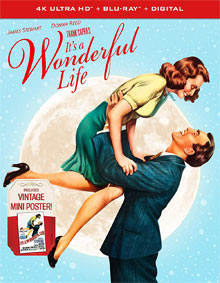 It's A Wonderful Life


 – for thematic elements, smoking and some violence.
Director: Frank Capra
Starring: James Stewart, Donna Reed, Lionel Barrymore, Thomas Mitchell, Henry Travers, Ward Bond
Running Time: 2 hours, 10 minutes
Theatrical Release Date: December 20, 1946
4K UHD Steelbook Release Date: November 17, 2020 (Amazon.com)
4K UHD Release Date (Standard Version): October 29, 2019 (Amazon.com)
Plot Summary
Frank Capra's heart-warming masterpiece has been embraced as a cherished holiday tradition by families around the world! George Bailey (James Stewart) sets aside his dreams of world travel to run his father's small community bank, and protect the people of Bedford Falls from greedy businessman Mr. Potter (Lionel Barrymore). When a costly mistake pushes George to the brink of despair, a visit from a kindly angel (Henry Travers) will show George how the life of one good man can change the world forever. Now you can watch the holiday classic like never before, newly remastered from the original film negatives and more vibrant than ever in High Dynamic Range! (from Amazon.com)
Film Review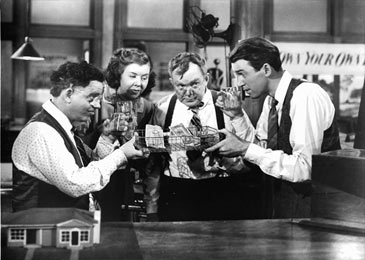 For as long as I can remember, It's A Wonderful Life has been a film title synonymous with Christmas. While it isn't overtly about Christmas, its most pivotal moments take place during the Christmas season. Furthermore, the story relies heavy on the element of prayer and God's divine intervention.
For those unfamiliar with the story of It's A Wonderful Life, it revolves around the life of a man named George Bailey, played beautifully by James Stewart. From childhood, George is a dreamer. He aspires to be a great man, hoping to see the world, discover new lands, design and build things, and live life to its fullest. However, George lives in the small town of Bedford Falls. His father runs a "building and loan" business that serves the townsfolk, helping them make a better life for themselves. Otherwise, the town is largely owned and run by a surly old man named Potter (played with great precision by Lionel Barrymore), and he takes advantage of the residents of the town for his own financial gain. Although George sets his sights on great things, he's frequently held back by responsibility and unfortunate circumstance. First, his father passes away just before he's able to set out to explore the world, leaving him with the tough decision to take over his father's business so Potter doesn't dissolve it. As the years go by, and he starts his own family, he begrudgingly continues on at his father's business, making the best of his being stuck in Bedford Falls. But when a financial crisis beyond his control strikes the building and loan, and the threat of prison looms over his head, his resolve is tested, and God answers the prayers of his family and friends and intervenes.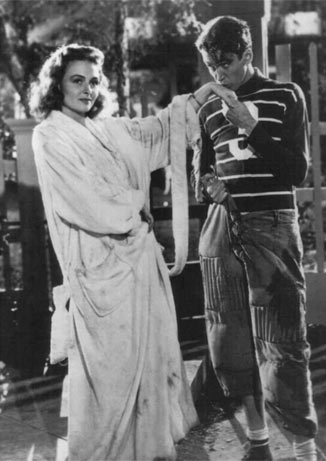 Drunk and feeling utterly hopeless, and with a life insurance policy that would save his family in mind, George wanders to the edge of a bridge and seriously considers throwing himself into the icy waters below, when an angel named Clarence jumps in. Instead of throwing away "God's greatest gift," George leaps from the bridge to save the floundering man–not realizing he's an angel trying to save George. In an effort to help George realize the worth of his life, Clarence asks for God's help to show George what life would have been like for the town, his family, and his wife, Mary (Donna Reed). The alternate life is horrifyingly real and this backwards nightmarish new world helps George see just how his life impacted everyone he's known for the better.
Through the expert direction of Frank Capra, and an elite group of players led by James Stewart, Donna Reed, and Lionel Barrymore, It's A Wonderful Life really is an incredible film. I think the theme of feeling as though our lives have little impact is something that nearly everyone has felt at one point or another in their lifetime. But that feeling couldn't be further from reality. It's A Wonderful Life is an excellent exercise in showing how the decisions we make, especially selfless sacrifices, can greatly influence the lives of those around us. And while the movie focuses on George's immediate friends and family, the truth is that the ripple effect of his decisions was most likely even wider spread.
Again, while the movie isn't overtly Christmas themed in nature, the finale is really what makes this movie so moving and impactful. At the risk of spoiling the ending for the few readers who've yet to tune into the movie yet, seeing all of his friends and family spring in to action to bail him out at the end is just beautiful. He hadn't asked for this gift, but they realized his own selfless deeds had done so much for them and they wanted to help in any way that they could. It's a wonderful thing and it gets me every time.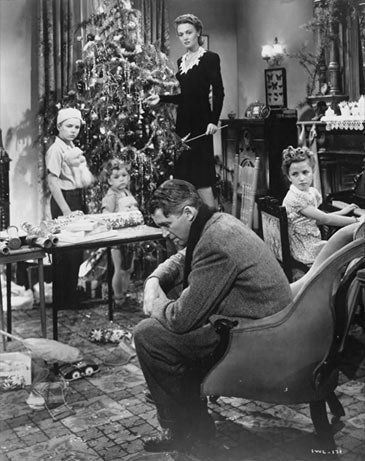 The film is rated PG mostly for thematic elements. Although I probably did see it when I was little – at least in part – I'm not sure it's one my 10 year old son would appreciate just yet. In fact, it wasn't until I was older that I really grew to find the true merit in this movie. There isn't any profanity, and any "sexual" content is minor and playful (like when Mary falls into a shrub, presumably naked, after George accidentally steps on her robe and he teases her about her predicament). There is a little violence, particularly when a couple characters punch other characters in different scenes (and one even shoots at a character, but doesn't hit them), and there is some smoking and alcohol abuse. The sequence when George is stuck in the alternate reality where he wasn't even born is dark and may definitely be unsettling to some viewers, especially younger ones.
It's A Wonderful Life is a fantastic film – not just for Christmastime, but for any time. If you need a reminder of your worth and impact on the world around you, It's A Wonderful Life is a great reminder and a sobering cinematic experience. And it's well worth revisiting each year at Christmas.
Last year, It's A Wonderful Life made its 4K UHD debut, and this year it's been re-released in a steelbook form with a bonus mini-poster. The 4K transfer is crisp and clear, and possibly the highest quality transfer out there. However, it's surprisingly darker, visually, than the previous HD Blu-Ray transfer (but much less grainy). I'm not quite sure why this would be, but the Blu-Ray transfer might just be the more ideal presentation for this movie. The steelbook combo pack offers the 4K disc and then an additional Blu-Ray disc, but only with the colorized version on it.
– John DiBiase (reviewed: 11/17/20)
4K UHD / Blu-Ray Special Features Review
The 4K UHD combo pack of It's A Wonderful Life includes the feature film in 4K UHD, a standard Blu-Ray disc that features the colorized version, and a digital copy. There are a few new bonus features on the 4K disc:
Restoring a Beloved Classic (13:03) – Here, part of the Paramount Pictures team discuss the restoration of the film and how the original film negative has suffered from nitrate deterioration and significant portions of the film are now missing. They ended up mixing various elements of different scans of the film together to make the completed new scan. (2 "Oh my G-d")
Secrets from the Vault: It's A Wonderful Life (22:11) – This great segment features a couple film historians talking about how the movie came together and how it was received back in 1946. I was surprised to learn things like how the movie was filmed during summer time, so they had to work to make wintery scenes in the middle of June. I was also surprised to learn that the movie didn't do very well when it first released, and that it wasn't until years later, when it was shown repeatedly on TV, that it became a classic. Among other things, we're treated to some neat behind the scenes photos, unused set shots, test footage and an an aerial view of the Bedford Falls city facade set. The featurette also discusses the film's brilliant cinematography, sound, and tone. It all closes with the historians offering a little commentary on the recently discovered It's A Wonderful Life "wrap party" picnic footage.
It's A Wonderful Life Wrap Party (8:05) – Here is a montage of home video footage recorded at the film's wrap party picnic. There is no sound from the event, so the video is set to the film's musical score. We see the cast gathered around a lake, mingling with their families, and even taking part in a lively sack race!
– John DiBiase, (reviewed: 11/17/20)
Parental Guide: Content Summary

 Sex/Nudity: Young George tells Mary that he's going to have a harem and maybe a couple of wives when he grows up; After checking out Violet (who loooks pretty in her dress), Burt says he needs to go home and see what the wife is doing; After falling in a pool, George and Mary walk home. He's wearing football gear and she's apparently in just a robe. He accidentally steps on it and she falls into a shrub naked. There's no nudity, but she hides in the shrub and he playfully says he should sell tickets. Someone drives by and tells George bad news, so he must leave immediately, so he throws the robe to Mary and leaves; George jokingly tells his mom he's going to go find himself some passionate necking; Mary tells her mom "he's making violent love to me mother!" when George shows up (he's not); Mary and George listen to the same phone receiver and end up looking longingly at each other. He then yells at her (frustrated with being stuck in Bedford Falls) and she cries, and then kisses her passionately; George and his team put "momma dollar" and "poppa dollar" together in a safe, hoping they will "make a family"; After witnessing the romantic sight of Mary and George entering their new house for their honeymoon, Ernie playfully kisses Burt on the head and he smashes Ernie's hat on his head in response; In Pottersville, George sees a marquee for dancing girls (probably a burlesque).


 Vulgarity/Language: None.


 Alcohol/Drugs: After getting word that his son died in the war, we see Mr. Gower complete destraught and drunk and drinking from a bottle; Mr. Bailey tells Harry "and no gin!" at his party; Billy leaves Harry's party totally drunk and stumbling into things; George finds Uncle Billy drinking in his office; George and his employees celebrate with drinks; George goes drinking in a bar and gets drunk; George drives drunk and crashes his car into a tree. He almost then gets hit by a truck while walking; Mary asks for wine at end from Mr. Martini.


 Blood/Gore: Mr. Gower grabs George and smacks his ear several times, which bleeds; George has a bloody lip after getting punched; Later, after his lip stops bleeding when he wasn't born anymore, it resumes bleeding when things return back to normal.


 Violence: Harry falls through the ice as they sled down an iced over stream on shovels. George jumps in after him to save him. We hear in the voiceover that they both recovered, but George sustained hearing loss in one ear because of it; Mr. Gower grabs George and smacks his ear several times, which bleeds. George tells him he accidentally poisoned the capsules because he is sad (and drunk) and doesn't know what he's doing. Mr. Gower immediately feels remorse and hugs George; George throws a rock through an abandoned house window to make a wish. Mary follows suit and does the same; Mary angrily shatters a vinyl record; George grabs Mary by the shoulders and yells at her (frustrated with being stuck in Bedford Falls) and she cries, and then kisses her passionately; After witnessing the romantic sight of Mary and George entering their new house for their honeymoon, Ernie playfully kisses Burt on the head and he smashes Ernie's hat on his head in response; We see some war footage during a montage; George grabs Uncle Billy by the jacket in a panic and yells at him. He then pulls him to his feet and throws him back into his chair and kicks something on the way out of his office; In anger, George clears his drafting table and smashes his model projects; George goes drinking in a bar. A man punches him in the face and his lip starts bleeding; George drives drunk and crashes his car into a tree. He almost then gets hit by a truck while walking; George goes to a bridge to jump off. He then sees the angel Clarence jump in and he jumps in after him to save him; When Clarence says he's an angel, a man falls over in his chair, gets up and runs out of the room; Nick shoots Mr. Gower in the face with seltzer from a bottle. They throw him out, and then throw George and Clarence out too; George grabs Mary, trying to convince her she knows him, but she struggles, screams and runs away; George punches Burt in the face and runs away. Burt shoots at him as he runs away.