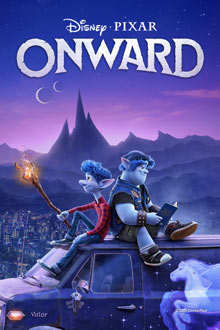 Onward


– for action/peril and some mild thematic elements.
Director: Dan Scanlon
Starring: voices of Chris Pratt, Tom Holland, Julia Louis-Dreyfus, Octavia Spencer, Mel Rodriguez
Running Time: 1 hour, 42 minutes
Theatrical Release Date: March 9, 2020
Plot Summary
Two elven brothers embark on a quest to bring their father back for one day. (from IMDb)
Film Review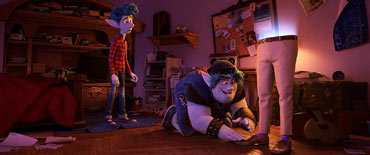 Disney seems to have a leg up on the competition when it comes to the "event film." Whether it's a blockbuster release from Marvel or Star Wars, they are films that warrant the hype of such a grand description. Pixar's films have also come to fit this description, as each new release since 1995's groundbreaking Toy Story has been something to look forward to–even if not all of them live up to expectations. It's to the point now where, despite what a title, poster, or even first trailer might lead viewers to believe, a Pixar outing will always be more than meets the eye.
But almost each new Pixar outing for the past couple years has been a sort of mixed bag. Even the beloved UP was an emotionally weighty film that seemed to offer the promise of large-scale, whimsical adventure but didn't quite deliver. The Good Dinosaur was an odd, underwhelming affair, and the two Cars sequels were hit-and-miss to say the least. Still, Coco was a really sweet surprise, Inside Out was a unique look at human emotions, and the Toy Story, Incredibles and Monsters sequels/prequel all had their own memorable charms. So, where does their latest project, Onward, fit into it all?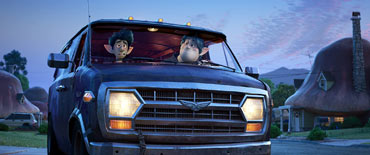 Onward takes place in a fantasy world where the fantastical has naturally grown out of it over time, through the advancement of technology and new ways of life. In a way, it mirrors a world we live in currently — burdened by our own success in technological evolution. The creatures inhabiting the world of Onward used to believe in a Tolkein-level form of magic, but have since forgotten it–even those who practiced it. (I know this isn't Disney or Pixar's intention, but it's like a people who have replaced their original beliefs–like our Christian culture–with a current worldview, which is something not foreign to us today.) Magic has become a legend in this world, and it isn't until Ian Lightfoot's mother Laurel bestows upon him a wizard staff his father wanted he and his older brother to have when they were old enough, that Ian discovers magic is actually… real? His fun-loving brother, Barley, is a firm believer in the legendary magic of old, and it's a dream come true for him to find their father's wizard staff. Chris Pratt brilliantly, and endearingly, voices Barley, who comes off a lot like his Parks and Rec character Andy Dwyer mixed with Jack Black's joyful, kung-fu-fanatic Po from Kung Fu Panda. Tom Holland lends his youthful voice talents to Ian wonderfully as well, and the two make a great team that's fun to watch. Ian's character is struggling with the loss of his father when he was too young to remember, and has spent much of his youth wishing he knew his dad. It weighs on his character, while Barley, who does have a few memories of their dad, seems to not be bothered by anything (so much so that he's viewed as a slacker because of it). But with the discovery of the staff, the boys are given a spell that promises to return their deceased father to them for just one day. Only Ian is able to enact the spell, but isn't able to complete it, resulting in only their father's legs being brought back! The brothers then decide to set out on a journey to recover a rare stone that would allow them to hopefully finish the spell.
Onward seems to deliver on the promise of adventure in a way UP was set up to, but didn't. Onward is like a Goonies / Indiana Jones mash-up with dashes of Lord of the Rings, Percy Jackson and Zootopia. It's a hodgepodge of familiar creatures and scenarios, but presented in a fresh way. All of it is driven by the brother buddy team-up of Ian and Barley, and they make it a real blast. There are even a few emotional buttons on the story that will likely surprise viewers. Seinfeld's Julia Louis-Dreyfus performs the boys' mom, Laurel, who is a supportive parent and ends up following behind the boys by the end. Octavia Spencer is also great as the hilarious Manticore beast, and Mel Rodriguez is just a riot as Laurel's centaur love interest, Colt. (He has some of the film's funniest bits for sure.) Thematically, this is a brothers tale in addition to the father/son tale, and it's refreshing to see some positive male-driven stories in today's topsy-turvy social climate. Barley proves to be the kind of supportive, encouraging older brother that many of us with older siblings wish we had, and it's a great lesson that younger ones still growing up can learn from.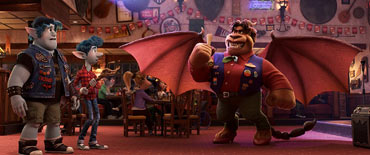 The content for the film definitely warrants the PG rating. Some of the fantasy elements give way to some action/violence. We even see small bloody scrapes and abrasions on the face and arms of the main characters throughout the film (which is something animated movies seem to used to avoid altogether but are now starting to show more of). There isn't really any direct profanity, but there's an implied use of the "S" word from Ian, using a play on words ("Oh, Chantor's Talon!"), and two uses each of incomplete "what the–" and "son of a–". Disney has also patted themselves on the back about an openly gay side character in this film. In one scene, a female cyclops police officer comments that parenting is hard (when she thinks she's talking to a fellow parent) and flippantly mentions her girlfriend and her kid. Some will find this minor, if not completely innocuous, but it's definitely another step in pushing Hollywood's agenda for trying to normalize same sex relationships. (And the character is even voiced by an actress who is a part of that community.) Lastly, the magical elements will be off-putting to some parents, as well. If you're uncomfortable with things like Lord of the Rings or Percy Jackson, or anything involving mythical creatures and magic, you'll probably want to pass on Onward.
While Onward has been catching a lot of flack for not living up to the high standards of quality Pixar has set for themselves, I think it still leaves all the right emotional marks while offering a fun and enjoyable journey story. And all of the in-jokes and plays on the fantasy genre elements are a lot of fun. The content is a bit edgier than one might expect from Pixar, so parents should keep that in mind, otherwise, if you're stuck at home and wish you could go to the movies, Onward might make a nice little detour for those wishing to escape their four walls during these trying times.
– John DiBiase (reviewed: 4/1/20)
iTunes / Digital Copy Bonus Features Review

At the moment, Onward is available on all digital platforms, but not yet in stores physically on disc (Heck, it had just debuted in theaters less than a month ago!). At this time, there are no bonus features on the digital copies, but I can only assume they'll be added at a later date. – John DiBiase, (reviewed: 4/1/20)
Parental Guide: Content Summary

 Sex/Nudity: Colt kissss Laurel on the lips passionately and it grossed out the brothers; We briefly see the top of Barley's butt crack when he bends over; A female cyclops cop references her girlfriend's kid when they talk about parenting being hard (insinuating that she's in a same-sex relationship); Colt slaps his own horse butt to encourage himself to run (played for laughs).


 Vulgarity/Language: 2 incomplete "Son of a–"; 2 incomplete "What the–" and one play-on-words with "Oh S–" as "Oh, Chantor's Talon!"


 Alcohol/Drugs:


 Blood/Gore: When the boys' dad reappears, he returns as just legs with pants on and shoes on his feet, but no top half of his body. There is just a glowing ball of blue light at his waist (it's not gross, but I could see it upsetting some sensitive viewers); We see three small red scratches on Manticore's foot; We see a small red scrape on Ian's cheek; We see some small scrapes on Barley's cheek and arm; Laurel has a cut on her cheek; We see a closeup of Ian pulling a splinter out of the palm of his hand;


 Violence: In the prologue, we see a large dragon shooting fire at characters who are holding shields to block the flames. A wizard uses magic to force a cave to fall in on the dragon; A pet dragon "dog" pounces playfully on Ian; Barley puts Ian in a headlock and then his mom, and they fall over; Barley crashes his van into a garbage can outside the school; Laurel accidentally steps on a little toy soldier on the floor and reacts in pain; When the boys' dad reappears, he returns as just legs with pants on and shoes on his feet, but no top half of his body. There is just a glowing ball of blue light at his waist; The Manticore pounces on the restaurant mascot, rips its head off, and spits fire on it, melting and burning the mask in her hands. She then kicks everyone out of the restaurant, setting the whole inside on fire; A sprite in a biker gang breaks a bottle to intimidate Ian and Barley; A sprite smashes the van's driver side window with a tire iron. There's then a car chase with the sprites on their bikes, chasing the van with Ian behind the wheel. They throw a chain at the van, which wraps around Ian's arm (and they almost crash into the back of a truck). The sprites get in the van and attack them. After they break free (the sprites get blown away by the van's AC), the sprites' motorcycle crashes on the highway, with some of the sprites hitting another car's windshield; Barley accidentally slaps Ian in the face; The Manticore unexpectedly stabs a creepy lizard woman in the neck with a scorpion stinger that comes out of seemingly nowhere; The boys' father almost walks off a cliff (since he can't see), but they catch him; Ian falls off the cliff but is tethered with a rope, so Barley pulls him back over; Ian almost falls off the cliff again but catches himself; There's a brief car chase as the van recklessly evades a couple cop cars; Barley crashes his van into a cliff to cause rocks to block the cops from pursuing them further; A sprite smacks into Laurel's car window. She then accidentally crashes her car; In a tunnel with boobytaps, a large blade cuts off the clothes sitting on top of Dad's lower half (he's otherwise fine). A large gelatinous cube then drops into the tunnel with them and begins to dissolve the clothes that Dad just dropped. It then slowly moves toward them as they scramble to evade it. They grab shields and run down the tunnel, with arrows bouncing off of their shields as they run. They end in a small room which begins to fill with water and they almost drown but escape just in time; Red smoke rips through the school and takes pieces off of the building to join together and form the dragon; The Manticore crashes into the dragon. It then chases them, and the boys, and knocks them down; Laurel jumps on the dragon and tabs it in its glowing red orb at its center. It then throws her off and she tumbles on the ground; The dragon tossss Ian and he falls to the ground hard. He grabs his knee in pain; We see a closeup of Ian pulling a splinter out of the palm of his hand; Ian blows up the dragon by throwing the sword at it, hitting its core; The Manticore shoots fire out of her mouth to light candles on a cake. She then cuts cake with a sword.