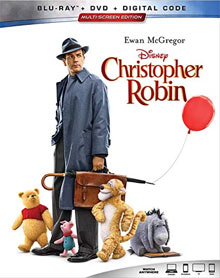 Christopher Robin


– for some action.
Director: Marc Forster
Starring: Ewan McGregor, Hayley Atwell, Mark Gatiss, Bronte Carmichael; voices of Jim Cummings, Brad Garrett, Toby Jones, Peter Capaldi
Running Time: 1 hour, 44 minutes
Theatrical Release Date: August 3, 2018
Official Site
Blu-Ray Release Date: November 6, 2018 (Amazon.com)


Plot Summary
It's been thirty years since Christopher Robin left Winnie the Pooh and his friends of the Hundred Acre Wood behind. He has since graduated school, gotten married and had a daughter, all while forgetting his days with Pooh. When the stress of his job and tension in his family become too much for Robin, Pooh finds his way back to him which brings about their greatest adventure together yet.
Film Review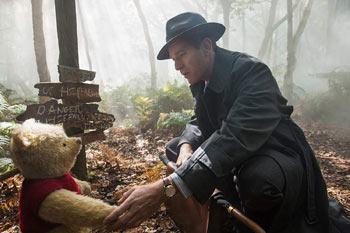 Growing up and taking on the responsibility of schooling, careers, family and so on carries with it a lot of stress. For many of us, we've grown up with the character of Winnie The Pooh and his friends in our lives, to the point where multiple generations have also grown along with the characters that had been created by author A.A. Milne. A story like the film Christopher Robin is likely to strike a chord with young and old alike — just in different ways. For me, as an adult who can relate to the responsibilities of the grown-up Christopher Robin, I too was raised with a love for Winnie The Pooh (and even remember having a stuffed Pooh that played his theme when you cranked a little metal knob in his back). But I also now have a 7-year-old son of my own who has grown up with the character, his books, and and his films. Christopher Robin is a story that accomplishes the unique task of speaking to both generations alike.
Just seeing the first trailer for Christopher Robin left a lump in my throat. Like Andy leaving his toys at the end of Toy Story 3, seeing a grown up Christopher Robin who has long left the toys of his childhood in his distant past is a heartbreaking thought — not only because many of us can relate to it on some level, but to also think of these beloved characters being abandoned by Christopher because real life struck them all as well. The film, Christopher Robin, beautifully serves as a period piece, set back in old London, thirty years or so after Christopher left Hundred Acre Wood behind, met a girl, got married, had a daughter, and survived a stint in the war. Now he lives his day to day under the stress of providing for his family and trying to be successful while working for a luggage company. It's a reality many can relate to.
Ewan McGregor makes a wonderful Christopher Robin. As an actor who has often signed up for rather serious roles, it's fun to see him loosen up a bit while bringing a great deal of authenticity to the character. Hayley Atwell, who's probably most known for playing Peggy Carter in the Marvel films (and on the tragically short-lived TV series, Agent Carter), is also wonderful in the film, although she doesn't get a whole lot of screen time. This is ultimately McGregor's show as Christopher Robin, and it makes perfect sense for the story. I was concerned going into it that the Pooh characters would take a hefty backseat to the rest of the story, but I was delighted when they would frequently cut back to the Hundred Acre Wood to show us what the furry friends were up to. As expected, they're as integral to the story as Robin is. Voice legend Jim Cummings returns to provide the iconic voice of Winnie The Pooh, as well as Tigger, and it lends further heart and authenticity to the story. Chunks of the film are just McGregor talking to Cummings' Pooh and they're some of the very best moments. The rest of the Hundred Acre Wood clan also have great voice performances, as well.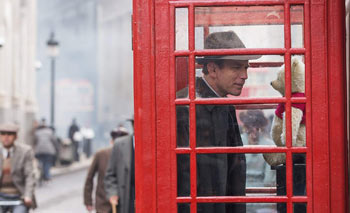 It's heartbreaking, a bit, to watch Pooh and the others struggle with Robin's changes over time. He's gotten lost in responsibility and that has not only separated him from them, but his family as well. The film makes sure to point out that Christopher really isn't himself anymore. It isn't until Christopher's daughter Madeline finds an old drawing of her father's, showing him and Pooh hand-in-hand, that Christopher starts to remember his old friends. Pooh then wakes up (in the Hundred Acre Wood), realizes his friends are missing, and ends up going on a quest to find Christopher (and some honey). The rest is a fun and emotional journey. I'm not ashamed to admit that my eyes were "misty" through most of the film — from the heartwrenching goodbye scene at the beginning, on through to the end. Director Marc Forster — who's proven to be quite a directorial chameleon, having directed everything from Finding Neverland to World War Z and the Bond entry Quantum of Solace — does a great job here as well. However, among artful shots of grass and scenery, there's a very weighty dark and gloomy feel to the film. Granted, it lifts by the end, and it fits the tone of what the film is conveying, but it's weighty nonetheless. I wasn't sure how my 7-year-old would feel about it (hopefully not as I did as a 5-year-old with the dark Return to Oz), but aside from a creepy dream sequence, he seemed to really enjoy the film. The spots where it was just grown-ups talking, I could tell his interest was waning a bit, but Forster kept a healthy peppering of Pooh-centric scenes mixed in, which struck a great balance. My wife and I chuckled throughout the film more than he did, but the animal antics definitely got him laughing several times.
And I have to say the effects for the Hundred Acre Wood animals are simply amazing. Pooh and his pals looked so real — the stuffed animals looked like real stuffed animals, and the actual animals — Rabbit and Owl — looked remarkably lifelike. It really made the film work so much stronger (And now I really want my own real-looking plush Tigger and Pooh!).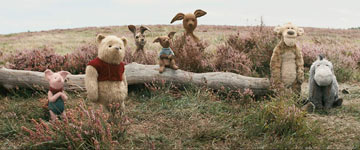 With that said, the content for the film is exceptionally light. The only language is a quietly muttered "Oh G-d" by Christopher Robin in a moment of panic, while a businessman who's shocked proclaims "dear Lord!" during the finale. There's some action violence, but aside from some yelling soldiers and an explosion during a war scene as part of a montage, there really is only slapstick humor. The aforementioned dream sequence, however, has adult Christopher Robin getting stuck in a Heffalump trap in the Hundred Acre Wood and he slips and gets knocked out while trying to climb out of the hole. He then dreams he's underwater where Pooh is floating nearby and an elephant-like shape, made out of bubbles, is trying to get him. Robin screams and wakes up. It's a little creepy, but nothing worse than some of the Heffalump nightmares in the animated films.
Christopher Robin is an absolutely delightful film. It's suitable for just about the whole family, and any adult who found Winnie The Pooh to be a part of their childhood will have a hard time not getting swept up in this wonderful story. It's a beautiful film with lovable characters and heartwarming moments. If you have ever longed to spend a day in the Hundred Acre Wood, Christopher Robin is a movie you shouldn't miss.
– John DiBiase (reviewed: 8/5/18)
Blu-Ray Special Features Review

Christopher Robin comes home in almost all viewing formats, with the Blu-Ray/DVD/Digital Copy set being the best option. Seeing the film again, I still love it. It's not perfect, especially with some of the live action humor involving some of the adults being a bit on the goofier side, but there's so much heart in this movie and it's easy to relate to — especially being someone who grew up with Winnie The Pooh. The HD transfer is beautiful and colorful, so I definitely recommend getting the film in high definition. The bonus features are as follows:
In which…A Movie is Made for Pooh (5:29) – This criminally short but wonderful featurette talks about character design and making the stuffed animals look realistic, casting Ewan as Christopher–in which we get to see some fun screen tests of him in costume with Pooh–and the inspirations for the story. The cast and crew also reflect on their own love for the character and Milne's original stories.
In which…Pooh Finds His Voice (2:50) – I've been a fan of voice actor Jim Cummings (by name) ever since learning he was the voice of Darkwing Duck in the early 90s. I later realized he contributed to nearly every Disney animated show and feature in some way since the 80s. But this featurette talks about how Jim inherited the role in 1987 from Sterling Holloway, and he talks about his love for the character, what he puts into the voice, and how honored he feels to keep returning to the character. It's really, really touching.
In which…Pooh and Walt Become Friends (2:47) – Jim narrates how Walt Disney first discovered the character of Winnie the Pooh when he found his daughter reading the story and loving it. We then learn how he sought out Milne to get the rights to the character to make a movie, and how it took 20 years to come to fruition!
In which…Pooh and Friends Come to Life (3:19) – Child actress Bronte Carmichael, who plays Christopher's daughter Madeline, breaks down how they created the effects for the stuffed animals in the film. It's short but surprisingly thorough and really interesting!
Featured Extra (iTunes)
In which… We were Very Young (3:53) – The voice actor for Pooh and Tigger, Jim Cummings, tells the story of the real Christopher Robin and how Pooh got his name! (It's cute; if you don't know, I won't spoil it here.)
To round out the extras, iTunes has a "Best of" Scenes collection that, like Ant-Man and the Wasp, give you direct links to be able to jump to favorite moments in the film. There's also a Photo Gallery of 21 screenshots from the movie.
– John DiBiase, (reviewed: 11/14/18)
Parental Guide: Content Summary

 Sex/Nudity: None. Just Christopher and his wife share an innocent kiss.


 Vulgarity/Language: 1 "Oh G-d," 1 "Dear Lord"


 Alcohol/Drugs: None.


 Blood/Gore: None. At most, we see some soldiers coming home from the war with bandages on their heads. Christopher Robin's arm is in a sling.


 Violence: A teacher slams her staff or ruler on Christopher's desk when she catches him doodling in class; In a montage, some people solemnly apologize to Christopher and tell him he's the man of the house now, making it clear his father had passed away; We briefly see some war footage that shows soldiers yelling and an explosion going off; We see some some soldiers coming home from the war with bandages on their heads. Christopher Robin's arm is in a sling; Adult Christopher falls in a pit and it rains, so he dreams he's drowning and a heffalump grabs at him as he yells. He then wakes up floating in the water and climbs out; The rest of the action violence is slapstick in nature: Pooh accidentally causes shelves in the Robin house to collapse, causing dishes and such to shatter; Eeyore, Tigger and Piglet smack into a car windshield; Christopher Robin pretends to slay an imaginary Heffalump so his friends won't be scared.